Attorney-At-Law: Judson P. Watson
The Lusk Free Lance, January 24, 1935
"JUDSON P. WATSON
Attorney-At-Law
Phone 86, Post Office Building
Lusk, Wyoming"

*************
1947 Lusk High School Yearbook
Philosophy of this family-team, obviously engaged in the profession of law is "We are here to help others."
And interpreting the law is certainly one of ways in which Attorney JUDSON P. WATSON is eminently qualified to help you. Be it the drawing up of a will, or advise on some provision of a contract, or the perennial problem of income tax returns, you will be helped courteously and efficiently in this law office located above the post office. Other members one the team are Mrs. Minerva Watson and Justine Watson.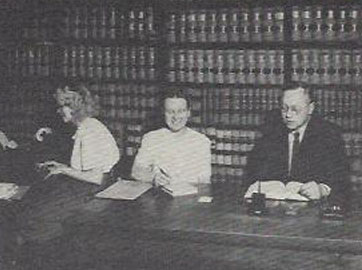 Images & Attachments
Related/Linked Records
| Record Type | Name | |
| --- | --- | --- |
| Obituary | Watson, Justine (03/25/1930 - 05/22/2022) | View Record |