Hotel: Elkhorn
Converse County Herald, August 6,1896
ELKHORN HOTEL BILL OF FARE
Commencing with next Sunday the Elkhorn Hotel will serve dinner to all for the small price of 25 cents each. For next Sunday the following is the bill of fare:
Oyster Soup
Green Onions Radishes
Catsup Horseradish Pickles
Boiled Heart, Tomato Sauce
Roast Sirloin of Beef, au Jus
Baked Chicken, Sage Dressing
Leg of Mutton, Mint Sauce
Minced Ham, Scrambled Eggs
Hot Corn Bread
Banana Paste Port Wine Sauce
Cream Slaw
Mashed Potatoes, New Potatoes in Cream
Green Peas Wax Beans
Lemon Pie Apple Pie Custard Pie

Vanilla Ice Cream Assorted Cake
Blackberries Sliced Oranges
American Cream Cheese
Tea Coffee Milk Ice Tea

************************
Converse County Herald, December 7, 1899


The hotel de Elkhorn has again changed hands, this time B.F. Hummel assuming charge and F.W. Schwartze retiring, the change having occurred on the 1st inst. Mr. Hummel has traveled around considerable the past few years and this has given him and excellent idea as to the proper way in which a hotel should be conducted and his will, no doubt, gibe to the town of Lusk what it needs--a first class hotel. Success to the new management.
*************
Converse County Herald, September 22, 1898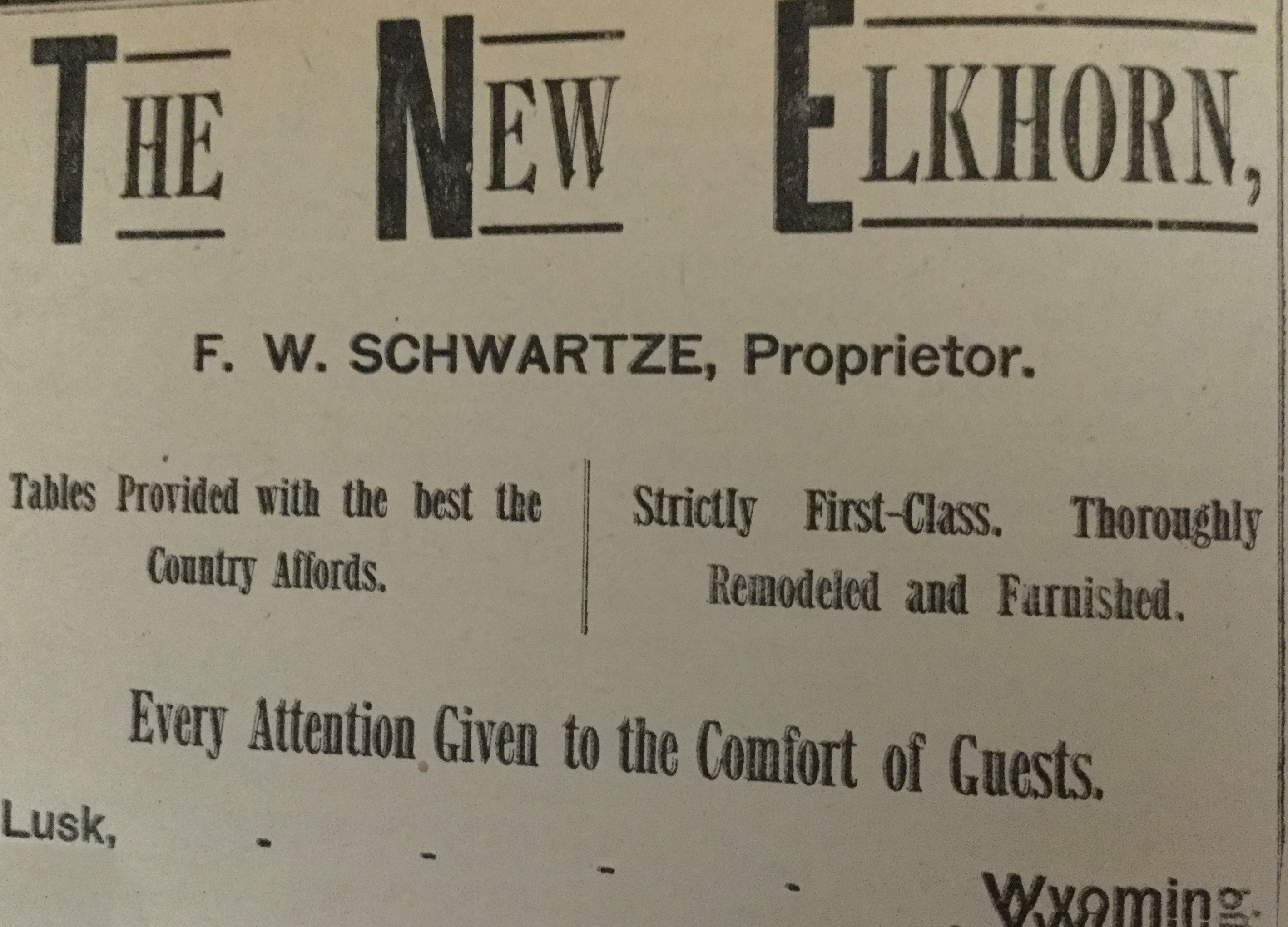 Images & Attachments
Related/Linked Records
There are no linked records.