Jewelry Stores: Scott's Jewelry
Image from 1947 Yearbook:
No, Donald Burke and Ida Mae Sides are not shopping for diamonds. Altho you might infer that from the picture. Mr. Scott, the genial owner, and Mrs. Sam Wood, of SCOTT'S JEWELRY STORE reveal the truth. Besides Junior class rings, however, the store features Kodaks, silverware, costume jewelry, engraving and expert watch repairing. Anybody know who the little fellow is?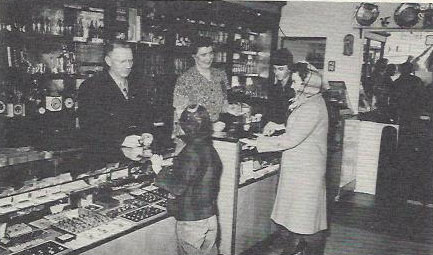 *************
The Lusk Herald, February 7, 1963
Scott Jewelry Purchased by Leona Anderson, Jim Paulsen
Mrs. Leona Anderson of Harrison, and her brother, Jim Paulsen of Edgemont have purchased Scott's Jewelry in Lusk. Mrs. Anderson will manage the business. The change was effective Friday, Feb. 1.
Images & Attachments
Related/Linked Records
| Record Type | Name | |
| --- | --- | --- |
| Obituary | Scott, Frank (09/15/1888 - 07/14/1958) | View Record |