Wyoming Perspectives on a Small Town with Dennis Davis
Date(s): Wednesday, September 2nd 2020
Time: 6 p.m.
Location: Niobrara County Library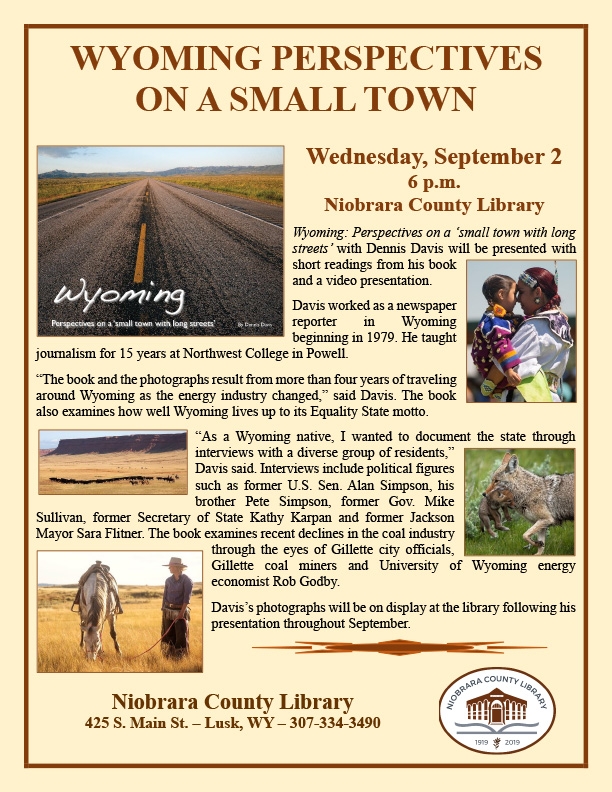 Wyoming: Perspectives on a 'small town with long streets' with Dennis Davis will be presented on Wednesday, September 2 at 6 p.m. with short readings from his book and a video presentation.
Davis worked as a newspaper reporter in Wyoming beginning in 1979. He taught journalism for 15 years at Northwest College in Powell.
"The book and the photographs result from more than four years of traveling around Wyoming as the energy industry changed," said Davis. The book also examines how well Wyoming lives up to its Equality State motto.
"As a Wyoming native, I wanted to document the state through interviews with a diverse group of residents," Davis said. Interviews include political figures such as former U.S. Sen. Alan Simpson, his brother Pete Simpson, former Gov. Mike Sullivan, former Secretary of State Kathy Karpan and former Jackson Mayor Sara Flitner. The book examines recent declines in the coal industry through the eyes of Gillette city officials, Gillette coal miners and University of Wyoming energy economist Rob Godby.
Davis's photographs will be on display at the library following his presentation throughout September.