Niobrara Chamber of Commerce
Courtesy of The Lusk Herald, 07/19/1973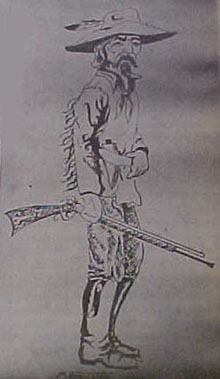 Name Him
This character drawn by Mary Brewster, Lusk artist, will become the Niobrara Chamber of Commerce trademark. The logotype was accepted at a noon meeting of the board July 10.
A contest is now underway to name the character. Contest rules may be found in an ad elsewhere in this issue.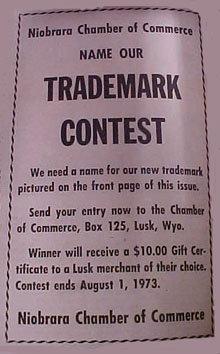 The Lusk Herald
July 26, 1973
Chamber Contest Ends Wednesday
Deadline for naming the character which will be the Niobrara Chamber of Commerce trademark is August 1.
Anyone interested is urged to enter the contest and entries should be sent to the Chamber of Commerce, Box 124.
The winner will receive a $10 gift certificate redeemable at a Lusk business of their choice.
The Lusk Herald
August 23, 1973
Chamber Office Is Moved into Hospitality House
Niobrara Chamber of Commerce is now occupying office space in the Hospitality House. The office is located on the lower front porch of the building. Mr. and Mrs. Leroy Redfield, owners of the hotel, are temporarily giving the Chamber rent-free quarters.
Mrs. Jerry Walter, secretary, has the office open from 1:00 to 5:00 p.m. daily Monday through Friday and from 8:00 a.m. to 12:00 noon on Saturdays.
DISCUSS FEED
The Tuesday noon director's luncheon and business meeting was mostly of routine nature. It was decided to ask the Lion's Club to assume the responsibility of the annual hunter-rancher feed held each fall prior to hunting season. Lack of interest and man power by Chamber members has made the feed an impossibility to handle. Whether or not the luncheon feed has outgrown its original purpose of attracting hunters into the area is also being considered.
Entries in naming the chamber's trade mark have gone to the judges, and the winner will be announced soon.
Bob Glenn has been elected as treasurer to fill the unexpired term of Bill Hale who has moved.
The Lusk Herald
September 13, 1973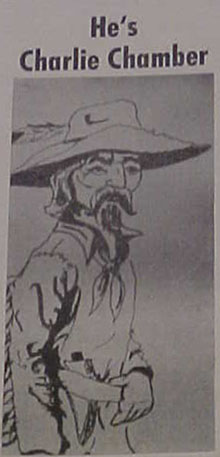 Charlie Chamber was the winning entry of the Niobrara Chamber of Commerce sponsored "name our trademark contest." Mrs. John (Wanda) Miller is the recipient of a $10 gift certificate to be used at the Lusk store of her choice.
The many entries received on the contest (were) given to a committee which selected five possibilities and submitted them to the Chamber directors for final vote Tuesday noon.
Charlie Chamber will be used to help the Chamber promote the community. The logo was drawn by Mary Brewster of Lusk.
BROWN TO CASPER
Mark Brown, chamber president, was chosen as delegate to attend the Wyoming Chamber of Commerce Executive Annual Meeting in Casper September 14-15 at the Ramada Inn.
Most of the other business Tuesday was routine. A sign for the Chamber office was discussed, and several decisions made in regards to the extent of participation the Chamber would have in the annual hunter-rancher Dutch lunch.
MEMBERSHIP
Membership into the Chamber will still be accepted, but officially the drive is over. Those who have joined since the drive started, but not previously mentioned are:
C & H Refinery
Gerald Sturman
Bebe Reed
W. T. Bredthauer
Wasson Chevrolet
Merit Cleaners and Laundry
Donald (Harry) Austin
The Lusk Herald
June 6, 1974
Chamber Membership Drive Is Nearly Halfway to Goal
Bob Glenn, chairman of the Niobrara Chamber of Commerce membership drive, urges businesses and individuals to direct dues to the Chamber, Box 125, Lusk, as soon as possible. Drive goal is set at $3700, and to date $1580 has been collected.
Letters of information soliciting membership were mailed in April to businesses. If a business did not receive a letter they are urged to call Mr. Glenn or Keith Gamble.
Membership response from ranchers has been very good, "they really make an effort to support the Chamber and it certainly is appreciated," said Glenn.
Any individual is welcome to join the Chamber. Contact Glenn, Gamble, or any other director, - Richard Kant, C. E. Hollon, Ardith Dixon, Gene Lenz, Pat Brewster, Any McMaster, C. W. Ausborn.
The directors meet each Monday noon. Members are welcome and urged to attend the weekly meetings.
The Lusk Herald
August 1, 1974
FRIDAY IS CHARLIE CHAMBER DAY
Fun, Bargains on Lusk Main Street August 2nd
Merchant participation has been enthusiastic and all appears to be in readiness for a fun-filled day of bargain shopping in Lusk this Friday - Charlie Chamber Day - according to Rich Kant, Chamber president and Ardith Dixon, general chairman of the event.
"Hopefully Charlie Chamber Day will appeal to Lusk shoppers and will became an annual event," said Kant. "Mrs. Dixon and her committees have spent much time making preparations."
Merchants are asked to have their outdoor tables set up by 9:00 a.m.
Chamber gift certificates will be given to the business man or woman and the employee judged wearing the most unique costume - "madness" is the theme.
Games and other special events will be held throughout the day starting at 10:00 a.m. Highlight of the festivities will be the judging of the best Charlie Chamber costume. This will be done at 4:15. The winner will be determined by the audience. There (are) no age limitations on the contest.
Prizes will be gift certificates redeemable at any Chamber business. Owners of the businesses are asked by Kant to honor the certificates, and then return them to him or Pat Brewster, secretary, for reimbursement.
A special drawing will be held at 4:00 p.m. In addition to gift certificates given by the Chamber, several businesses are offering "bonus" prizes.
Charlie Chamber Day was originated by the directors of the Chamber of Commerce as means for local merchants to express appreciation to their customers
The Lusk Herald
August 8, 1974
Charlie Chamber Day "Successful" Event
Lusk's first Charlie Chamber Day held last Friday proved to be a successful project according to most of those participating. The event was sponsored by the Niobrara County Chamber of Commerce with Mrs. Ardith Dixon as general chairman.
The carnival spirit of the day was enhanced by the variety of costumes worn by employers and employees, clowns who dispensed free candy and balloons to the kids, sidewalk "booths", games and the gift certificate drawings.
The "booths" were busy most of the day, with shoppers expressing approval of the "bargains" the day provided. One woman shopper became so engrossed in her search for bargains that in trying to find the right size garment began unbuttoning her own blouse in preparation for "trying on" an item (without benefit of dressing room).
Costumes were worn by most of the business people with prizes of $10 going to Dr. Richard Collins, 1st place employer and Raggedy Ann, Mrs. Erlewine and Raggedy Andy, Mrs. Dan Goddard, 1st for employees. Both work at Ben Franklin.
Many other amusing and creative costumes were seen. Honorable mention by the judges for employers went to Ardith Dixon and Dave Cook and for employees to Valerie Christianson and LeAnn Redfield of The Diner; Carol Rennard and Madeline Bird of the Stockmans Bank; Gene Coleman at Safeway and the staff of the Hospitality House.
Mrs. Bird actually tried to go to work in her regular clothes and was "sent home" returning as Lusk's first "Bunny" complete with white cottontail.
Judges for the costumes were Walt Doctor, Lafe Culver and Andrew McMaster.
Horseshoes were played during the day with prizes of $5 each going to Tim Price, Mike McFarlane, Gene Jugler, Larry Carstens, Rob Akers and Burr Bryant.
The prizes for the wheel barrow race which wasn't held and the Charlie Chamber contest were given as open prizes during the drawing which was held at 4:00 p.m. Open winners were Betty Redfield $15 and Hulda Mahnke and LeAnn Redfield $5.
The $5 prize donate by Lorenzen Insurance Agency was won by Terry Allbright and the $5 donated by Martin Standard went to Frances Kropatch.
A free nights lodging for anyone over 500 miles from home given by DeCastro Court went to Herman A. Scheiper and family of New York City.
There were nine gift certificates given during the regular drawing with winners as follows: Judy Lange $25, Mabel Osborn $10, Richard Baughman $10 and Karen Peterson, Mae Glandt, Vera Anderson, Bernadine Alter, Rev. Frank Bozart and Annie Parmely all $5.
A $25 savings account given by the Lusk State Bank was won by Mrs. Gladys Ferris of Manville.
ATTENTION MERCHANTS
Merchants and business people accepting gift certificates are reminded to return them to the Chamber of commerce president, Rich Kant, or secretary, Pat Brewster, for reimbursement.
The Lusk Herald
June 24, 1976
Charlie Chamber Day
Charlie Chamber Day is scheduled for July 30 in the Lusk Business District and merchants are urged to start planning accordingly. Co-chairmen of the Chamber's retail trades committee for Charlie Chamber Day are Marilyn Allbright, Coast to Coast Store, and Don Whiteaker of Whiteaker's clothing store.
The chairmen will announce committee members and call a meeting after July 4.
Image Captions
1. The Dentist - "Doc Holliday" Collins and "Florence Nighingale" (Mrs. Collins) extract the tooth of Dorothy Schaefer.
2. Prize Winners Raggedy Ann (Lucille Erlewine) and Raggedy Andy (Terry Goddard) dressed for Charlie Chamber Day.
3. Bess Ruffing, the street sweeper, pauses with "Dirty Ardie" Dixon.
4. Coffee Anyone? - Valerie Christianson and LeAnn Redfield.
5. Madeline Bird, "Lusk's first Bunny"
6. Gamble Store Staff Judy Bruns, Ramon Cook and Susie Price pause in front of the store on Charlie Chamber Day.
7. Herman Scheiper
8. Marilyn Allbright
9. What is it? George Dixon
10.Charlie Chamber Day Shoppers - Many shoppers were taking advantage of the big sale at Whiteaker's on Charlie Chamber Day. Whiteaker's placed two large tanks in front of the store containing items that sold for five dollars a dozen. Needless to say it was a popular sale.
11.Good Sport - Taking a dunking during Charlie Chamber festivities was Betty Bowman.
12.Darlene Renzelman - Clerk - "The Panhandler" - wins free room
Images & Attachments
Related/Linked Records
| Record Type | Name | |
| --- | --- | --- |
| Obituary | Bozart, Frank (12/02/1913 - 03/16/2003) | View Record |