Kruse's Draft Horses part of Niobrara ranch operation
Courtesy of The Lusk Herald, 03/11/1997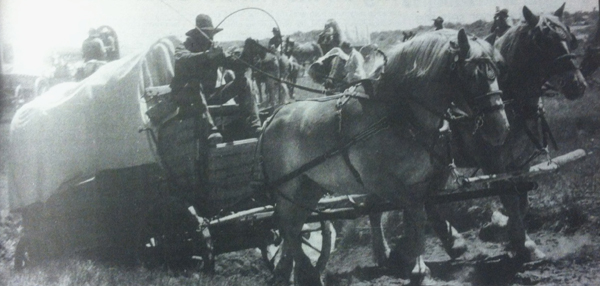 Jim Kruse's draft horses are more than just a hobby for him - they are a way of life. Four generations of the Niobrara
County family have used the horses in the day-to-day operation of their cattle ranch near Lance Creek.
by Jeanne Peterson, Lusk Herald Staff Writer
Horses are a Wyoming family tradition for many ranch families, but for most, draft animals are only nostalgic.
Not so for the Kruse ranch north of Lance Creek, where draft horses have been a part of the working ranch for four generations.
"What I like about them is that they'll slow you down. In this world today...well, when I drive them, I just relax and slow down," said Jim Kruse, who operates the family ranch about 25 miles north of Lance Creek.
Jim purchased his current team, Nip and Tuck, in 1984 from Smith Brothers in Douglas. The blond Belgian half-brothers are light yellow sorrels with flaxen manes and tails and were originally part of a six horse hitch that pulled a show wagon. They knew nothing about being a work team, according to Jim.
Kruses use the team to rake hay in the summer and, when the snow is deep in the winter, to pull the hay wagon for feeding.
He doesn't know how much feed it takes to keep them, since they are largely pasture fed, but said, "They say they will eat all you give them."
He prefers to keep them around the buildings or in the corral during the winter in case he needs them, but Nip brought a special talent when he moved to the ranch 15 years ago. He knows how to open all the corral gates he has encountered, as well as how to jump the cattle guard. The latter he has been teaching not only to his brother but the saddle horses, too.
Though Jim finds this ability annoying, Nip's skill played a factor in the speed with which Jim was able to acquire them. When their former owners sent them home with Jim to try out, Jim had a difficult time contacting the men again because of their hectic schedule. In desperation he called their mother. Mrs. Smith had been caring for her sons' horses in their absence; she did not want the horses returned. "I'll have them get hold of you," she said. And she did....immediately.
Nip, whose nose stripe contrasts with his brother's blaze face, is the near horse (to Jim's left) and Tuck is the off horse.
Jim is finding his search for a second team a challenge, since draft horse breeding has taken two separate paths in recent years. Nip and Tuck are approximately 15 hands 3 inches (a hand is about 4 inches), or 63" at the height of the withers. They weigh about 1750. The more popular style of draft horses these days are about 18 hands high and weigh more than a ton; they are very tall and leggy, but are designed to pull show wagons, predominantly on asphalt. They lack the sturdy strength of those designed to perform hard labor. Since there is more call for the recreational style animals, they are easier to find.
Kruse found a work team last year for $2500, but they were green broke. He estimates a well-trained team could cost $3500.
Nip and Tuck, however, provide more than work options for the Kruse family. In 1990 Jim, his wife Linda, their sons - James and Joe, Jim's siblings - Paul and Kathy - and Kathy's husband and three children joined the 1990 Wyoming Centennial Wagon Train which traveled the 260 miles from Ft. Caspar to Cody in 30 days beginning June 2.
The family renovated a wagon purchased by grandfather Bill Kruse in the 1930's. In addition to the new spotted harness they purchased to replace the one they pieced together from a half dozen harness of the past, Kruses had to reinstall a wagon brake.
Jim said, "I'd never seen a wagon brake...Ours was removed years ago so we wouldn't have to mess with it. That's what those horses are for: to hold the wagon. I guess a lot of teams have never had to pull any weight, and don't know how to hold it. My team of Belgians, Nip and Tuck, learned to hold 'er pullin' a ton of hay up and down the hills on the ranch."
The Belgians, who are able to pull a ton day after day, carried the supplies for the family and the various family members, Kathy and her son Brian and Jim's boys traveled the entire route, while Jim and his wife Linda alternated. Kathy's husband Dave and other children, Pat and Dana, and Jim and Kathy's brother Paul each spent a few days on the family on the wagon train.
Originally train members were told no personal vehicles would be allowed within a quarter mile of the train, so the Kruses packed all the bare essentials. However, that rule was not maintained; an entourage parked nightly near camp. The Kruses packed most of their supplies with them and, as Jim and Linda alternated, they brought fresh meat packed in coolers for family use.
We cooked with a propane bottle and stove; they wouldn't allow us to build a fire," said Jim.
Semi tractor trailers brought in hay for the stock, stock water and accompanying stock tanks, as well as a semi of water for human consumption.
"We got good at setting up camp and taking it down; we only made about 10 miles a day," said Jim.
The experience was unforgettable for the entire family who enjoy their family's deep roots in the Western past, a heritage they wish to perpetuate into the family's future.
Images & Attachments
Related/Linked Records
There are no linked records.