Flood of June 4, 2015 - Articles from newspapers outside Lusk
Courtesy of Various Sources, 06/05/2015
Casper Star Tribune
June 5, 2015
Flooding cuts off Lusk
A freak thunderstorm dumped up to 6 inches of rain and inundated a tiny Wyoming town, collapsing a bridge, damaging homes and businesses, and sending about a dozen people to higher ground.
Another brief thunderstorm dumped more rain on the flooded area Thursday afternoon before Gov. Matt Mead was scheduled to arrive to tour the damage.
In Lusk, population 1,500, floodwaters rushed down Main Street, swamping four blocks and shutting down the town's water supply, said Niobrara County Emergency Management Coordinator James Santistevan.
There were no reports of any one being hurt, he said.
Emergency responders brought in drinking water as crews worked to restore wells that supply Lusk's water system, he said. Plus, road closures on Thursday cut off in all directions the town along a normally tiny Niobrara River.
"We got a lot of debris, lot of damage," said Santistevan, who could not estimate how many homes or businesses were damaged.
About a dozen state National Guard members were sent to help, and the Red Cross opened a shelter for about a dozen displaced residents.
The storm stalled over the area about 9 p.m. Wednesday and didn't relent until after midnight. In just one night, the area got one-third as much moisture as it typically gets all year.
The flooding caused a highway bridge to crumble onto railroad tracks below just north of down town. It also washed out a bridge 3 miles west of Lusk and washed out rails near Manville, said Union Pacific spokesperson Mark Davis.
Davis said the line will remain closed indefinitely. Inspections for tracks and bridges continue between Shawnee and the Nebraska border.
Work to repair the rail damage can't begin until water has receded, he said. Trains carrying rock to replace what was washed away by the flood waters are en route and will be staging at Shawnee and Lusk.
Davis added some of the train traffic will be detoured over other routes.
The storm was among several that hammered eastern Wyoming and the Colorado Front Range on Wednesday night and early Thursday. More severe weather was possible regionwide Thursday amid what's been an unusually rainy Rocky Mountain springtime.
Lusk is about 100 miles east of Casper and the seat of Niobrara County, the least populated county in the least populated state. The town on the rolling plains is home to the state women's prison, which was not affected by the floodwaters.
Flash flooding is not unusual in Wyoming but rare for Lusk, said Tim Trudel, a National Weather Service forecaster in Cheyenne.
"They tend to have pretty good drainage. That just goes to show the intensity of the flood," Trudel said.
Records show Lusk typically gets about 15 inches of rain a year.
Lusk officials weren't immediately available for comment.
The flooding closed about 130 miles of U.S. 85 from Lingle to Newcastle and about 60 miles of U.S. 18-20 from Orin Junction to the Nebraska line. Highway engineers were assessing damage to roads and bridges in the area, said Wyoming Department of Transportation spokesman Bruce Burrows.
Burrows said U.S. 85 south of Lusk to Lingle was open to local traffic only while other motorists were being stopped from using the highway because of the collapsed bridge.
It was too soon to determine how long it would take to repair the bridge, he said.
"That's a pretty major project," he said. "Right now, people are going to have to make plans, and it's going to involve a pretty large detour."
High water from storms elsewhere briefly closed Interstate 90 between Gillette and Buffalo and caused flooding in parts of Sheridan in northern Wyoming.
Casper Star Tribune
June 6, 2015
"JUST A GOOD RINSING" - Lusk dries off from flood, plans quick rebuild and rebound
A massive thunderstorm parked over Niobrara County on Wednesday night and deluged and hailed for three hours straight.
At about 12:10 Thursday morning, the Niobrara River clawed its way around and over three culverts running below U.S. Highway 18/20 just west and north of Manville, a town of 95 on Wyoming's eastern border. The river, nicknamed "the Niobrara Trickle" by some locals because it often runs dry, shed its banks and washed out the highway.
Residents used boats to rescue neighbors, and they watched from high ground as the water rose.
"All that water is going to hit Lusk, and it's going to hit Lusk hard," Manville Town Councilman Scott Haan remembered thinking. "It made the North Platte look like a creek, it was running so hard and so deep."
Manville sits 200 feet higher than and only 9 miles upriver of Lusk, the county seat with a population of nearly 1,600.
Jessica Stallman, a Lusk EMT, was on a bridge over the Union Pacific rail when she thought she heard thunder and assumed another storm was moving in from the west. Then it sounded like something was grinding.
The west side of the bridge collapsed about 5 feet from where she stood. The EMTs found themselves trapped between raging waters and a 30-foot gaping hole in the bridge.
"I've never seen anything like it," Stallman said.
No one had, not even longtime residents. Even the last big flood in the early 1990s didn't compare.
No one was injured in Niobrara County. Two people were taken to the hospital, and the rest recuperated once they were warm and dry, Stallman said.
Damage to shops
On the other side of Main Street from the bridge, Stallman's mother, Bobbie, stood with others on high ground and watched the flood surge through downtown Lusk. Vehicles swirled in the streets. The water tore away the front door to her antique shop, Same As It Once Was, and shoved expensive furniture across the room.
Bobbie and her husband travel hundreds of miles and log many hours in the car traveling to antique auctions around South Dakota, Nebraska and Wyoming. Little can be salvaged, she said Friday.
Across the street, Todd Hoelmer awoke about 4 a.m. He couldn't place the sound until he peered out his window. A river was gushing through the front window of the shop below his apartment, the Skeleton Closet.
Hoelmer moved to Lusk five years ago and opened a fossil shop and gallery. He has spent the last three years unearthing a triceratops at a nearby ranch. Half of it was on display, including the creature's mighty skull. As Hoelmer watched from the second floor, bones and equipment flowed out into the street. A nearly 40-foot-long storage container floated toward the building and smashed his 1989 pickup.
Hoelmer spent years sleeping and living out of the truck as he crossed the country preparing various fossil digs for exhibit. Friday morning, all he wanted was the triceratops he had welded to the front as a hood ornament. The piece graced his last three pickups, and he wanted it mounted to the fourth.
Recovery begins
The water began to subside about 9 or 10 a.m. Thursday, and residents in Lusk and Manville began cleaning.
Highway 85 north of Lusk and Highway 18/20 west of Manville is closed. Only local traffic is allowed in and out, said Wyoming Department of Transportation spokesman Bruce Burrows. The area is isolated from the rest of the state, and there is no timeline for opening any roads. Officials hope to first open Highway 270 running north and south through Manville.
Power was fully restored Friday, but residents are still cautioned not to drink or shower with tap water, said Converse County Emergency Coordinator James Santistevan. He had no timeline for when drinking water might be restored to the entire community. The public is not being asked to provide volunteers or donations at this time. Local volunteers, however, continued to stream in and out of businesses Friday, pumping water out of basements and tearing and hauling away carpet.
Tears welled in Connie Halligan's eyes as she alternately mourned the damage done to The Pub, which she owns with her husband, Jesse, and praised the help of strangers, neighbors and friends.
"This is home, and not just in a physical way," Halligan said.
Everywhere, the common refrain from business owners was the next building over received worse damage and needed help first. The common theme: Lusk would be back open for business soon.
"We have coolers full of flowers, and we're ready to roll," said Twila Barnette, co-owner of Bloomer's, which sells flowers, gifts and antiques. "We've got cattle fans running. We're going to dry this baby up ... we have carpet samples coming tomorrow."
In a small town like Lusk, everyone knows what belongs to whom. Barnette said everything made its way back to their shop, even the rusty bucket that holds the sign.
The community rallies around its downtrodden, owners said. Just like when The Pizza Place burned, they agreed.
The Pizza Place, a Lusk fixture for two decades, burned 20 months ago. The owners, Brad and Missy Wagner, only recently finished renovations, including replacing a collapsed roof.
The first food order was supposed to arrive Thursday. A party to thank the community for its support following the tragedy was scheduled Sunday, and the grand opening was going to be Monday.
The Pizza Place basement, like many, flooded. The new floorboards took on some water, but Brad doesn't think the wood will warp much.
He simply shrugged.
"We don't have it nearly as bad as others ... It'll set our opening back about 10 days," Wagner said. "It was just a good rinsing."
Casper Star Tribune
June 6, 2015
Cleanup: Flash flood destroys 29 homes
A Red Cross assessment on Friday said 29 homes were destroyed in Lusk and Niobrara County, 15 to 20 businesses were damaged and a bridge was wrecked after a flash flood early Thursday morning.
No injuries were reported.
City Clerk Linda Frye said Friday that city water began flowing about 5:30 p.m. Thursday when crews restored electricity that powers the town's water well pumps. Both had been out since the flood hit early Thursday.
Forty-five residents spent the night at a Red Cross shelter at the Niobrara County Fairgrounds, and the organization began distributing cleanup supplies and snacks, Red Cross spokesman Bill Fortune said.
Gov. Matt Mead visited Lusk on Thursday evening, touring the damage and meeting with residents. He issued an executive order Friday declaring a state of emergency, authorizing assistance from the Wyoming Army National Guard and the Office of Homeland Security.
Various state agencies, including members of the Wyoming National Guard, mobilized
early Friday.
More help arrived later that day, when a team from the Federal Emergency Management Agency arrived, according to Kelly Ruiz, spokeswoman for the Wyoming Office of Homeland Security.
Major highways in and out of the Lusk area remain closed as engineers assess damage to roads and bridges.
State Highway Department spokesman Bruce Burrows said the agency was considering putting up a portable bridge to temporarily replace a span that collapsed on U.S. 85 on the north side of Lusk. The highway is a major route through the town of
about 1,500 people.
The bridge goes over railroad tracks. A sister bridge on the same highway that goes over the Niobrara River appeared intact, but engineers were still assessing, Burrows said.
"Right now, it's a bridge to nowhere," Burrows said, because the other bridge is collapsed.
Union Pacific spokesman Mark Davis said crews overnight removed most of the debris from a Highway 85 overpass that collapsed onto train tracks. He expected the line open for train traffic from the east by noon Friday.
Officials continued to move heavy equipment into the area to address other tracks that were submerged or otherwise damaged. That included trains bringing rock to the Lusk and Manville areas.
Davis said crews will begin work in Manville and work their way toward Lusk.
He said there remains no time estimate for the rail line's opening.
The flash flooding occurred when up to 6 inches of rain inundated the area late Wednesday and early Thursday.
Water and electricity have been restored to most of the residents in Lusk.
Casper Star Tribune
June 7, 2015
Road crews reopen highways damaged by flooding
CHEYENNE -- Road crews have reopened sections of highway damaged by flooding in eastern Wyoming this week, and the wet weather pattern that has gripped the state for the past few weeks appears to be easing.
A 20-mile section of U.S. 20 from Lusk to the Nebraska state line, a 50-mile stretch of U.S. 85 south of Lusk to Lingle, and a 35-mile section of state Highway 270 all reopened Saturday, the Wyoming Department of Transportation said. Crews were still working to reopen U.S. 18-20 between Lusk and Orin Junction at Interstate 25, U.S. 85 north from Lusk to Mule Creek Junction and Highway 270 from Manville to its junction with U.S. 85.
Flash flooding early Thursday washed out a culvert on U.S. 18-20 near Manville, collapsed a bridge on the north side of Lusk on U.S. 85 and caused other damage that forced the transportation department to shut down traffic in and out of Lusk on Thursday and Friday except for local residents and emergency responders.
"We're making progress slowly but surely," department spokesman Bruce Burrows said Saturday.
The U.S. Postal Service has resumed mail deliveries to areas where carriers can
reach.
Many rural residents rely on the mail for checks and medications, postal spokesman David Rupert said. "It's kind of a lifeline for a lot of those people," he said.
Meantime, residents of Lusk and other communities in Niobrara County continued to clean up from the flood. They were being aided by various state agencies, including the Wyoming National Guard.
The Red Cross estimated about 30 homes in Niobrara County were destroyed and 15 to 20 businesses, mostly in Lusk, were damaged.
Gov. Matt Mead declared a state of emergency on Friday in response to the flooding in Niobrara County and weather-related damage that has occurred elsewhere in the state during the past few weeks.
In northern Wyoming, three homes in Buffalo sustained major damage and 20 others suffered water damage this week, according to the state Office of Homeland Security. The Red Cross has issued about 100 cleanup kits in the Buffalo area.
The National Weather Service predicted the active thunderstorm pattern would begin to dissipate beginning today, with fair weather expected the coming week.
Casper Star Tribune
June 9, 2015
Work continues to reopen washed-out highways
The Wyoming Department of Transportation says it continues work to reopen highways washed out by flooding in Niobrara County.
Flash flooding Thursday destroyed a bridge on U.S. 85 in Lusk and washed out U.S. 18-20 at a culvert in Manville.
WYDOT officials said Monday they're working on a detour that would allow cars and light trucks to bypass the destroyed bridge on U.S. 85. Another option being considered is a temporary modular steel bridge.
Crews are installing a new culvert on the highway through Manville. U.S. 85 remains closed between Lusk and Wyoming Highway 270 some 30 miles north of town. The highway is open from Lingle to Lusk, according to WYDOT officials. WYO 270 is open from Guernsey to U.S. 85 through Manville and Lance Creek. U.S. 18-20 remains closed between Orin Junction and Manville. U.S. 20 is open between Lusk and Nebraska.
One of two main railroad tracks in the area reopened Monday morning, Union Pacific Railroad officials said. The other is expected to open late Tuesday or early Wednesday.
Casper Star Tribune
June 11, 2015
US 18-20 open in eastern Wyoming
The Wyoming Department of Transportation says U.S. 18-20 is now open in eastern Wyoming.
Crews repaired a culvert that had washed out near the small Niobrara County community of Manville during last week's flash flooding.
The washout kept a 30-mile stretch of U.S. 18-20 closed between Orin Junction at Interstate 25 and Manville closed until Tuesday.
A 30-mile stretch of U.S. 85 remains closed between Lusk and Wyoming Highway 270 because of a collapsed bridge on the north side of Lusk.
Casper Star Tribune
June 11, 2015
Red Cross offers supplies to Lusk residents after flood
LUSK -- The Red Cross is offering cleaning supplies to residents of Lusk following last week's heavy flooding there.
The Red Cross is offering water, bleach and other items at the Niobrara County fairgrounds in Lusk. An assistance center will be open there 10 a.m. to 3 p.m. on Wednesday.
A Red Cross nurse will be available to answer questions about avoiding illnesses that are possible following a flood.
Visitors to the Red Cross assistance center will also have an opportunity to pick up an application for assistance from other community organized donation funds.
Casper Star Tribune
June 25, 2015
Donors raise $71K and counting for Niobrara County flood victims
While Niobrara County awaits word on whether it will receive federal assistance, private donations are still coming in to help the victims of the June 4 flood.
The Niobrara Recovery Committee has raised over $71,500 and distributed about $38,800 of that to businesses and homeowners directly affected by the flood. Some county residents, however, have raised concerns the money isn't being distributed properly or equitably.
The flood destroyed 14 homes, caused major damage to another 38 and some damage to an additional 42 homes, according to Wyoming Homeland Security. Ten businesses endured major damage; another 39 suffered minor damage.
"People were wanting to give," said David Shaner, a committee member.
The six-member nonprofit garnered approval from the emergency coordinator, received advice from the Red Cross and opened a bank account June 8.
Money is coming in as small as $10 increments. Treasurer Joseph Currier said each donor receives a personal letter noting the amount so they can write it off on their taxes.
At least 31 businesses and 36 individuals had received money as of Monday. Flood victims must fill out an application, and then someone is sent to assess the damage and see how much the committee can offer.
In the initial aftermath, much of that money went to things like water heaters, Shaner said. People are encouraged to apply a second time, if necessary. Once the money is all given away, the committee will shutter and the bank account will be closed. Applications have trickled to just five or six a week, Shaner said.
Shaner said no applications have been denied to his knowledge, but some require more investigation.
"Ninety-nine percent of applications that have come in, people have received something," Shaner said. "There are a couple that are questionable simply because of their location and what they asked for."
Some residents have complained about a lack of transparency surrounding the money. To that end, the committee is divulging how much it has received and allocated. But the privacy of donors and victims is important, too, Shaner explained.
"We're trying to be fair across the board," Shaner said. "It's based upon what we have and what your need is."
For those who have lost everything, the need is greater than the committee's resources. Gov. Matt Mead requested this week a presidential disaster declaration for Niobrara and Johnson counties. If approved, that will allow the Small Business Association to offer low-interest -- 2 percent -- loans and grants for individual assistance ranging from child care to health and medical bills, said Kelly Ruiz, spokeswoman for Wyoming Homeland Security.
Some, like Currier, are doubtful the town will ever see any of that money. Niobrara County is too small to meet the threshold for assistance, he worried.
The state has had only one such disaster declaration approved in the last 16 years. That was for the Wright tornado in 2005, Ruiz said.
If approved, federal workers would invite flood victims to come and apply for assistance.
"It moves pretty fast once it's approved," Ruiz said. "They get field offices out there and start getting people in the offices."
There is no timeline on the approval, however.
Federal workers this week are also assessing infrastructure in Niobrara and Johnson counties to see if the damage qualifies for further federal assistance. If assistance is requested and approved, the federal government would pay a 75 percent share of things like damaged roads and culverts. State and local money would take care of the rest.
"It's a waiting process right now," Ruiz said. "I wish I could give an answer and a timeline, but there's just not one to give."
While they wait, Niobrara County residents continue to rebuild. Drinking water has been restored, those left homeless are now sheltered and cleanup continues, local officials said.
Those wishing to donate can send money to P.O. Box 53, Lusk, WY 82225, or call Chairman Tony Perry at 307-256-1277.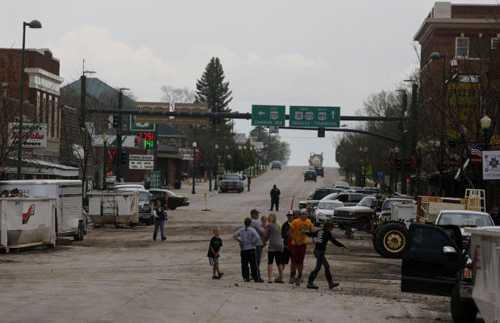 People stand on Main Street while helping with cleanup efforts June 5 in Lusk. Parts of Lusk, Manville
and other areas of Niobrara County were flooded the day prior when intense rains caused the Niobrara
River to overflow its banks.
Casper Star Tribune
June 26, 2015
Lusk rebounds from flood as shops reopen, bridge work continues
CHEYENNE -- Three weeks after a flood swept through part of the small eastern Wyoming town of Lusk, some businesses have reopened and roads have been repaired, although a bridge on a main highway through town remains out.
Bloomers, a gift and antique store on Main Street, reopened Monday, co-owner Twila Barnette said.
"We do have a fresh load of flowers in our cooler, so we're feeling better about things," Barnette said.
Jackie Bredthauer, executive director of the Niobrara Chamber of Commerce, said about three quarters of the 31 businesses that sustained damage in the June 4 flood have reopened.
"Some aren't to full capacity. Like one of the gas stations only has one gas pump at this point in time," she said Thursday.
The Wyoming Department of Transportation is working to erect a temporary bridge on U.S. 85 on the north side of Lusk. The bridge over railroad track had collapsed when the Niobrara River swelled beyond its banks because of heavy rain.
WYDOT spokesman Bruce Burrows said a 200-foot long temporary bridge is going to be put in as soon as all the pieces arrive. The original bridge was only about 60 feet long, but the flood had eroded the abutments on either side of the bridge, requiring a longer span, he said.
Engineers hope to have the temporary bridge in place sometime next month, Burrows said.
"Putting this temporary bridge in will help until we can get everything organized and planned to build a permanent replacement," he said.
Planning has begun for a new, permanent bridge, which will cost millions of dollars, Burrows said, noting that construction could begin before the end of the year.
"The intent is to get it done as quickly as possible," he said.
A detour for light trucks and cars is available through town, but heavy trucks must detour around Lusk on state Highway 270.
"The detour route that's in place has been apparently working well," Burrows said. "It's restored a little bit of normalcy."
The damage cost from the flood is still being assessed.
Gov. Matt Mead has requested a federal disaster declaration in hopes of obtaining federal aid.
Scottsbluff Star-Herald
July 24, 2015
Federal relief funds earmarked for Lusk
by Jeff Smith, Staff Reporter
LUSK -- There might be a glimmer of hope for residents of Johnson and Niobrara counties. Money has now been provided through federal relief funds and other fundraisers have come to those affected by the floods in the area.
A fundraiser in Scottsbluff will be held July 25-26 to raise money for the Lusk flood victims. The cost is $40 for the individual weightlifting event on Sunday and $60 for male and female teams on July 25. The competition will have four events on July 25.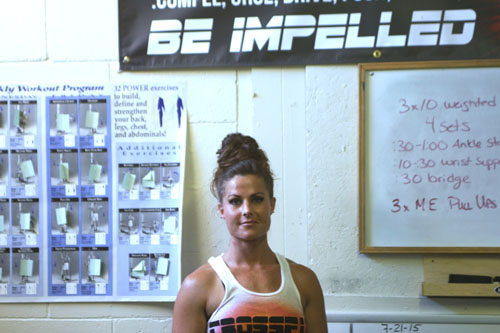 Photo/Jeff Smith

Crystal (Penfield) Stock, who is the owner of Crossfit Impel and the organizer of the event, is from Lusk. She saw all the pictures from the flood. She knew a family whose house was washed away in the flood that also caused the bridge of the overpass to collapse.
"There wasn't a whole lot I could do but I wanted to raise funds for repairs," said Stock.
One-hundred percent of the donations will be given to the committee in Lusk and she said that there are ten teams signed up for the event on Saturday. Both of the events start at 7 a.m.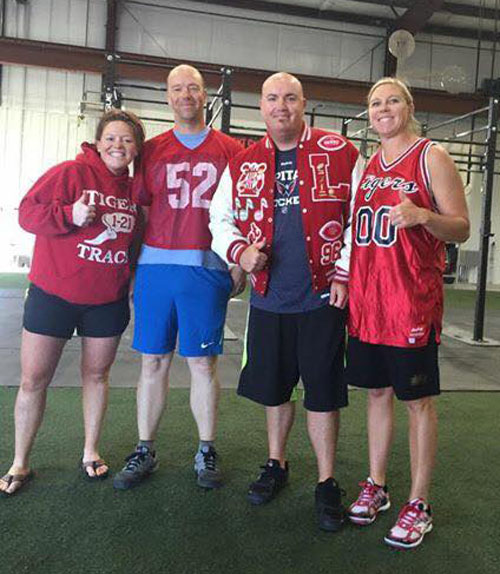 Some crossfit teams represented Mountain Fit Crossfit in Casper, including
Carisse Ludwig, Rob Ratliff and former Luskites Brent Rose and Amy Pickett Rose.
Several other fundraisers have been set up in response to helping those affected by the flood. Only one fundraiser has been held in Lusk. An arts and crafts silent auction on July 10 and 11 raised over $1,100. One of the bigger events for fundraising will be a silent auction on Sept. 18 at the Niobrara County Fairgrounds in Lusk.
The U.S. Department of Homeland Security's Federal Management Agency announced on July 7 that disaster aid will be made available to the state of Wyoming. The June flood decimated homes, businesses and the overpass bridge that runs north of the town.
Most businesses have reopened and the roads in and out of the town are drivable. The distribution center in Lusk will still provide food, clothing and other household items to area residents until September for those who need provisions.
Niobrara and Johnson counties have received relief for individuals and businesses affected by the flood. Then, just this last week all four counties in Wyoming who applied for public assistance met the threshold. This included Johnson, Niobrara, Albany and Platte counties.
A kickoff meeting to see that public assistance needs are met and applicant briefing will begin on July 30 in Lusk for Niobrara County. The Niobrara County emergency management coordinator was unsure about the specific amount that will be given and will hear more details next week.
"That would not be a solid number. The exact number that comes out could be higher or it could be lower," said Sharon Sanders, external affairs officer for FEMA in Wyoming.
One thing for sure is that the federal government will now be in charge of funding 75 percent for the repair of publicly owned facilities like roads, culverts and utilities. Twenty-five percent will need to be paid by the local government, but out of that 25 percent some funds will fall under the responsibility of the state of Wyoming.
Federal workers have been assessing infrastructure in the counties the last few weeks. This involves professionals conducting a work sheet that looks at the amount of repairs and money that is needed at the various sites.
The local board in charge of donations, the Niobrara Recovery Committee, has received funds from local and out-of-state donors in the amount of $174,000. The committee has helped 60 people and 31 businesses in and around Lusk.
"It has been a great success and there has been assistance provided to several folks. We are happy and excited to do it," said the chairman of the Niobrara Recovery Committee Tony Perry.
Flood victims fill out an application to receive assistance and then someone checks in on the needs of the applicant.
Another committee has been set up called the Niobrara Enhancement, which arranged a silent auction at the Legend of Rawhide event July 10-11 but Perry said that only part of the funds they raised were used for flood relief. According to Perry, there is some concern of accountability and transparency within that group. Perry stated that they are using the same pre-screening application for people to receive funds. He is concerned about the duplication of funds that people could receive.
"There is some people whose damage is worse than others and we want to see that the funds are going to the right people," said Perry.
(Note: This article is used with permission from the Scottsbluff Star-Herald, and is printed here as published. According to Lusk sources, the amount of money raised by the silent auction should be $13,000. In addition, Lusk sources indicate that 100% of these funds were applied to flood relief.)
Images & Attachments
There are no attachments for this record.
Related/Linked Records
There are no linked records.