Jireh College reign short, but sweet
Courtesy of The Lusk Herald, 07/09/1986
In 1907 the Rev. George Dalzell held a pastorate in Lusk. He conceived the idea of an academy or preparatory college sponsored by the Christian Church of Dayton, Ohio. On the empty plains between Manville and Keeline, he staked out his homestead, and thought it an ideal pace with free, virgin land for the settlers. He wrote up his idea for "The Herald of Gospel Liberty," the national publication of the Christian Church.
By the spring of 1908 pilgrims, cultured and educated, were homesteading their claims and plotting their town, Jehovah Jireh (The Lord will provide). They were idealists coming west to establish a cultural institution. With a grant of money from the church, 320 acres were bought from Uncle Billie Sherman for a townsite. In one week in July, 20 lots were sold - 70 per cent from the sale of lots was kept for the college fund, 10 per center for the church, and 20 per center for street improvements. Laws governing the town were specific - no intoxicating liquors, no cards, no smoking, no dancing.
The cornerstone for the college was laid October 21, 1909, with Wyoming's Representative, Honorable Frank W. Mondell giving the address. The idealistic ceremony on the treeless prairie attracted nation-wide attention. Men of the community donated their spare time, often walking as far as four or five miles to work on the building. Church services were held in a small school building. There were often as many as 60 in Sunday School.
by June, 1910, Jireh was a good-sized town. The depot, a box car, was a fourth of a mile away. About 100 families of the Christian faith made up the community. While the college was nearing completion, a Summer Normal Course was held. Mrs. Dalzell a graduate of the Boston Conservatory of Music, was an instructor. Rev. George C. Enders, D.D., was the first president of Jireh College and conducted the Summer Normal. Teachers and would-be teachers came from all over the State to study. The courses offered were the latest, taught by faculty members on leave from Eastern colleges.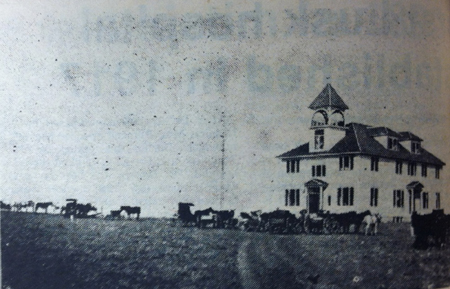 Opened in 1910
The first session of Liberal Arts opened in Jireh college in the fall of 1910. Four pupils were enrolled in the academic department, and six in the Music and Arts department. Reverend William Flammer was president, as Reverend Enders had returned east. Mrs. D. B. Atkinson was music and art instructor. The college was a three-story building with a full basement, larger than needed now, but the community was building for the future. This same fall a new public school was also opened in Jireh, as the community was growing fast. C. W. Pfeifer taught the grammar grades and Miss Lu Emily Hess the primary department. This building later became the community hall of Keeline.
Since many of the homesteaders turned to farming for a livelihood, the Wyoming Legislature was asked to establish an experimental farm in connection with the college. State funds were appropriated in 1911, and a farm located about one-half mile from Jireh. Men from the University of Wyoming conducted experiments here on how to cultivate the soil, conserve moisture, and grow the best varieties of grain. Enrollment at the college grew to a high of 65. Living expenses were kept low. Meals were served in the basement of the college building. The third floor served as a girls' dormitory at first. When rooms for girls were established across the street, the third floor became the boys' dormitory.
Two in first class
Dr. D. B. Atkinson was president and instructor during this time of rapid growth. The first commencement exercises were in 1913, when Fama Hess Stoddard and Leslie Cox graduated. A whole week was devoted to this commencement with a class day, a class play, and a college day. People came for miles in buggies and lumber wagons for the festivities. The orchestra played. Students exhibited their art work. Honorable John B. Kendrick of Sheridan, who became Governor in 1915, and later U.S. Senator, was the speaker. He came in a buggy. In the excitement his buggy wheels locked with those of another buggy. It was necessary to remove the wheels of Kendrick's buggy to unlock them. Someone handed Kendrick a wrench, and he proceeded to free the wheels of his buggy himself.
1913 to 1917 were boom years of Jireh. The Jireh Farmers Association was incorporated for the purpose of buying and selling grain, hay, and other farm produce and livestock. Shares were $100. T. S. Grant, A.P. Knight, C.W. Pfeifer, F. E. Stevens and L.C. Stoddard were directors. Art Whelan was depot agent and busy with shipments of grain from the bountiful crops. Rev. John R. Cortner was the first postmaster.
H. L. Koontz sold International tractors and McCormick binders. Arthur P. Knight was the real estate agent. Marietta Mayborn was proprietor of the Jireh Hotel. G. A. Davis furnished board for $6 a week, or meals for 40 cents. Solberg and Lee were blacksmiths. Col. L. L. Lee was auctioneer.
The Jireh Record stated in its editorial that "the district is fast settling up and its advantages should be heralded to the world so that settlers and investors looking for opportunities may be attracted thereby. The Record will also be a medium for disseminating information in regard to Jireh College. Its educational facilities and the liberal plan it is offering to young men and women desirous of obtaining a preparatory and collegiate education."
Trustees for Jireh College were C. W. Pfeifer, Art Whelen, T.S. Grant and L.C. Stoddard. It was well known for its fine musical and art instruction, in addition to a Liberal Arts course with practical agronomy on the Experimental Farm.
Life was not dull in Jireh, in spite of the restrictions made when the town was founded. Roller skating was the chief pastime. Athletics, basketball games, sleigh rides, phonograph recitals, pantomimes, and music in many forms kept the students busy and happy. Thanksgiving was celebrated by a big, carry-in dinner for the community. Picnics and fairs were held in the summer.
Highway 20 was then called Lincoln Highway. One year a large promotion was held in Jireh. Two men arrived in a spring wagon drawn by donkeys. They made arrangements and supplied the food. A water tank was scrubbed out and placed over a pit filled with firewood. Then the tank was partly filled with pieces of chicken. When the chicken was well boiled, vegetables were added. This stew was to all who came for miles to hear the men speak on Lincoln Highway and its promotion.
War and drought
War came. Many students left. High schools were established in nearby towns. Later there was drought with farm units growing in size and turning to livestock raising. People moved away. Ella S. Watson and C. W. Pfeifer were the last teachers at Jireh College. In 1920 it ceased to exist. The large building was torn down and shipped to Laramie, where it was used to build two homes. Other buildings were wrecked and moved away. Today Jireh is truly a ghost town, with only a cemetery left to show where a college town once prospered.
Images & Attachments
Related/Linked Records
There are no linked records.