Photo Makes Legend of Rawhide Famous
Courtesy of Library Archives, 06/27/2023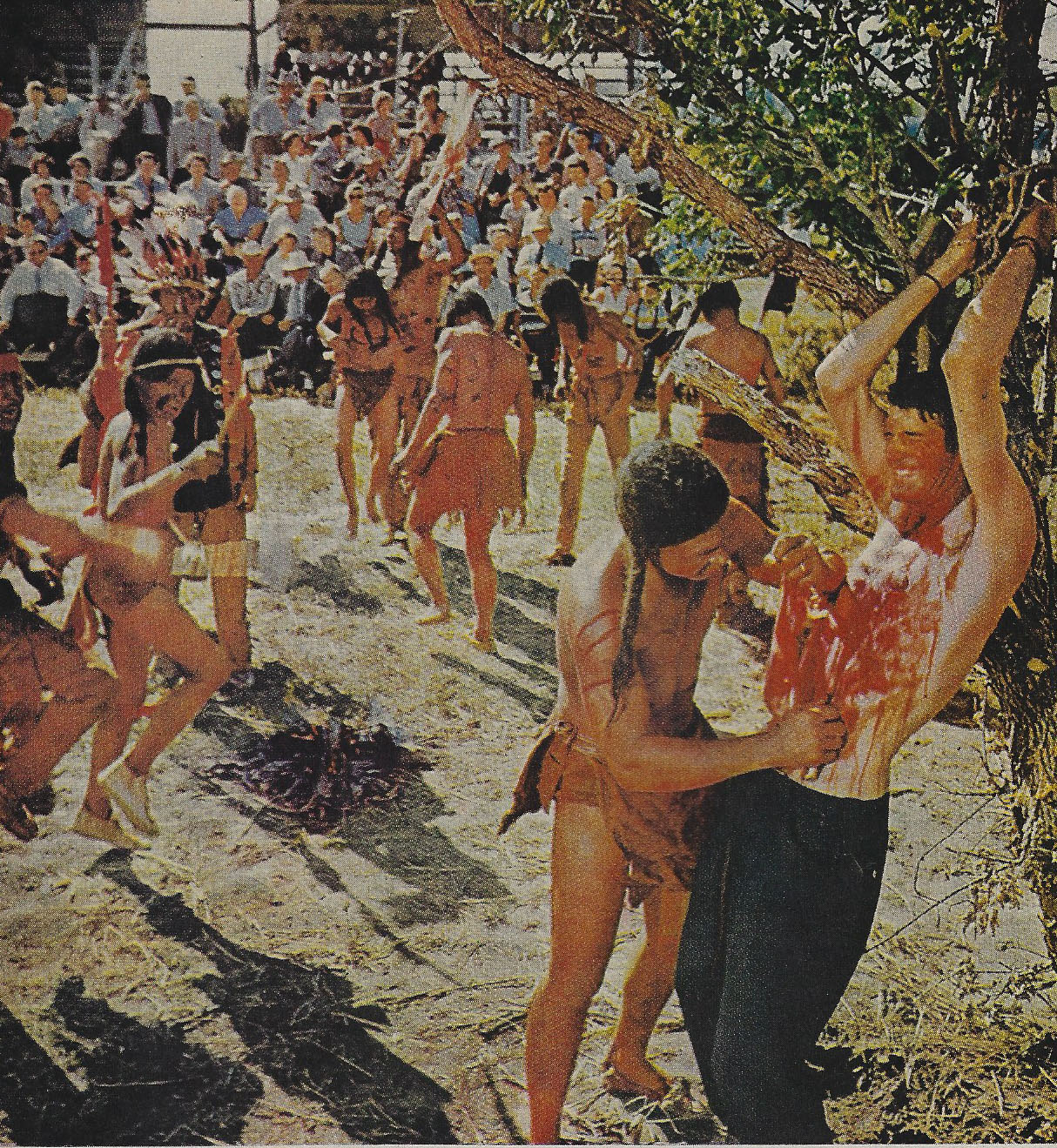 This photograph, appearing in the April 13, 1959, issue of Life Magazine brought national attention to the Legend of Rawhide Pageant. It depicts the skinning scene where Clyde Pickett (played by Jim Thompson, Niobrara rancher and state legislator) who shot the Indian girl, pays the price. The Indians were portrayed by local men, women and children, who wore wigs and smeared their bodies with iron ore powder obtained from the nearby (50 miles) Sunrise, WY,mines, giving them a realistic uniformly bronze coloration.
The Life photographers made several suggestions and demands, including a 6:30 pm start (for the best lighting), wagon positioning, and bringing the action closer to viewers in the stands that had to be full-to-capacity.
The photo, with the caption that read "Skinning of a white at Lusk,Wyo. about a man who shot an Indian girl then surrendered to prevent slaughter of a wagon train,"was included in a 20-page article entitled The West Is Our Great Adventure of The Spirit by A. B. Guthrie, Jr. The article in turn was part of a treatise entitled How the West Was Won that Life published in several continuous issues. The impetus for this was the tremendous public fascination with the early history (fact and fiction) of the American West. In the post-WWII years, with the advent of modern movies, television, and greater mobility and leisure time to travel,Americans continue their interest in the lore of the great American West.
Alfred Bertram Guthrie, Jr. (1901-1991) was an American novelist, literary historian and screenwriter known for writing stories about the American West. He was awarded a Pulitzer prize for writing The Way West and wrote the screenplay for the classic western movie Shane.
Images & Attachments
Related/Linked Records
| Record Type | Name | |
| --- | --- | --- |
| Historical | Legend of Rawhide | View Record |