Quilt Project - Connecting the Threads of the Past
Courtesy of Library Archives, 01/08/2009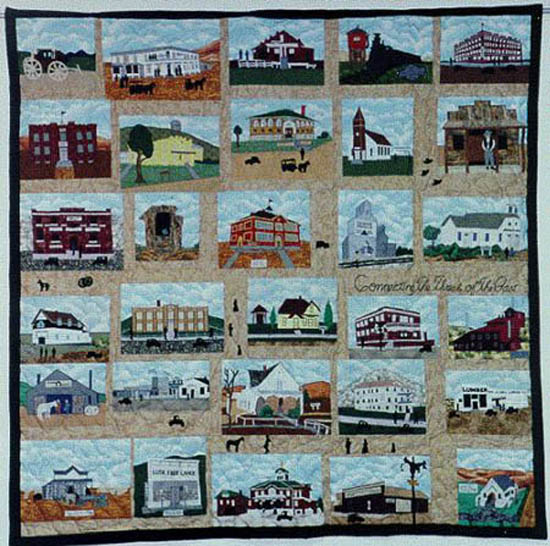 The Historic Appliquéd Quilt was created in 2001 by the Bag Ladies of Lusk, who each contributed blocks to the project. Members included Wanda Lorenzen, Dorthy Lohr, Edith Culver, Wyoma Hales, Nadine Johnson, Evelyn Perry, Marilyn Cockreham and Zola Bolin. The Quilting was done by Dorothy Shimp of Torrington. The squares, which are included in this website as separate historical articles, include from top:


Row 1: Russell Thorp Stagecoach (now in Museum) - The Northwestern Hotel - Lusk Depot - Northwestern Train and Water Tower - Ranger Hotel -- Row 2: Wyoming National Guard Armory (now Stagecoach Museum) - Dell's Yellow Hotel - Niobrara County Carnegie Library - Congregational Church (now the First Baptist Church) - Saloon (Generic) -- Row 3: Silver Cliff Hotel - Outhouse (Generic) - Lusk High School - 1910 (Grade School, now Elks) - Tri-State Milling Company - St. George's Episcopal Church - Row 4: Old Masonic Temple - Lusk High School - Gerald Bardo House - Henry Hotel (now Hospitality House) - Great Western Milling & Mining - Row 5: Salverson Blacksmith - C & H Refinery - Frank Lusk House (now Mortuary) - Royal Apartments - J. L. Hall Lumber Company - Row 6: The Big Ironclad at Silver Cliff (only building, with tents) - Lusk Free Lance - Niobrara County Courthouse and Jail - H. C. Snyder Mercantile Store - Catholic Church (now Niobrara Southern Baptist).
Images & Attachments
There are no attachments for this record.
Related/Linked Records
| Record Type | Name | |
| --- | --- | --- |
| Obituary | Bardo, Gerald (12/10/1908 - 06/09/2002) | View Record |