Quilt Squares - Russell Thorpe Stagecoach
Courtesy of Library Archives, 01/08/2009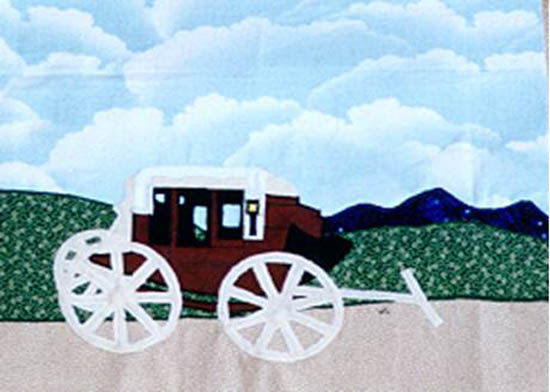 In 1883, Russell Thorpe bought the famous Cheyenne & Black Hills Stage Line, which went from Cheyenne to Custer City, then on to Deadwood. He made the Rawhide Station, which became the Ord Ranch, his headquarters. Gold Bricks were transported from Deadwood to the Cheyenne railroad. The last trip the stagecoach made was in 1887, with driver George Lathrop. He is buried two miles west of Lusk with a special monument marking his grave. One of the stagecoaches is now in the Lusk Stagecoach Museum. The Russell Thorpe Stagecoach Quilting Square was created by The Bag Ladies for their Historic Quilt in 2001.
Images & Attachments
There are no attachments for this record.
Related/Linked Records
| Record Type | Name | |
| --- | --- | --- |
| Obituary | Thorp, Russell (07/23/1877 - 10/26/1968) | View Record |