Kenneth Eugene Wright
(10/24/1922 - 10/12/2021)
Courtesy of The Lusk Herald, 10/20/2021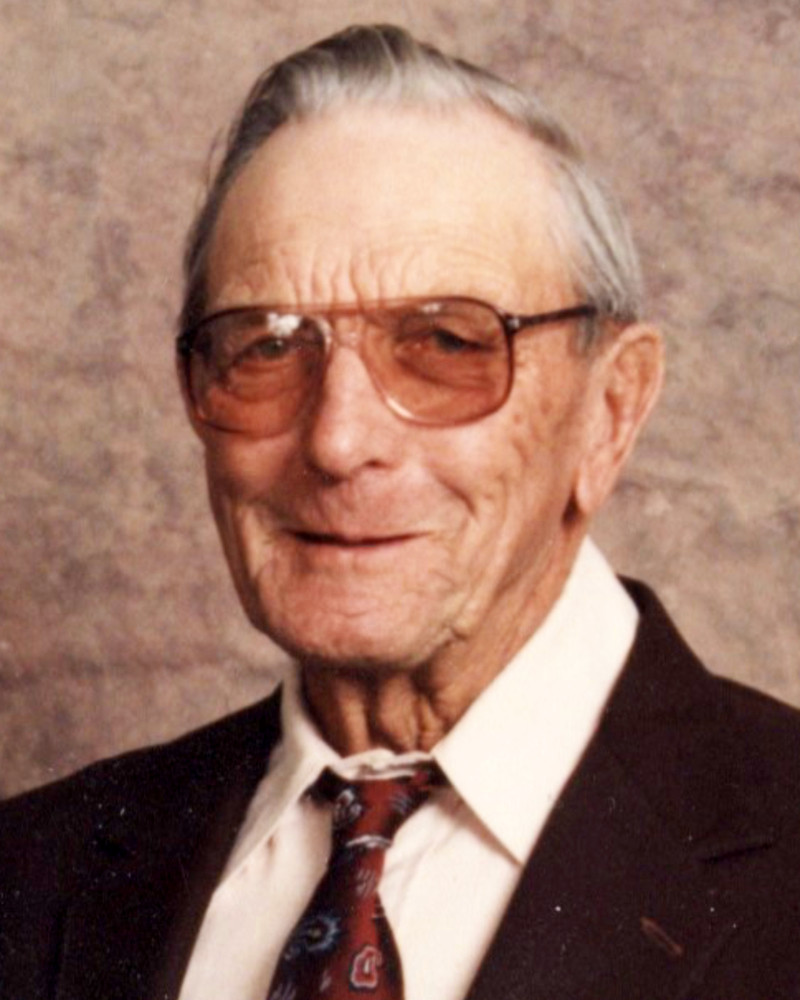 Kenneth Eugene Wright passed away on Tuesday, Oct. 12, 2021 at the Niobrara Community Hospital Assisted Living in Lusk at the age of 98.
Kenneth was born at his family's homestead in Lost Springs on Tuesday, Oct. 24, 1922 to Orval Chester and Mary Ethel (Kiester) Wright. Before his birth, Kenneth's family had arrived in Wyoming in 1914 when his mom, dad and older siblings traveled from Nebraska to Lost Springs in a covered wagon. Kenneth was the fifth child of six children and was often called by his nickname, "Kink," growing up.
Kenneth attended school at Eddy School and spent his childhood on the family's home place taking care of the ranch and animals. The family would have barn dances and play music for the dance. Kenneth played the guitar, his brother played fiddle, his mother played the piano and his father played the mouth harp. Kenneth enjoyed sharing stories of his youth and his vivid memory of these times was remarkable.
On April 10, 1943, he married Wilma Irene Hitshew in Harrison, Nebraska. They lived on the family home place north of Lost Springs. Their son, Nyle Keith Wright, was born on Thursday, July 21, 1948. A few years later, Kenneth moved his family to their own place in Lost Springs where they continued to ranch and raise cattle. Kenneth and Wilma enjoyed playing cards and would host pinochle parties. They would also travel to neighbors' homes for Bible study. Branding was an important event for Kenneth and a time when neighbors and family got together. Kenneth looked forward to holidays, especially Thanksgiving, when he could spend time with his family. Kenneth enjoyed Wilma's homemade cooking and particularly liked desserts, cookies and pies. Kenneth would joke there are only two kinds of pies that he liked, a hot one or a cold one.
Kenneth had a special fondness for all his grandchildren and great-grandchildren. He liked to play cards and checkers with them, tell them jokes and share stories. From when they were little, Kenneth would sit his grandchildren on his lap as he drove the tractor and show them how to drive it. He would teach them how to feed cows and take them around the fields to help fix fence and windmills. He taught them about ranching and about the value of hard work.
Ranching was Kenneth's entire life; he was a true cowboy. Being able to ranch with his son in God's open spaces brought him pride and joy. The ranch was Kenneth's heaven on Earth.
Kenneth is survived by his sister, Marjory Hildebrand, of Douglas; grandchildren, Jeff Wright, of Mesa, Arizona, Rebecca (Darren) White of Sheridan, Tim (Erin) Wright of Douglas, and Allison (Grant) Harper of Sheridan; and ten great-grandchildren.
He was preceded in death by his father, Orval, on April 18, 1948; mother, Mary, on Jan. 5, 1951; wife, Wilma "Nonie" Wright, on April 9, 2001; son, Nyle Keith Wright, on Aug. 13, 2019; and siblings, Margaret Parmely, Mary Jenkins, Sherman Wright and Orval Wright.
Services for Kenneth will be held at Frontier Baptist Church in Douglas on Friday, Oct. 22, 2021 at 2 p.m. with Pastor Tim Ricker officiating.
Family and friends may call at the funeral home on Thursday, Oct. 21, 2021 from 4-7 p.m.
The Gorman Funeral Homes – Converse Chapel of Douglas is in charge of the arrangements
Condolences may be sent to the family at www.gormanfh.com.
Images & Attachments
Related/Linked Records
| Record Type | Name | |
| --- | --- | --- |
| Obituary | Wright, Orval (11/07/1886 - 04/18/1948) | View Record |