Iris Mae Baughn
(05/19/1926 - 10/22/2021)
Courtesy of The Lusk Herald, 10/27/2021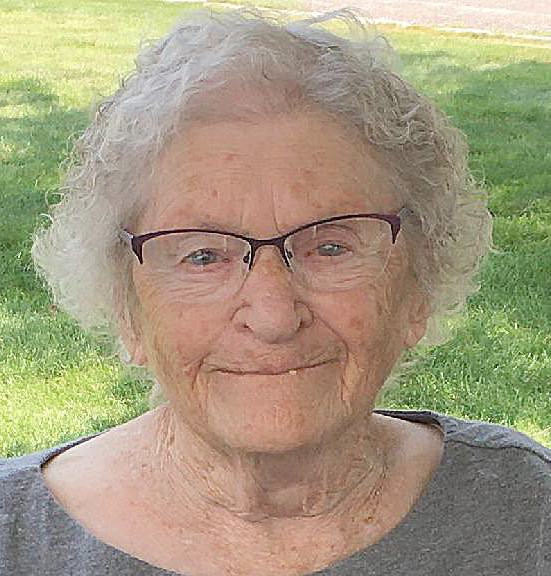 Funeral services for Iris Mae Baughn, 95, will be held at 1 p.m. Tuesday, Oct. 26, 2021 at Pier Funeral Home in Lusk.
Iris Mae Crofutt was born May 19, 1926 at Hat Creek to Charles Elmer Crofutt and Edith Mary Lineback Crofutt.
In 1938, the family homestead burned, changing everyone's life with the loss of parents and a sibling. The oldest sister, Mildred, became mother, caretaker, and teacher. The family was able to stay together with the help of the community, and every one of the children graduated from Niobrara County High School.
Iris married Harry C. "Buck" Baughn on November 6, 1948 and made their home in Lance Creek. They moved to Torrington in 1954 where Buck worked for the Torrington sugar factory. After retirement at the factory, Buck and Iris moved back to Lusk.
Iris had no children, but had lots of nieces and nephews, and especially, a great-nephew, Chuck Bryant, who loved and cared for her throughout the years. Her highlight of the week would be when Chuck came from Casper to visit and take her for drives through the community.
Iris joined the Church of Jesus Christ of Latter-day Saints in 1952 and she and Buck were sealed together for all time and eternity in the Salt Lake Temple in 1965. Iris made an incredible contribution to the family by researching and doing family history. She did not have a computer, or even use of a telephone. Her genealogy consisted of writing letters and then waiting for her information to come through the mail.
Iris died peaceably Fri., Oct. 22, 2021 at the nursing home at Lusk where she resided for the past several years. She was the last living sibling of the twelve Crofutt children born in Niobrara County. Buck passed away in 2011 at Lusk, and Iris will be buried next to him at the Lusk Cemetery.
In lieu of flowers, the family would appreciate donations to the Niobrara County Senior Center, PO Box 928, Lusk, WY 82225.
Pier Funeral Home is in charge of arrangements.
Images & Attachments
Related/Linked Records
| Record Type | Name | |
| --- | --- | --- |
| Obituary | Baughn, Harry (01/09/1920 - 07/16/2011) | View Record |