Misty Renee Himes
(10/03/1972 - 02/08/2022)
Courtesy of The Lusk Herald, 02/16/2022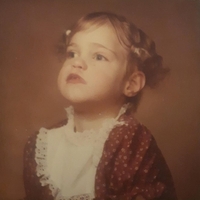 Misty Renee Himes was born, the youngest child of Patricia Goble Himes and Milton Himes, on October 3, 1972, in Lusk. She died February 8, 2022, in Torrington.
Misty was loved and cared for in Lusk for her first four years until her fragile health concerns forced her family to make the heartbreaking decision to seek a higher level of care for her seizure disorder.
Misty spent sixteen years in Lander at the Wyoming State Training School. One of Misty's favorite activities was swimming.
Misty was transferred to Diversified Services in Torrington in 1992. She loved to take enthusiastic walks. Although she usually walked with someone, one day she disappeared. After a frantic search she was located by authorities between a Cadillac dealership and a bar. No one knew where she was going, except Misty. She also loved her rocking chair, trips to the zoo, french dips, and holding hands. Most of all she loved her caretakers, friends and family.
Misty needed a little help, a little hope and someone to believe in. She taught us strength and tenacity as she fought her battles, but most of all, she added sunshine wherever she went and whoever she saw. She is our angel.
Misty is preceded in death by her father Milton; brother Dajo Castano, and sister Lashell Arnold; and grandparents, Emerson and Alma Himes, Bob and Ann Middleton and Louis and Ruth Goble. She is survived by her mother, Patricia; five sisters, Bobbie (Willis) Stallman, Cheri (Cody) Thompson, Jennifer (Dick) Penfield, Rolinda Arnold, and Holly Castano; two brothers, David (Marnie) Himes and Bruce (Lori) Himes; and many aunts, uncles, nieces, and nephews.
Services will be held at the First Baptist Church Tuesday, February 15, 2022, at 2 p.m. Graveside services will follow at the Lusk Cemetery.
Pier Funeral Home is in charge of arrangements.
Images & Attachments
Related/Linked Records
| Record Type | Name | |
| --- | --- | --- |
| Obituary | Himes, Milton (04/01/1928 - 08/10/2013) | View Record |