Keith Zimmerman
(06/18/1935 - 04/26/2022)
Courtesy of The Lusk Herald, 05/04/2022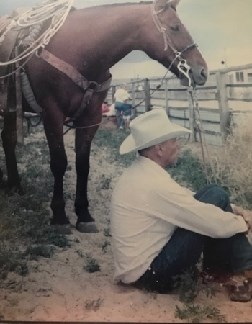 Keith Zimmerman April 26, 2022 Funeral Services for Keith Zimmerman of Harrison, Nebraska will be held Monday, May 2, 2022 at 2:00 PM at The United Methodist Church in Harrison, Nebraska. Burial will be held at Bodarc Cemetery. Visitation will be held Monday, May 2, 2022 at 9:30 AM at United Methodist Church in Harrison, Nebraska. A luncheon will be held Monday, May 2, 2022 at 11:30 AM at the VFW in Harrison, Nebraska.
Longtime Harrison rancher and cowboy, Keith Zimmerman, passed away peacefully at his home on April 26, 2022. Keith was born June 18, 1935 at Crawford, Nebraska to Cleve and Millie (Eberspecher) Zimmerman, the youngest of six children. He lived his entire life at his family home at Bodarc.
Keith married Olita Seaman on May 17, 1958, at her parents' home. To this union were five children: Wanda, Dee, Lex, Trudy, and Ginger. He worked two years with his parents before purchasing the home place in 1960. In 1980, He and Olita expanded their operation by purchasing the Seaman Ranch Northwest of Harrison.
While in high school, Keith was active in FFA, winning state honors and serving on 3 National Judging teams. He and two other members coaxed their instructor, Dean Lundy, into sponsoring an FFA rodeo in Harrison. They held the rodeo in 1950 and 1951, and it eventually became the Nebraska State High School Rodeo that has continued for many years.
Keith and his father built an arena when he became interested in roping. His father kept a few calves at home for Keith to practice on in the summer. He roped calves and Team Roped at several area rodeos for many years. Keith held a permit for a few years to the RCA (not the PRCA) and was a member of the "Old Timers Rodeo" (not the Senior Pro Rodeo Association), in which he competed twice at the finals held in Las Vegas. He was also a long-time member of the Harrison Roping Club as well as the Sioux County Agriculture Society (Fair Board). He also served as Sioux County Commissioner for years.
In 1948, at the age of 14, Keith purchased his first Quarter Horse, Skipper Socks, a yearling stud. He and his dad acquired a mare in 1952 and began raising Registered Quarter Horses.
Keith was honored in 2012 at the AQHA with a 50-year legacy award for breeding Quarter Horses. He sold horses and kept his entire family mounted throughout the years. They have all ridden Zimmerman horses for ranch work and competing in the rodeo arena, something he was very proud of. In 2016, Keith was inducted into the Nebraska Sandhills Cowboy Hall of Fame for his contribution and dedication to the cowboy way of life.
Keith is survived by his wife Olita, children: Wanda (Faron) Cross of Harrison; Dee (Michelle) Zimmerman of Harrison; Lex (Nita) Zimmerman of Mullen; Trudy (Dave) Saults of Harrison; Ginger (Warnar) Schaneman of Scottsbluff, 12 Grandkids, 24 Great-Grandkids, sister-in-law Shirley Hladky of Lusk, Wyoming along with numerous nieces and nephews.
He is preceded in death by his parents, his five siblings, and great-granddaughter Laci.
A memorial has been established for Bodarc Cemetery Fund or Nebraska Sandhills Cowboy Hall of Fame. Donations can be sent to Security First Bank - Harrison, PO Box 216, Harrison, NE 69346.
Images & Attachments
Related/Linked Records
| Record Type | Name | |
| --- | --- | --- |
| Obituary | Zimmerman, Grover (08/21/1886 - 08/20/1964) | View Record |