Joann Mary Abel
(01/20/1943 - 08/25/2022)
Courtesy of The Lusk Herald, 09/07/2022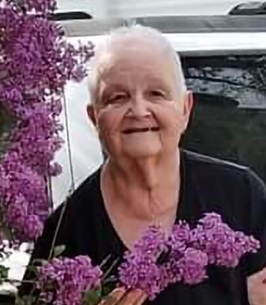 God Called an Angel home on August 25, 2022. Joann Abel, 79, of Bridgeport, passed away at Northern Colorado Medical Center in Greeley, CO. Her funeral service will be held at 1pm on Friday, Sept 2, 2022, at the Memorial United Methodist Church in Harrison with Pastor Lami Oladimeji officiating. Interment will follow at Van Tassell, WY cemetery. Visitation will be from 4-7pm on Thursday at Bridgman Funeral Home in Scottsbluff. It is respectfully requested that in lieu of flowers, memorials in Joann's honor be made in care of the church.
Online condolences may be made by viewing Joann's memorial page at www.bridgmanfuneralhome.com. Bridgman Family Funeral Home is entrusted with arrangements.
Joann Mary (Martin) Abel was born to Frank Irvin Martin and Esther "Marie" (Heckert) Martin on January 20, 1943.
Joann grew up in Van Tassell, Wyo. where she attended grade school and later high school in Lusk, Wyo. During her high school years, she worked the ticket booth and concessions at the theatre in Lusk. After graduating high school, she gained employment at the Court House in Harrison where she worked with her future sister-in-law and met the love of her life, Darold V. Abel. They were wed on May 19, 1963, in Harrison. To this union, two daughters were born; Anita R. (Abel) Wilkison and Lynn M. (Abel) Streeks.
Joann was a cook for many years at the Village Barn Restaurant in Harrison. She was a very crafty lady as well. She made both daughter's wedding dresses and all their attendants. Everything she made was always made with her Love poured into it.
Her crafts included knitting, crocheting, embroidery, and plastic canvas. After the loss of her husband, Joann moved to the valley to be closer to her girls. She worked a short period of time at the cleaners as a seamstress. Joann then moved in with Anita and remained with her until her passing. Among her numerous jobs, she was a Foster Grandmother at the Bridgeport Elementary. Joann started her own business "Granny's Hide Away" where she did alterations and sold unique knick-knacks. She continued to do what she loved. She crocheted stuffed animals for her great-grandchildren as well as for the Ronald McDonald House in Denver.
Joann had a heart of gold and touched the lives of so very many. She was a member of the Prairie Circle Extension Club, Memorial United Methodist Church Women's Group and the Rebecca Lodge, all of Harrison. In Bridgeport she was a member of the Red Hats Society where she crafted gift baskets for the residence for the nursing home.
Joann is survived by Anita Wilkison of Bridgeport and Lynn (Chris) Streeks of Minatare; grandchildren Brent (Tori) Wilkison of Minatare, Jessica Wilkison and Troy Zeibig of Terrytown, Ryan Streeks of Minatare, Andrew (Samantha) Streeks of Bayard, and Joel Griffith of Gering; great-grandchildren Crystal Diamond, Acadean Griffith, Jaydan Zeibig, Theodore Streeks, Mina, and Andrew Griffith.
She was preceded in death by her parents, her infant brother Irvin Martin; husband Darold Abel; grandson Calvin Streeks; great-grandson Jordan Zeibig and great-granddaughter Kylie Spaur.
She will truly be missed by all.
Images & Attachments
Related/Linked Records
| Record Type | Name | |
| --- | --- | --- |
| Obituary | Abel, Darold (04/11/1941 - 05/29/1997) | View Record |