Samuel "Sam" Fenwick Leonard
(04/17/1932 - 04/10/2023)
Courtesy of Online Sources, 04/24/2023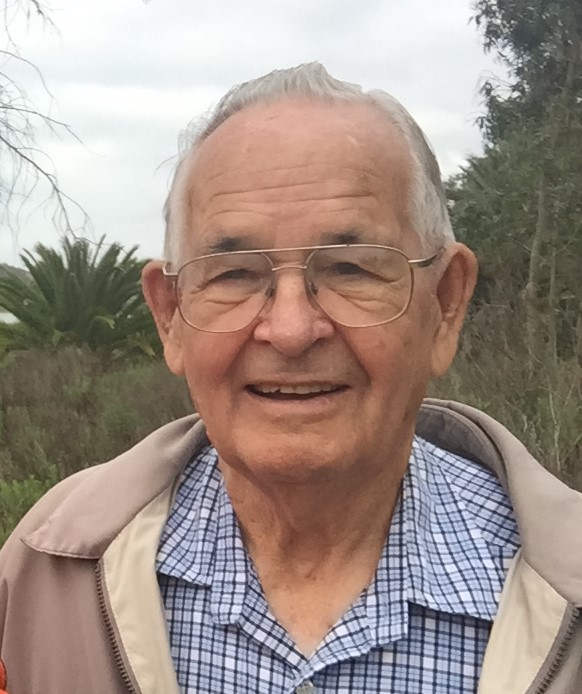 Samuel Fenwick Leonard, 90, of Oceanside, California, and formerly of Douglas, Wyoming passed away Monday, April 10, 2023 at the Ocean Hills Senior Living Center in Oceanside.
Funeral services for Sam will be held at 1:00 P.M. Saturday, April 29, 2023 at the First United Methodist Church in Douglas. Interment will be in the Douglas Park Cemetery. Family and friends may call at the funeral home on Saturday from 9:00 A.M. to 11:00 A.M.
Sam was born Sunday, April 17, 1932 to Edward George "Ted" Leonard and Susan Olive "Susie" (Leebrick) Leonard in Douglas Wyoming. He lived in Douglas, Wyoming and graduated from Converse County High School in 1950. Sam married Lola Margaret Crofutt of Lusk Wyoming on October 26, 1952 and they had two sons and a daughter.
Sam enlisted in the Wyoming National Guard as soon as he was eligible. After graduating high school the National Guard trained Sam as a mechanic which led to him getting a job with Knisely Moore Construction. After Knisely Moore was sold in 1970 he and Lola built a successful paving business, Leonard Paving, in Douglas.
Sam was a hard-working man who built a successful career and provided for his family. He was kind and generous to all. He loved his country and always wore a flag lapel pin in his later years. He was awarded lifetime membership in the Association of General Contractors of Wyoming.After selling Leonard Paving, Sam and Lola embarked on a new adventure, traveling North America in an RV for 15 years. In 2006 they settled in Carlsbad, California and in 2020 they moved into Ocean Hills Senior Living Center in nearby Oceanside.
Survivors include children Ken (Teresa) Leonard of Carlsbad, California, Tom Leonard of Burbank, California, and Susan (Glenn) Lott of San Clemente, California; grandchildren, Pam (Dennis) Polischuk of San Jose, California and Lyndon (Kathleen) Leonard of Chandler, Arizona; and great-grandchildren, Nina and Alek Polischuk and Kendra and Isabel Leonard.
Sam was preceded in death by Lola, his wife of 68 years, on July 8, 2021; brothers, Edward on June 18, 2009 and Lee on May 29, 2004; and sisters, Mary Ransdell on September 1, 2013 and Ruth Smith on November 26, 2007.
In lieu of flowers, memorials in Sam's name can be made to the Care Team at San Dieguito United Methodist Church, 170 Calle Magdalena, Encinitas, California 92024.
Serving as pallbearers will be Gordon Smith, Mark Ransdell, Ron Ransdell, Lyndon Leonard, Dennis Polischuk, Alek Polischuk, and Chuck Bryant
The Gorman Funeral Homes – Converse Chapel of Douglas, Wyoming is in charge of the arrangements.
Condolences may be sent to the family at www.gormanfh.com
Images & Attachments
Related/Linked Records
| Record Type | Name | |
| --- | --- | --- |
| Obituary | Leonard, Lola (08/03/1934 - 07/08/2021) | View Record |