The Niobrara County Library Foundation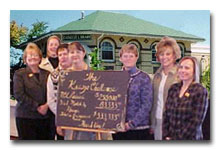 Introduction
The Niobrara County Library Foundation was incorporated on June 4, 1985 to assist in the support of the Niobrara County Library. The Foundation primarily focuses its attention on endowment activities, however grants are often applied for to help contribute specific items to the library. Recently granted gifts have included adult books, children's books, video discs and cassettes, and audio materials.
The Foundation was a partner in the Raise Community Capital program, a challenge grant program funded by The Kresge Foundation in partnership with the Wyoming Community Foundation. The Foundation met its challenge goal of $250,000 in December 2004.
The Wyoming Public Library Endowment Challenge

Effective July 1, 2008 gifts, pledges and transfers for the Wyoming Public Library Endowment Challenge could be received by the Niobrara County Library Foundation, each gift was matched on a 3-1 basis. Yes, for every dollar raised it was matched by $3. The Challenge for Niobrara County was $142,029 and was reached in August of 2010.
---
---
---
Foundation Topics
---