Fremont, Elkhorn and Missouri Valley Railroad
Courtesy of The Lusk Herald, 03/15/2017
Originally established in Nebraska in 1869, the company built a line across northern Nebraska from Omaha to Chadron. This "cowboy line" was extended to the Black Hills of South Dakota in the early 1880's by way of Rapid City and Belle Fourche.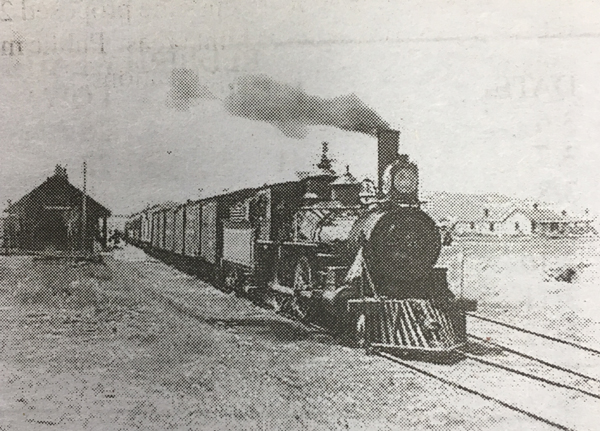 The Fremont, Elkhorn and Missouri Valley Railroad, taken about 1905 near the Ft. Robinson Depot.
Before long, the sparsely populated, rich grasslands of this area got the attention of developers. Large numbers of cattle had been driven up the Texas Trail and the local cattle "barons" needed a way to ship beef to the hungry markets in the East. In 1885, the Wyoming Central Railway was organized by the Elkhorn. This "dummy" company was needed to comply with Wyoming Territory's requirement that any railroad operating in the territory had to be incorporated here. The sole stockholder of the Wyoming Central was local landowner Frank S. Lusk, founder of this town. In July of 1886, the rails reached Lusk and locals drove a silver spike with great fanfare! The rails were soon bringing in a flood of homesteaders and supplying their needs and the needs of a bustling community. In spite of disastrous blizzards in '86 and '87, the cattle business prospered. Business for the railroad was good - in both directions.
Driving east of Lusk towards Harrison, Nebraska, one can still see the original track bed carved out of the hilly landscape by the mule-powered equipment.
The line was rapidly extended westward to Douglas, then to Glenrock, and, finally, to the present site of Casper, a new town platted by the railroad in 1888. One interesting historical note is the fact that President Gerald Ford's grandfather, Charles King, made his fortune establishing banks and other businesses in towns he helped establish, including Chadron and Casper. Ford's father was born in Chadron.
After statehood in 1890, the Wyoming Central and the Elkhorn merged under the FE&MV name. In 1903 the line merged with the Chicago and Northwestern railway. The C&NW extended the line to Shoshoni and Riverton in 1905 and Lander in 1906. In 1995 the C&NW merged with the Union Pacific, proving that the Elkhorn had a great idea back in 1885!
Over the years since the founding of Lusk in 1886, untold head of livestock and millions of tons of coal have been shipped to points east on the rail line that gave birth to our town.
Sources: Wyoming State Historic Preservation office. DW&MC Railroad Passenger depot, Douglas, Wyoming. Casper Journal, April 3, 2007 "Remembering Gerald Ford"
Images & Attachments
There are no attachments for this record.
Related/Linked Records
There are no linked records.