Thomson "Tom" Black
(06/04/1861 - 02/06/1932)
Courtesy of The Lusk Herald, 02/11/1932
THOMSON BLACK, PIONEER STOCKMAN AND LEGISLATOR, PASSES AWAY SATURDAY P.M.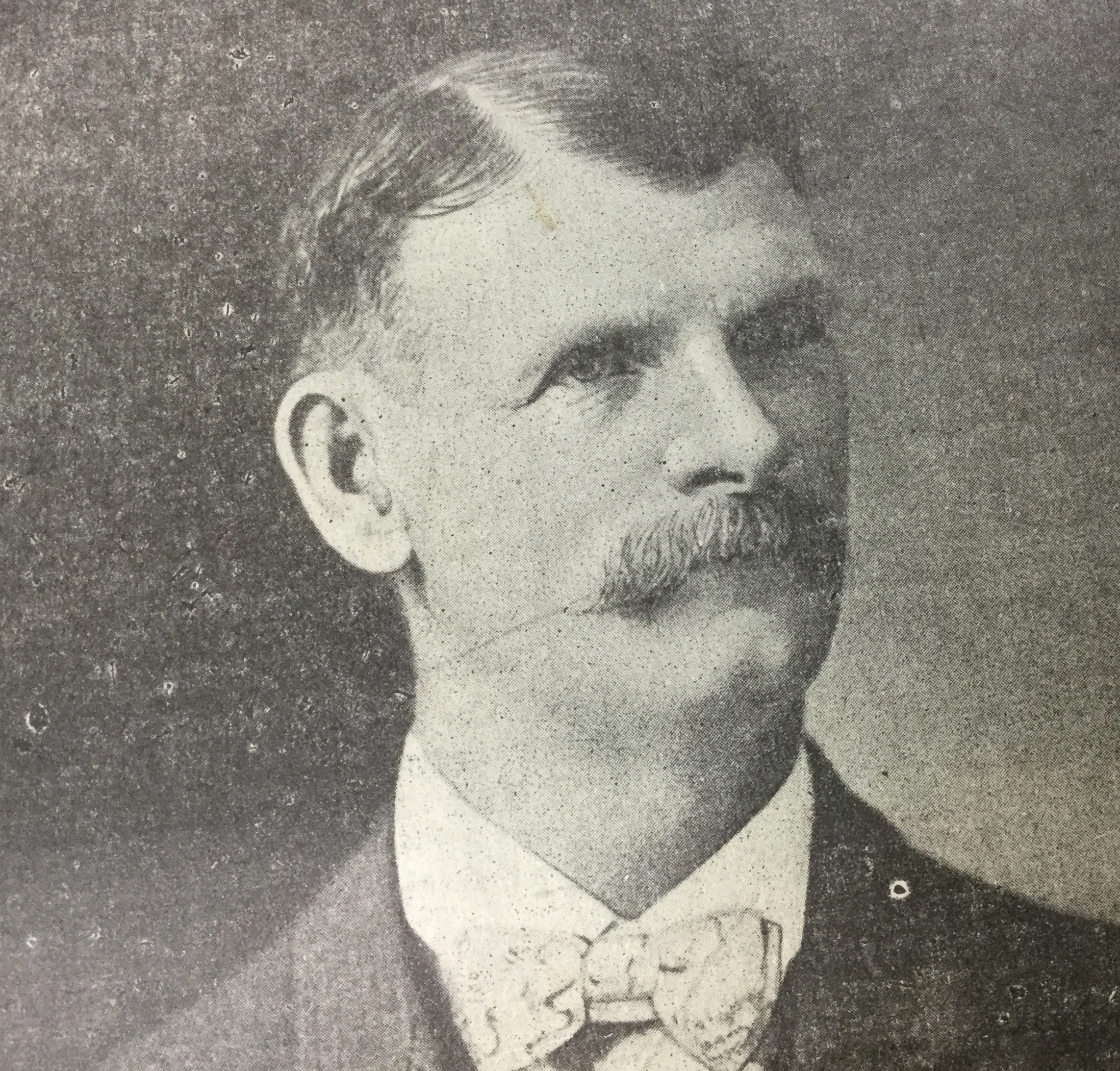 One of Few Survivors of Cheyenne & Black Hills Stage Days Succumbs to Heart Attack at His Willow Creek Ranch Home; Funeral Services Held in Lusk Wednesday Afternoon, With Interment in the Lusk Cemetery
Hon. Thomson Black, one of the fast-diminishing band of pioneers who came to Wyoming in the early days, passed away at his ranch home at Willow Creek, where he had made his home for forty-six years, last Saturday night, following an illness extending over a period of two years of heart trouble.
Funeral services were held in Lusk Wednesday afternoon at 2:00 o'clock from the Congregational Church, with Rev. Edwin F. Irwin officiating. Interment was made in the Lusk Cemetery, arrangements being in charge of the Peet Mortuary, the commitment services being made with a full Masonic service, in charge of Roosevelt masonic Lodge of Manville, assisted by members of Harmony Masonic Lodge of Lusk.
The services at the church were simple but impressive. Reading of his obituary and brief remarks on the life of the deceased by Rev. Irwin, and music by a mixed quartet composed of R. A. Faulk, Ford B. Kuns, Mrs. Robert Taylor and Mrs. H. J. Templeton, with Miss Alice Fowler as accompanist, composed a service beautifully appropriate.
Hundreds of old and new friends crowded the church and followed the cortege to its last resting place at the cemetery.
Pallbearers were selected from life-long friends of Mr. Black - Granville Tinnin, John W. Agnew, Robert C. Ord, Harry B. Card, Harry Hargraves and Robert Burhoop.
The Masonic services at the cemetery were in charge of Hans Gautschi, acting master of Roosevelt masonic Lodge of Manville, members of the Lusk Masonic lodge participating. Members of the Order of Eastern Star attended in a body.
Had Been in Poor Health For About Two Years
Mr. Black had been in poor health for about two years, suffering from a heart ailment. He took a trip to Kelso, Washington, several months ago, where he was treated by Dr. J. F. Christensen, formerly of Manville, and came back much improved in health. However, his active disposition and relentless energy caused a recurrence of the trouble which finally caused his death.
Mr. Black succumbed at his ranch Saturday night about 11:00 o'clock. When it was seen the end was approaching, his daughter, Adele Black Winkler of Cheyenne, was notified, and she started from Cheyenne, but on account of snow-blocked roads did not reach his bedside before the end came. Mrs. Winkler arrived at Glendo on the Burlington train, and friends brought her over to the Willow ranch on a bobsled. Mrs. Black, was with him when the end came.
L. D. Erickson and Mrs. J. O. Lind, brother and sister of Mrs. Black, came from Hawarden, Iowa, to attend the services. Mrs. Black will accompany them back to Iowa for a few weeks' rest.
The roads from Keeline to the Willow ranch were also blocked, and members of the Lusk and Manville Masonic lodges and other friends, armed with shovels and accompanied by several cars and trucks, finally brought through to Flattop, where the Peet hearse met a bobsled conveying the remains of Mr. Black.
With the passing of Mr. Black only four of the old stage employees of the Cheyenne & Black Hills line remain - Harry P. Hynds, Ernest Logan and Fred Sullivan.
THOMSON BLACK
Thomson Black was born in New York City on June 4, 1861, the son of Joseph and Mary (Thomson) Black, the former a native of Scotland and the latter of New York. Throughout his entire career Joseph Black, the father of the subject of this sketch, was prominently identified with the mercantile business in New York.
Tom Black secured his education in the public schools of New York and remained there until he was 22 years old. Having arrived at the time of life when he was no longer subject to parental authority. Mr. Black felt the call of the West, and to satisfy this longing he left his New York home to cast his lot with the pioneers in this undeveloped country.
At the time Mr. Black decided to go West, he was in the employe of the Pennsylvania railroad, in the freight department of one of the North River piers in New York. When he informed his employers of his desire to come West, they very generously gave him a pass over their lines to Chicago. From there he boarded a train which brought him over the Union Pacific to Cheyenne, landing at the capital of Wyoming territory in May, 1882. Cheyenne at that time was wild and wooly, but a town of unlimited opportunities for a young man.
Looking things over and liking the setting of the West, Mr. Black started out in search of a job. He had made up his mind he wanted to be a cowboy, and his first job in Wyoming was with the Luke Voorhees Cattle Company, on its Runningwater ranch, above where the town of Van Tassell now stands. Being inexperienced on the range, he was "broken in" by being given the job of horse wrangler. He soon developed into a full-fledged cowboy, and there was no better on the range.
Some time later he quit the Voorhees outfit to take a position as station agent for the Cheyenne & Black Hills stage line as station agent at the Rawhide Buttes station, which was located at what is now the John Agnew ranch. His previous experience with the Pennsylvania railroad made him a valuable employee of the stage company. This station was headquarters for ranchers freighters and miners, and was quite an important point on the route. It was here that Mr. Black first made the acquaintance of such men as Harry P. Hynds (owner of the Plains Hotel in Cheyenne), who was the blacksmith at the stage station; Ed Patrick, telegraph operator, and others. Among the stage drivers at that time were George Lathrop and Tom Duffy, both of whom have a place in the history of Wyoming. Friendships were formed here between these men which lasted throughout their lives.
After several years of service with the stage line, Mr. Black decided to quit and try going into some other line of business. At that time the tent town of Lusk was just coming into being, and the railroad was getting nearer every day. He secured a job in the new town as clerk in the Adamsky store, where he remained for one winter.
Tiring of life in the boom town of Lusk, Mr. Black gratified a long desire to get into the cattle business, and accordingly in 1886 he filed on his homestead at the head of Willow Creek. In the same year he was married at Chadron, Neb., to Miss Anna Lewis of Onawa, Iowa, and they started their married career and made their first home at the homestead on Willow Creek, which in the many years to follow, became one of the best known ranches in this section of the State. Here Mr. and Mrs. Black have lived and labored for 46 years. The winter of 1886-87, their first winter on the homestead, was one of the hardest in the history of the range country, and livestock perished in the blizzards by the thousands. Mr. Black had not yet stocked his ranch with cattle, and spent this first winter in trapping grey wolves, which were numerous at that time. Mr. Black often remarked that he not only "kept the wolf from the door" that winter, but compelled the wolf to make him and his bride a comfortable living.
In 1889, Mr. and Mrs. Black placed a man in charge of the ranch and took a lease on the Collins House, afterward known as the Northwestern Hotel, in Lusk. At the termination of their lease they returned to the ranch and devoted their efforts to stockraising. It was here at Willow Creek that Neal Hart, now a nationally known screen actor, came as a boy looking for work. Mr. Black hired the boy, who developed into a first-class cowboy, then went away as a rodeo performer with the famous 101 show, and afterward going into the picture business.
The Black ranch has always been famous for its open-handed hospitality, and no man ever went there in need of food and lodging who went away cold or hungry.
Two children were born to Mr. and Mrs. Black - Mary J. Black, who became the wife of Paul S. Richards, both now deceased, and Adele Black Winkler of Cheyenne, who, with Mrs. Black, are the survivors.
Politically Mr. Black has always been an independent Republican, and has enjoyed many honors at the hands of his party. He served as Representative in the State Legislature in 1923, and has always been faithful to every trust imposed upon him.
Fraternally, he was a member of the Masonic order, belonging to Roosevelt Lodge No. 39, A.F.& A.M. of Manville, and Cheyenne Consistory No. 2, A.& A.S.R.
For the past two years Mr. Black has been a sufferer from heart trouble, and passed away last Saturday night, February 6, 1932, at 11 o'clock, at his Willow Creek ranch, where he had lived for so many years.
At the time of his death he was 70 years old. Funeral services were held from the Congregational Church of Lusk, at 2:00 o'clock Wednesday afternoon, Rev. Edwin F. Irwin officiating. Interment was made in the Lusk cemetery, where masonic services were held.
The Lusk Herald, February 14, 1952
Twenty Years Ago - Feb. 11, 1932
Thomson Black, pioneer stockman and legislator, died Saturday. One of the few survivors of the Cheyenne & Black Hills stage days succumbed to a heart attack at his Willow Creek Ranch home. Funeral services were held in Lusk Wednesday, with interment in the Lusk Cemetery.
Images & Attachments
Related/Linked Records
| Record Type | Name | |
| --- | --- | --- |
| Obituary | Cork, Gayle (10/31/1915 - 01/07/1991) | View Record |