Beecher "Ed" Edmond Strube
(07/13/1933 - 12/16/2020)
Courtesy of The Lusk Herald, 06/16/2021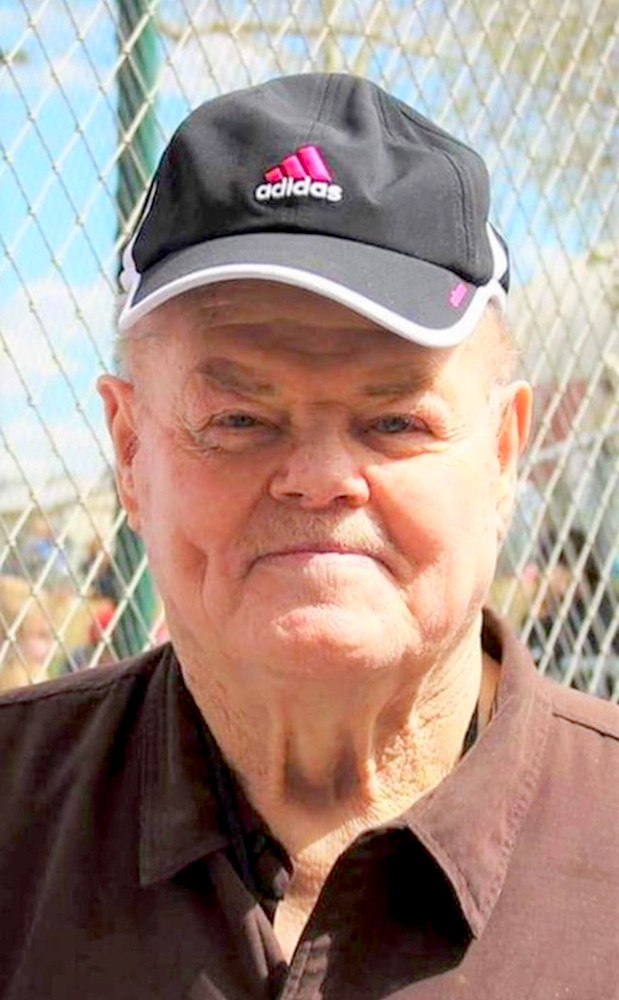 Beecher "Ed" Strube was born in Hat Creek on July 13, 1933, to Beecher J. Strube and Helen (Cook) Strube. He weighed just over 3 pounds, and his mother carried him in a shoebox. The tiny three-pounder grew to be quite an athlete and went on to set records in high school athletics in Lusk. He played football at the University of Wyoming and was particularly proud of winning the Ugly Man on Campus Award in 1952. Ed died of natural causes on Dec. 16, 2020.
In 1963, Ed married Donna Golden. They had three children and later divorced, but remained friends. Ed was a well-known teacher, coach, referee, active community leader, and a big brother. He was a friend, confidant, father and grandfather.
Ed received a Bachelor of Science in Physical Education and a Master of Science in Botany and Zoology from the University of Wyoming. Ed, also known as just "Strube" or "Coach," began his teaching career in 1957 at Dean Morgan Junior High. He taught at Kelly Walsh High School from 1968–1992. Strube, along with his famous sidekick Dana Van Burgh, developed a Summer Field Science Course in 1963 using the great outdoors as the classroom. In 1973, Terry Logue joined them. In 1983, the trio received The Search for Excellence in Science Education Award, presented by the National Science Teaching Association. Though Strube retired from the classroom in 1992, he couldn't retire from the outdoors or the yellow school bus. In June of 2013, the famous trio celebrated the 50th Reunion of Summer Field Science.
Ed received the Kathleen Hemry Award for outstanding teaching and community work in 1979 and was presented the Outstanding District Biology Teacher Award in 1982. In 1989, he received the State of Wyoming Biology Teacher of the Year Award.
Strube coached the Kelly Walsh High School golf team for several years. He received the Golf Coach of the Year Award for the Eastern Conference in 1987.
In 1990, Ed was inducted into the Wyoming Officials Hall of Fame, and in 1991 into the Wyoming Coaches Association Hall of Fame.
Ed served others for most of his life. While in the Army, he received a Korean Service Medal, a United Nations Service Medal, and a National Defense Service Medal. While in Korea for Christmas, Ed asked for and received many generous donations from the Lusk and Lance Creek communities. He played Santa Claus and distributed gifts to the Korean children.
Ed had the vision for the Lee McCune Braille Trail, which opened in 1975 on Casper Mountain, after visiting a Braille Trail in Colorado. Ed encouraged the Casper Mountain Lions Club to adopt the Braille Trail as its main ongoing community project. For over 40 years, Lions Club members, field science students, and countless others worked on the Braille Trail. In 1986, Dana Van Burgh worked with county officials to have the road to the Braille Trail named "Strube Loop." In 1997, Ed was honored with the Knights of the Blind Award
presented by the Lions of Wyoming Foundation for outstanding work with the Braille Trail. Ed was humbled and honored to have such recognition again in 2017 when he was inducted into the Wyoming Lions Club Hall of Fame.
Ed played many roles—a hunter, a fisherman, a card player (cribbage and poker his favorites), a cowboy/rancher at heart (with no land), and a great dancer (according to Jo). With an overwhelming number of extended family and true friends, "He never met a stranger" couldn't be more appropriate. His door was always open for visitors. One of Ed's favorite roles was being a proud Grandpa. He loved to attend activities in which his grandchildren were involved, and despite his busy schedule he did his best to be at their various events. Ed also enjoyed traveling with his long-time companion Jo Pierce. They made many fond memories taking trips in the U.S. and abroad. One of their favorite trips was to Australia and New Zealand with Ed's sister Barb and her husband Bob.
Ed was preceded in death by his father Beecher J. Strube, his mother Helen (Cook) Strube, his brother Martin Strube, and Mary Lou, a sister who died in infancy. He is survived by his sister Barbara (Bob) Yonts, his daughters Debbie (Guy) Ehlers, and Devon Strube, his son Beecher Jay (Cathy) Strube, as well as his grandchildren, Abigail, Beecher, Joel, and Sarah Strube. He also leaves behind his devoted friend Jo Pierce.
The family held a graveside service in Lusk on December 21st. A Celebration of Life will be held on Saturday, July 10, 2021, at 2 p.m. at Restoration Fellowship, 411 South Walsh Street in Casper. In lieu of flowers, Memorials can be made to the Casper Mountain Lions Club for the Lee McCune Braille Trail (PO Box 2305, Casper, WY 82602), or the Wyoming Foundation for Cancer Care, (441 Landmark Drive, Suite 330, Casper, WY 82609).
Bustard and Jacoby Funeral Home, 600 CY Avenue, Casper, WY 82601 is overseeing arrangements.
Images & Attachments
Related/Linked Records
| Record Type | Name | |
| --- | --- | --- |
| Historical | Strube, Helen Cook | View Record |