Donna Kay Tschacher
(10/21/1936 - 03/03/2022)
Courtesy of The Lusk Herald, 03/16/2022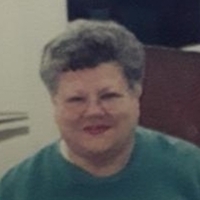 Donna Kay (Sides) Tschacher passed away on March 3, 2022, in Boise, Idaho.
Donna was born Oct. 21, 1936 to Stewart and Alice (Calhoun) Sides in Lusk. She graduated from Lusk High School in 1955, where she met and married the love of her life Floyd A. Tschacher on April 14, 1956, after he had graduated from Army basic training. They would stay married for 62 years.
Donna lived as an Army wife until Floyd retired from the Army in 1979. They were stationed in Germany and several bases in the U.S. during that time.
Floyd and Donna moved to Boise, Idaho in 1980 and both started new careers. Floyd worked for the local Social Security Office and Donna went to work for Ada County school district. Donna loved Boise and was a faithful Boise Bronco football fan. She loved to watch the games and cheer the Broncos to victory.
After retiring for the second time, they sold their home and traveled full time in their Airstream Motor home going to all 50 states and Canada. After 10 years they again settled down in Boise, buying a new home in 2010.
Donna was preceded in death by her parents, husband Floyd Tschacher, brother-in-law Darell Tschacher, brother-in-law Patrick Miller, and son-in-law Scott Young.
Donna is survived by her son Randy Tschacher and wife Patricia, daughter Tamee Young, brother Clayton Sides and wife Karen, sister Beverly Miller and sister-in-law Judie Tschacher. Grandchildren are Dawn McDaniel, Ryan Young and wife Ciana, Brandon Tschacher and wife Samantha, Aubree (Young) and husband Joe Vargas, Allee (Young) and husband Trey Wooten III. Great-grandchildren are Briston Young, Haylee Parajon, Ayven Vargas, Ashur Vargas, Charleston Tschacher and Isaiah Wooten.
The family wishes to thank the caring and compassionate staff of Creekside Transitional Care and Rehab for their outstanding support and guidance over these last few months.
And a very special thank you to the following ladies that gave much of their time and heartfelt effort to make our mother comfortable and kept her spirits high: Deb Holcomb, Cristi Harris, Helen Adams and Kristin Stanley. We will be eternally grateful.
The viewing will be held on Saturday, March 19 at 11 a.m. and service to follow at the Pier Funeral Home 101 W. 4th St. in Lusk. Interment to follow in the Lusk cemetery.
Lunch to be provided hosted by Prairie Hills Community Church at the senior center.
The family would appreciate memorials to Niobrara County Senior Center or Prairie Hills Community Church.
Pier Funeral Home in Lusk is in charge of arrangements.
Images & Attachments
Related/Linked Records
| Record Type | Name | |
| --- | --- | --- |
| Obituary | Tschacher, Floyd (05/27/1937 - 04/13/2018) | View Record |