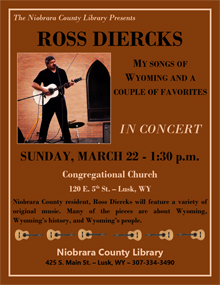 Local musician Ross Diercks will appear in concert on Sunday, March 22 performing a concert of his songs of Wyoming as well as some favorites at 1:30 p.m. Diercks is a long-time educator in Niobrara County and is sure to entertain. Mark your calendar!
"Around the World" continues on Tuesday, March 24 with a visit to Antarctica. Larry Orr worked in Antarctica for four seasons during 1983–1987. He served as Admin Coordinator for the National Science Foundation office at McMurdo Station, coordinating science programs with civilian, military, and scientific members. Additionally, he scheduled and coordinated all helicopter flights and assisted planning for ski-equipped C-130 aircraft. He has artifacts as well as photographs to share about his experience. The program will be at 6 p.m. at the library.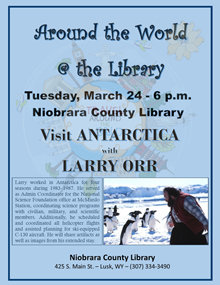 "A Long Petal of the Sea" is Isabel Allende latest novel. In the late 1930's Civil War grips Spain. Roser, a pregnant young widow finds her life intertwined with Victor, the brother of her deceased love. Along with 2,000 other refugees, they embark on the SS Winnipeg to Chile. Roser and Victor face trial after trial with the hope of returning home, but home might be closer than they thought.
Other new fiction books are "Massacre at Crow Creek Crossing" by Charles G. West, "Daisies and Devotion" by Josi Kilpack, "House on Fire" by Joseph Finder, "The Lady and the Highwayman" by Sarah M. Eden, "The Rabbit Hunter" by Lars Kelper, "American Dirt" Jeanine Cummins, "Witch's Oath" by Terry Goodkind, "Alone in the Wild" by Kelley Armstrong and "The Bard's Blade" by Brian D. Anderson. New titles for the young adult are "Deadly Little Scandals" by Jennifer Lynn Barnes and "All-American Muslim Girl" by Nadine Jolie Courtney.
New non-fiction books include "Triggered: How the Left Thrives on Hate and Wants to Silence Us" by Donald Trump Jr., "The Ship of Dreams: the Sinking of the Titanic and the End of the Edwardian Era" by Gareth Russell and "Taste of Home's Copycat Restaurant Favorites."
The Lennea Lewis Slagle Children's Library has these new junior titles, "Narwhal on a Sunny Night" by Mary Pope Osborne, "Ra the Mighty: the Great Tomb Robbery" by A. B. Greenfield and "Dairy of a Wimpy Kid: Wrecking Ball" by Jeff Kinney. Several of the newer easy books are "Nobody Hugs a Cactus" by Carter Goodrich, "Once Upon a Goat" by Dan Richards and "The Very Impatient Caterpillar" by Ross Burach.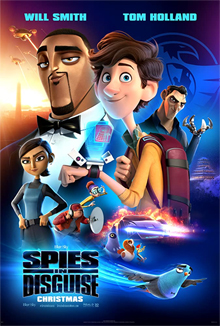 "Happy St. Patrick's Day!" is the theme for Storyhour on Tuesday, March 17, 2020. Storyhour is held from 10 to 11 a.m. every Tuesday throughout the year. The Friends of the Library sponsor Dial-A-Story, call 307-334-3274 anytime to hear a recorded story.
Check out all of the library's resources by going to: https://www.niobraracountylibrary.org. Your library card number and PIN will give you access where needed. Don't hesitate to call (307-334-3490) or stop by if you have questions. Library hours are Monday, Tuesday, Thursday, Friday 10 a.m. to 6 p.m., and Wednesday 12 p.m. to 7 p.m.