Reid Lance Rosenthal will discuss his books during a lunch event at the Niobrara County Library on Tuesday, March 31 at noon. A light lunch will be provided.

Rosenthal is the author of Threads West, an Americana series with the fifth novel due out this month. Threads West begins in 1854 with the first of five, richly textured, complex generations of unforgettable, multicultural characters. The separate lives of these men and women from Europe and America are drawn to a common destiny that beckons from the wild and remote flanks of the American West. The series includes the released novels: Threads West, Maps of Fate, Uncompahgre and Moccasin Tracks.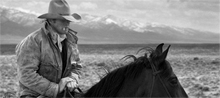 Reid is a fourth generation land and cattleman. His cowboy heart and poet's pen captures the spirit of the western landscape and its influence on generations of its settlers. His devotion to wild and remote places and to the people—both past and present—who leave their legend and footprint upon America and the American West is the inspiration and descriptive underpinning of all of his writing. For more information about Threads West visit https://reidlancerosenthal.com/. Contact the library at 307-334-3490 for information about this event.