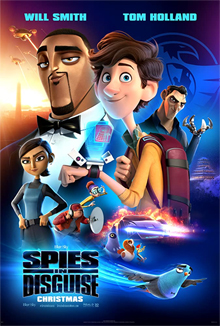 The library has a several digital libraries that are available by using your library card number and PIN (last 4 digits of your phone number). Formats include ebooks, audiobooks, television shows and movies, music, magazines and comics. Visit the library's website: https://www.niobraracountylibrary.org or look for these apps in your app store: Overdrive/Libby, Cloud Library, RBDigital, Hoopla. Additional digital information is available by going to http://gowyld.net.
Several "Great Courses" are available for check-out from the library – everything from Ancient Civilization, American Civil War, How to Stay Fit As You Age, World's Greatest Geological Wonders, Cosmology, Playing Guitar Like a Pro, Meteorology and World War I : the Great War. The Great Courses are also available to check out digitally through Hoopla and Overdrive/Libby. Check it out today!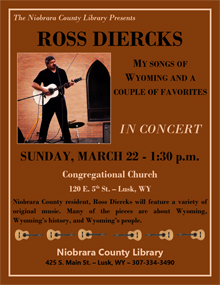 Sunday, March 22 Ross Diercks will be in concert at 1:30 p.m. at the Congregational Church. Ross will feature his original songs of Wyoming as well as a few favorites! Plan to attend.
On Tuesday, March 24 Larry Orr will present "Antarctica" in our "Around the World Series" at 6 p.m. Larry spent several 'seasons' in Antarctica and will share images as well as artifacts and general information.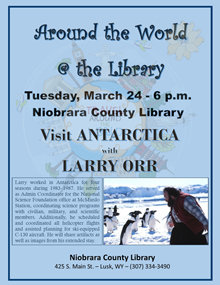 The defense and the prosecution have rested and the jury is filing into the jury room to decide if a young man is guilty or innocent of murdering his father in 12 Angry Men which concludes the We the People series on Monday, April 27 at 6 p.m. What begins as an open-and-shut case soon becomes a detective and a mini-drama of each of the jurors' prejudices and preconceptions about the trial, the accused, and each other. Chadron State College's Deane Tucker, PhD will facilitate discussion and a light meal will be available.
Cecilia Ahern's latest book "Postscript" is a sequel to her novel "PS, I Love You." Seven years after her husband's death, Holly Kennedy has moved on with her life. When her sister asks her to tell the story of the "PS, I Love You" letters on her podcast, she does so reluctantly. After the episode airs, strangers begin reaching out to Holly and she suddenly finds herself drawn back into a world she worked tirelessly to move away from – but one that leads her on another remarkable journey. This book is also available in the Cloud Library.
Other new fiction books are "Cleaning the Gold" by Lee Child & Karin Slaughter, "Restless Rancher" by Jennifer Ryan, "Straw Boss" by E. E. Halleran, "Under a Firefly Moon" by Donna Kauffman, "Perfect Little Children" by Sophie Hannah, "The Museum of Desire" by Jonathan Kellerman, "Cowboy Courage" by Carolyn Brown, "When You See Me" by Lisa Gardner and "Into the Fire" by Gregg Hurwitz. "Every Stolen Breath" by Kimberly Gabriel and "One of Us is Next" by Karen M. McManus are among new YA books.
New non-fiction books include "Lester Callaway Hunt: He Put Wyoming's Bucking Horse on the Map" by Charlotte Dehnert, "Ghost-Hunting For Dummies" by Zak Bagans as well as "The Old Farmer's Almanac Vegetable Gardner's Handbook."
The Lennea Lewis Slagle Children's Library has these new junior titles, "The Usual Suspects" by Maurice Broaddus, "The Class" by Frances O'Roark Dowell and "Casper Tock and the Everdark Wings" by Abi Elphinstone. A few of the newer easy books are "Overground Railroad" by Lesa Cline-Ransome, "Eva's Campfire Adventure" by Rebecca Elliott and "High Five" by Adam Rubin.
"Delightful Daisies!" is the theme for Storyhour on Tuesday, March 23, 2020. Storyhour is held from 10 to 11 a.m. every Tuesday for children age 3 through kindergarten. Call 307-334-3274 anytime to hear a recorded story. Dial-A-Story is sponsored by the Friends of the Library.
Library hours are Monday, Tuesday, Thursday, Friday 10 a.m. to 6 p.m., and Wednesday 12 p.m. to 7 p.m.