Library service has a new look these days. Our goal, as we work through this unprecedented time, is to assure people have resources. Public Health Officer, Dr. Joleen Falkenberg is allowing us to have patrons (individuals or small family groups) into the library to select materials. Patrons are required to wash their hands thoroughly when entering and again before leaving. Please call the library at 334-3490 to make an appointment or for materials to be available for you to pickup. All materials that are returned are sanitized and then held for 72 hours prior to being available. We are also happy to deliver to those who are unable to get out. Be assured that we are taking every precaution possible as we work to provide for you. Again, please call the library at 334-3490 to make an appointment or if you have questions.
Library hours will be adjusted throughout this closure; hours are now 10 a.m. to 6 p.m. Monday through Friday. Visit the library's webpage: https://www.niobraracountylibrary.org and click on WYLDcat to browse the catalog and place holds. Your library card number (29092…) and PIN (last 4 digits of your phone number) give you access.
There are several digital libraries available through the library with the use of your card and PIN – there is no charge for using these services. Overdrive announced that they are making instant cards available by using your cell phone, so if you haven't had a chance to get a library card, try this out. The service uses your mobile phone and zip code and within 30 seconds confirms you are in our area and you are provided with a digital card number so you can use Overdrive immediately. Mobile phone numbers outside of our area verify with the location a good portion of the time. You'll then be able to download ebooks, digital audio and stream some movies. The instant card is currently available for a limited time before requiring a full-card registration. These apps are available with your library card number & PIN: Overdrive/Libby, Hoopla, RBDigital and Cloud Library; call the library if you have questions.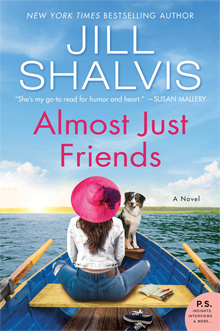 "Almost Just Friends" is Jill Shalvis's latest novel. Piper Manning raised her siblings, and they have thankfully flown the coop. All she has to do is finish fixing up the lake house, sell it, and then she's free. Then a massive storm hits, and her sister and brother return home, each with their own secrets. Only when the secrets come out, it changes everything Piper thinks she knows about her family – and herself.
Other new fiction books are "Crooked River" by Douglas Preston, "Two Steps Forward" by Suzanne Woods Fisher, "Empire of Grass" by Tad Williams, "The Kissing Game" by Marie Harte, "Deadwood Ambush" by Lauran Paine, "The Other Mrs." by Mary Kubica, "Salt River" by Randy White, and "Sisters by Choice" by Susan Mallery. New young adult titles "Force Collector" by Kevin Shinick, and "The Toll" by Neal Shusterman.
New non-fiction books are "The Third Rainbow Girl: the Long Life of a Double Murder in Appalachia" by Emma Copley Eisenberg, "How We Learn: Why Brains Learn Better Than Any Machine…For Now" by Stanislas Dehaene and "Schooled: a Love Letter to the Exhausting, Infuriating, Occasionally Excruciating Yet Somehow Completely Wonderful Profession of Teaching" by Stephanie Jankowski.
The Lennea Lewis Slagle Children's Library has these new junior titles, "Bad Kitty Joins the Team" by Nick Bruel, "The iPhone That Saved George Washington" by David Potter and "The Pompeii Disaster" by Dan Gutman. Several new easy books are "Peppa is Kind" by Neville Astley, "Elmo's Easter Egg Surprises" by Christy Webster and "No More Naps" by Chris Grabenstein."
All library programming is currently cancelled, including Storyhour. Call to hear a recorded story by dialing 334-3274. The Friends of the Library sponsor Dial-A-Story.