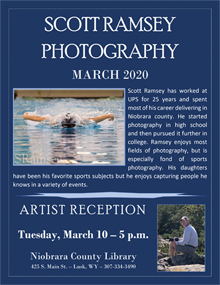 Good news! It's expected that the library will reopen this week, with restrictions. If you are at-risk, please consider calling to arrange an appointment prior to the library opening. Contact the library by calling 307-334-3490.
Artist Scott Ramsey's art will continue to be on display throughout the month of May, if you didn't get a chance to peruse his collection please plan to stop by the library. Ramsey has worked at UPS for 25 years and spent most of his career delivering in Niobrara county.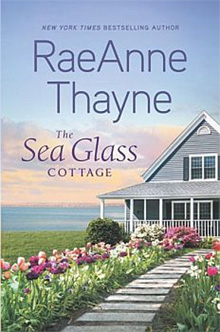 A new novel by RaeAnne Thayne is "The Sea Glass Cottage." When Olivia Harper hears that her estranged mother has been seriously injured in a car accident, she has no choice but to pack up her life and head home to Cape Sanctuary on the northern coast of California. As Liv tries to balance her own needs with those of her mother and her orphaned 13 year-old niece, it becomes clear that all three Harper women have been keeping secrets from one another; as those secrets are revealed, they begin to see that it is never too late to heal family wounds and find forgiveness. "Sea Glass Cottage" is also available digitally in Overdrive/Libby and the CloudLibrary.
Other new fiction books are "Bunny Love" by Michael Frederick, "A Good Neighborhood" by Therese Anne Fowler, "The Last Tourist" by Olen Steinhauer, "Misleading Miss Verity" by Caroline Miller, "Valley of the 99" by Wayne D. Overholser, "Glass Slippers, Ever After and Me" by Julie Wright, "Miracles" by John A. Vanek and "White Pines Summer" by Sherry Woods. New young adult titles are "A Match Made in Mehendi" by Nandini Bajpai and "Forgotten" by P.C. Cast.
"Is It Alzheimer's?: 101 Answers to Your Most Pressing Questions About Memory Loss and Dementia" by Peter V. Rabins, MD is among new non-fiction along with "Ride the Devil's Herd: Wyatt Earp's Epic Battle Against the West's Biggest Outlaw Gang" by John Boessenecker and "A Delayed Life: the True Story of the Librarian of Auschwitz" by Dita Kraus.
The Lennea Lewis Slagle Children's Library has these new junior titles, "Prairie Lotus" by Linda Sue Park, "Can You See Me?" by Libby Scott and "Poppleton" by Cynthia Rylant. Newer easy books include "The Best Baker" by Fran Manushkin, "Taking Care of Your Dragon" by Eric Braun and "The Bear Must Go On" by Dev Petty.
Storyhour programming resumes, with limitations. Please call 307-334-3490 and reserve space for your children. For the next several weeks Storyhour will be held on Tuesday and/or Thursday mornings from 10 a.m. to 11 a.m. The theme for May 12/14 is "Sharks Ahoy!" Did you know your children can listen to a recorded story anytime by calling 334-3274! Dial-A-Story is sponsored by the Friends of the Library. Also check out the library's YouTube channel for stories, look for Niobrara County Library.
Browse the library's online catalog by going to https://www.niobraracountylibrary.org and clicking on WyldCat. You can place holds on items, including on-order items with your library card number (29092…) and PIN (try the last 4-digits of your phone number). Digital libraries are also available, look for the apps for Overdrive or Libby, Hoopla, CloudLibrary and RBDigital! Don't hesitate to call or stop by if you have questions.
Library hours are Monday, Tuesday, Thursday, Friday 10 a.m. to 6 p.m., and Wednesday 12 p.m. to 7 p.m.