Call the library at 307-334-3490 or email info@niobraracountylibrary.org for materials and information about other library service and/or situations – even though the library is closed, we are available to you.
Visit the library's webpage: https://www.niobraracountylibrary.org and go to WyldCat to browse the library collection. Place holds on items you might like by using your library card number (29092…) and PIN. We'll call you when your items ready to pick up! Your library also offers a wide variety of ebooks, digital audio books and magazines, graphic novels, documentaries, including the Great Courses, movies & television shows at no cost to you! Check out http://gowyld.net for research information, including Chilton Library. The Chilton Library provides authoritative automotive repair information covering thousands of year, make and model combinations for the most popular vehicles of the past 30 years, plus additional coverage of specialty models. Your library card number and PIN give you access – don't remember the numbers, give us a call!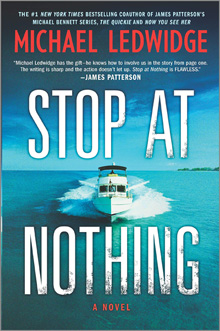 "Stop at Nothing" is a new novel by Michael Ledwidge. When a gulf stream jet goes down in the Bahamas carrying a fortune in cash and ill-gotten diamonds, expert diving instructor Michael Gannon is the only person on the scene. Assuming himself the beneficiary of a drug deal gone bad; he thinks he's home free until he realizes he forgot to ask one simple question – who were the six dead men on the plane? The CloudLibrary has "Stop at Nothing" available digitally.
Other new fiction books are "Gone by Midnight" by Candice Fox, "A Forgotten Murder" by Jude Deveraux, "Friends Call Me Bat" by Paul Colt, "Out of Embers" by Amanda Cabot, "My Dark Vanessa" by Kate Elizabeth Russell, "Hide Away" by Jason Pinter, "The Number's Game" by Danielle Steel. And "Diamonds Are a Girl's Best Friend" by Jenny Colgan. New young adult titles are "Wicked As You Wish" by Rin Chupeco and "Chain of Gold" by Cassandra Clare.
"The Scientist and the Spy: the Story of China, the FBI, and Industrial Espionage" by Mara Hvistendahl is among new non-fiction along with "The Splendid and the Vile: a Saga of Churchill, Family, and Defiance During the Blitz" by Erik Larson and "Ready or Not: Preparing Our Kids to Thrive in an Uncertain and Rapidly Changing World" by Madeline Levine, PhD.
The Lennea Lewis Slagle Children's Library has these new junior titles, "Nessie Quest" by Melissa Savage, "Birdie and Me" by J.M.M. Nuanez and "Under the Broken Sky" by Mariko Nagai. Some of the newer easy books are "Just Like a Mama" by Alice Faye Duncan, "Frank and Bean" by James Michalak and "Help Wanted, Must Love Books" by Janet Sumner Johnson.
The library is currently closed and unable to host programming. Miss Tina is reading Storyhour books on the library's YouTube Channel, search for Niobrara County Library and projects are available to pick up at the library. Call 334-3490 for more information. The Friends of the Library sponsor Dial-A-Story, call 334-3274 anytime to hear a recorded story.
The library's closed hours are 10 a.m. to 6 p.m., Monday through Friday. Regular hours will resume once the library reopens.