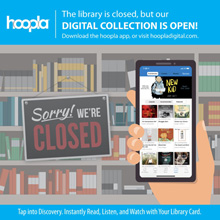 Check out packets of heirloom and sustainable seeds for your garden from the Niobrara County Library's Heirloom and Sustainable Seed Library. Call the library for more information at 307-334-3490.
Have you tried Hoopla? This digital library is available through your app store as well as Roku, Chromecast, Apple TV, Fire TV and Amazon Alexa. Your library card gives you access to thousands of movies and television shows, ebooks, audiobooks and music and comics! If you don't have a card or remember your numbers give the library at call at 334-3490 or email info@niobraracountylibrary.org.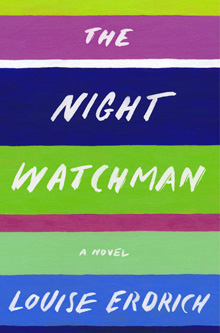 Louise Erdrich's latest novel is "The Night Watchman," which is based on her grandfather's extraordinary life. In 1953 a new "emancipation" bill was on its way to the floor of the U.S. Congress – this bill threatened Native American's rights to their lands and, their very identity. Patrick Gourneau worked as a night watchman in the first manufacturing plant on the Turtle Mountain Reservation and he carried the fight against Native American dispossession from rural North Dakota to Washington. "The Night Watchman" is also available on CD and digitally through Overdrive/Libby and RBDigital.
Other new fiction books are "Long Range" by C.J. Box, "The Boy From the Woods" by Harlan Coben, "A Reasonable Doubt" by Phillip Margolin, "The Crow's Call" by Wanda E. Brunstetter, "Are Snakes Necessary" by Brian DePalma, "The Jerusalem Assassin" by Joel C. Rosenberg, "The Iron Trail Killers" by Barry Cord and "A Conspiracy of Bones" by Kathy Reichs. New young adult titles are "Ember Queen" by Laura Sebastian and "The Warrior's Curse" by Jennifer A. Nielson.
"American Predator: the Hunt For the Most Meticulous Serial Killer of the 21st Century" by Maureen Callahan is among new nonfiction, along with "We had to Be Brave: Escaping the Nazis on the Kindertransport" by Deborah Hopkinson and "Fix It With Food" by Michael Symon.
The Lennea Lewis Slagle Children's Library has these new junior titles, "Race to the Sun" by Rebecca Roanhorse, "Master of Disaster" by James Patterson, and "The Best of Iggy" by Annie Barrows. Some of the newer easy books are "Miriam at the River" by Jane Yolen, "Telling Time" by Emma Carlson Berne and "Rowdy Randy" by Casey Rislov.
Currently Storyhour isn't being held at the library, however craft projects are available to pick-up for your children and Miss Tina has the books available to listen to through the library's YouTube channel. Dial-A-Story is available by calling 307-334-3274 anytime! The Friends of the Library sponsor this storyline.