Have you used the library's online catalog? Visit https://www.niobraracountylibrary.org and click on WyldCat. By using your library card number and PIN you are able to place holds on items which can then be picked up. Not sure of your card number and pin? Give the library a call at 307-334-3490 or email info@niobraracountylibrary.org.
Look for these apps in your App Store for digital materials: Overdrive or Libby, Hoopla, Cloud Library and RBDigital. Ebooks, digital audio, digital music, downloadable or streaming movies and tv as well as educational materials are available, even graphic novels!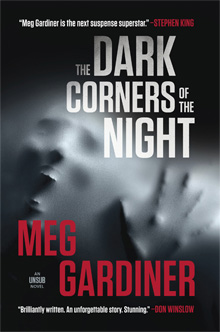 "The Dark Corners of the Night" is a new novel by Meg Gardiner. FBI behavioral analyst Caitlin Hendrix has come to L.A. to assist in the Midnight Man investigation where the killer comes for the parents and leaves the children alive, tiny witnesses to unspeakable horror. Something about the unsub doesn't sit right and she soon realizes this case will not only test her skills but her dedication – for within the heart of a killer lives a secret that mirrors Caitlin's own past.
Other new fiction books are "Smoke Talk" by Nelson Nye, "Stop at Nothing" by Michael Ledwidge, "The Last Day" by Luanne Rice, "DEROS – Date of Expected Return From Overseas" by John A. Vanek, "Confessions to Mr. Roosevelt" by M.J. Holt, "Coconut Layer Cake Murder" by Joanne Fluke, "One Minute Out" by Mark Greaney and "The Runaway Bride" by Jody Hedlund. New young adult titles are "The Deceiver's Heart" by Jennifer A. Nielsen and "Chosen" by Kiersten White.
"The Impossible First: From Fire to Ice – Crossing the Antarctica Alone" by Colin O'Brady is a new non-fiction title you might like! Also available: "I Know You're in There: Winning Our War Against Autism" by Marcia Hinds and "Crowded in the Middle of Nowhere: Tales of Humor and Healing From Rural America" by Dr. Bo Brock.
The Lennea Lewis Slagle Children's Library has these new junior titles, "Here in the Real World" by Sara Pennypacker, "When You Trap a Tiger" by Tae Keller and "Flash Back Four: the Titanic Mission" by Dan Gutman. Some of the newer easy books are "Like a Girl" by Lori Degman, "Honey, the Dog Who Saved Lincoln" by Shari Swanson and "Bunny's Big Surprise" by Phyllis Limbacher Tildes.
Library programming is cancelled throughout April, visit https://www.niobraracountylibrary.org and click on YouTube for stories for children! You can also call 307-334-3274 for a recorded story! Dial-A-Story is sponsored by the Friends of the Library.