We've been missing our library patrons! If you need library material, don't hesitate to call the library at 307-334-3490! We are happy to deliver or have items ready for you to pick up.
Children! We have projects for preschool and elementary aged children. These projects have a coordinating story on the library's YouTube channel. Call or email the library to reserve one and to make arrangements for pick-up.
We're Going on an Egg Hunt! We're asking everyone to hang Easter Eggs in their windows (or outdoors) and when children (or adults) are looking for something to do they can take a picture of any they find, then email them to the library or attach to the library's Facebook Page. There will be prizes!
"The Lost Night" is a new novel by Andrea Bartz. In 2009, a group of graduates were living in a Brooklyn loft. At the end of a long drunken night, one of them, Edie, was found dead near a suicide note. None of the group could believe it. Grief, shock and resentment scattered the friends. A decade later, Edie's best friend Lindsey was attending a reunion when she saw an unsettling video of that fateful night. She starts to wonder if Edie was murdered – and worse if she herself was involved.
Other new fiction books are "Starting Over at Blueberry Creek" by Annie Rains, "The Making of Mrs. Hale" Carolyn Miller, "Burning Daylight" by William W. Johnstone, "Dreamed it" by Maggie Toussaint, "Lethal Game" by Christine Feehan, "Cries From the Lost Island" by Kathleen O'Neal Gear and "Heart of Barkness" by Spencer Quinn. New young adult titles are "Hostile Territory" by Paul Greci and "Lady Smoke" by Laura Sebastian.
"Half Broke: a Memoir" by Ginger Gaffney is among new non-fiction books along with "If You Can Keep It: the Forgotten Promise of American Liberty" by Eric Metaxas and "3D Granny Squares: 100 Crochet Patterns for Pop-Up Granny Squares" by Caitie Moore.
The Lennea Lewis Slagle Children's Library has these new junior titles, "Way of the Warrior Kid: Marc's Mission" by Jacko Willink, "Dog Driven" by Terru Lynn Johnson and "The Body Under the Piano" by Marthe Jocelyn. A few of the newer easy books are "Lana Lynn Howls at the Moon" by Rebecca Van Slyke, "Rain Makes Applesauce" by Julian Scheer and "Naughty Ninja Takes a Bath" by Todd Tarpley.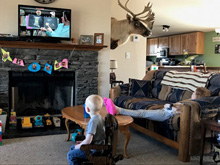 Traditional Storyhour is currently on hold. Miss Tina has projects made up and we will post stories on the library's YouTube Channel (search for Niobrara County Library). New stories are added daily. Call 307-334-3274 anytime to hear a recorded story. Dial-A-Story is sponsored by the Friends of the Library.
Visit the library's webpage https://www.niobraracountylibrary.org for information about free digital libraries. Your library card number and PIN will give you access where needed.