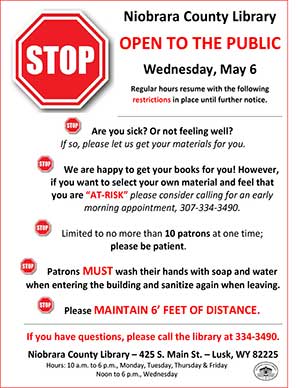 The library is open and the door is unlocked during regular hours, 10 a.m. to 6 p.m. Monday, Tuesday, Thursday and Friday and Noon to 7 p.m. on Wednesday. There are restrictions, but you are welcome to select your own materials!
Limited Storyhour programming for preschool aged children is being held on Tuesday and/or Thursday mornings at 10 a.m. Due to space restrictions we ask that you call the library at 334-3490 to reserve your space!
Summer planning is underway with "Hey Kids – Imagine Your Story" set to begin Tuesday, May 26, you'll want to be sure to stop in and register your children! Summer reading programs are designed to encourage elementary-aged children to keep reading during summer vacation and preventing the "summer slide" continues to be the main objective of our program. "Hey Kids – Imagine Your Story" is for all ages and children are asked to select a goal of how many library books they can read in a week. Each time their goal is met twice they receive either a certificate for swimming or ice cream. Goals that are met all summer are eligible for prizes in August. Stop by the library for more information! As of right now, summer activities are slated to begin the week of May 26; however, that could be pushed back.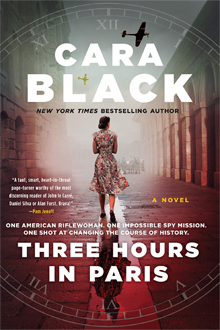 "Three Hours in Paris" is a new novel by Cara Black. In 1940, Kate Rees, a young American marksman has been recruited by British intelligence to go to Paris on a dangerous assignment – assassinate the Fuhrer. This country girl from rural Oregon, with no formal spy training, finds herself holding the fate of the world in her hands. When she misses the mark and the plan unravels she is on the run for her life – with the suspicion that the whole operation was a set-up. "Three Hours in Paris" is also available in RBDigital and the CloudLibrary.
Other new fiction books are "The K Team" by David Rosenfelt, "All Too Human" by Karen Wills, "Tillman's Bounty" by Scott Gastineau, "The Red Lotus" by Chris Bohjalian, "The Last Odyssey" by James Rollins, "Wind River Undercover" by Lindsay McKenna, "Devoted" by Dean Koontz and "No Stone Unturned" by Andrea Kane. New young adult books include "Honor Lost" by Rachel Caine and "The Between" by David Hofmeyr.
"What is a Western?: Region, Genre, Imagination" by Josh Garrett-Davis joins "Layered Cloth: the Art of Fabric Manipulation" by Ann Small and "How to Eat: All Your Food and Diet Questions Answered" by Mark Bittman in the new non-fiction section.
The Lennea Lewis Slagle Children's Library has these new junior titles, "Mananaland" by Pam Munoz Ryan, "Wayside School Beneath the Cloud of Doom" by Louis Sachar and "Dragon's Fat Cat" by Dav Pilkey. Recent easy books include "Otter, What Pet is Best?" by Sam Garton, "Books Are the Best" by Maggie Testa, "Gulp, Gobble" by Marilyn Singer and "Peppa is Kind" created by Neville Astley.
"Welcome to the Jungle!" is the theme for Storyhour on Tuesday, May 19, 2020. Space is limited for the next few weeks, call the library at 334-3490 to reserve your child's spot. An additional Storyhour will be held on Thursday at 10 a.m. if needed. The program is held from 10 to 11 a.m. The Friends of the Library sponsor the storyline, Dial-A-Story. Call 334-3274 anytime to hear a recorded story!
Access all of the library's online resources by going to: https://www.niobraracountylibrary.org. Your library card number and PIN will give you access where needed. Don't hesitate to call or stop by the library for more information about online tools and the digital libraries.