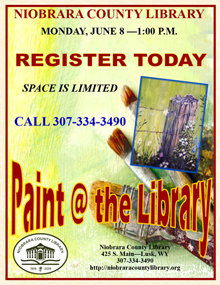 Last Wednesday we received word that magician Jeff Quinn has had to cancel his tour into the area. "Magic, Myth & Mirth" will not be presented on Thursday, June 4. We hope to reschedule this award-winning magician in the future.
Barb Orr will be presenting a "Paint @ the Library" event on Monday, June 8 at 1 p.m. Space is limited; please call 334-3490 to reserve your spot. Children under the age of ten should be accompanied by an adult.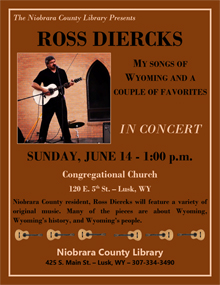 Have you picked up your copy of Ernest Hemingway's In Our Time? The book is available and will be discussed on Monday, June 15 at 6 p.m. at the library.
Mark your calendar! Ross Diercks presents "My Songs of Wyoming" on Sunday, June 14 at 1 p.m. at the Congregational Church. As always, those that are at risk should make careful decisions when attending public events; masks are encouraged for those at risk.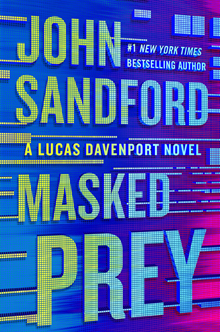 John Sandford's latest novel is entitled "Masked Prey." Is an unstable extremist tracking the loved ones of powerful politicians with deadly intent? The FBI is called in, but there isn't much they can do. No crime has been committed and the anonymous photographer can't be pinned down to one location or IP address. With no where else to turn, influential senators decide to call in someone who can operate outside the FBI's constraints – Lucas Davenport. "Masked Prey" is available as a CDbook in our library and an ebook and digital audio through Overdrive/Libby, CloudLibrary and RBDigital.
Other new fiction books are "Race the Sands" by Sarah Beth Durst, "Beachside Beginnings" by Sheila Roberts, "Dead Land" by Sara Paretsky, "The River Murders" by James Patterson, "Miss Julia Knows a Thing or Two" by Ann B. Ross, "Last Girl Standing" by Lisa Jackson, and "The Wedding Dress" by Danielle Steel. New young adult titles now available are "Night of the Dragon" by Julie Kagawa and "Thirteen Rising" by Romina Russell.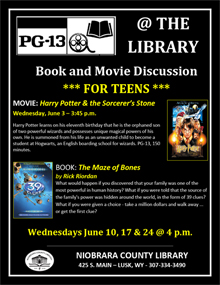 "Arguing with Socialists" by Glenn Beck is among new non-fiction along with "Two-Buck Chuck & the Marlboro Man: the New Old West" by Frank Bergon and "Layer, Paint, and Stitch: Create Textile Art Using Freehand Machine Embroidery and Hand Stitching" by Wendy Dolan.
The Lennea Lewis Slagle Children's Library has these new junior titles: "Blue Skies" by Anne Bustard, "The Real McCoys: Wonder Undercover" by Matthew Swanson and "Wild Honey from the Moon" by Kenneth Kraegel. A few of the newer easy books are "Fire Truck Vs Dragon" by Chris Barton, "Jack at the Bat" by Marc Barnett, "Duck & Cat's Racing Day" by Carin Bramsen and "When You Need Wings" by Lita Judge.
"Flag Day & Fun Reads!" is the theme for Storyhour on Tuesday, June 9, 2020. Storyhour is held from 10 to 11 a.m. every Tuesday throughout the year. Check out Dial-A-Story by dialing 307-334-3274; stories are available 24/7! The Friends of the Library sponsor this storyline.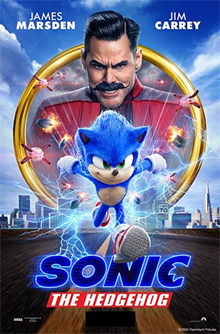 Browse the library's online catalog by going to https://www.niobraracountylibrary.org and clicking on WyldCat. Your library card number and PIN will give you access! You can also check out ebooks, digital audio and movies as well as music with your card and PIN. Check it all out today! Call or stop by the library for more information.
Library hours are Monday, Tuesday, Thursday, Friday 10 a.m. to 6 p.m., and Wednesday 12 p.m. to 7 p.m.