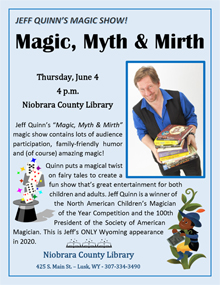 Thursday, June 4 the Friends of the Library will present "Magic, Myth & Mirth" with magician Jeff Quinn at 1 p.m. Quinn's show contains lots of audience participation, family-friendly humor and (of course) amazing magic! Jeff is a winner of the North American Children's Magician of the Year competition and this show is sure to be enjoyed!
"In Our Time" by Ernest Hemingway, Wyoming's One Book 2019 is available to pick up! The Wyoming story of American novelist Ernest Hemingway began when he sought solace, seclusion and beauty near Yellowstone National Park. Its chapters span the entirety of his adult life yet have been accorded only passing significance. In Ernest Hemingway's life, scenes of hunting, a wedding, miscarriage, injuries and physical degeneration all found Wyoming settings. Friendships grew, he fished with his sons, and he wrote much of his best work here—with great energy, productivity, and vividness. Discussion of this work will be Monday, June 15 at 6 p.m.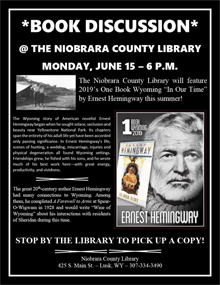 "One Perfect Summer" is Brenda Novak's latest novel. When Serenity Alston swabbed for a DNA check the last thing she expected to discover was two half-sisters. Suddenly everything about her family is drawn into question. The sisters, all three converging at a crossroads in their lives, meet and decide to dig into the mystery together. Before summer is over, they'll have to confront the past and determine how to move forward. Any future is easier to face with family by your side. "One Perfect Summer" is also available in RBDigital and CloudLibrary.
Other new fiction books are "The Final Deception" by Heather Graham, "Tough Talking Cowboy" by Jennifer Ryan, "Sunrise on Half Moon Bay" by Robin Carr, "Revenge" by James Patterson, "Amish Protector" by Marta Perry, "Fearless" by Fern Michaels, "Death on Tuckernuck" by Francine Mathews and "The Stolen Gold Affair" by Bill Pronzini. New young adult titles include "The Kingdom of Back" by Marie Lu and "The Alcazar" by Amy Ewing.
"Cowboy is a Verb: Notes From a Modern-Day Rancher" by Richard Collins is among new non-fiction books along with "American Harvest: God, Country, and Farming in the Heartland" by Marie Mutsuki Mockett and "Civil War Legacies II: 17 Small Quilt Patterns for Reproduction Fabrics" by Carol Hopkins.
The Lennea Lewis Slagle Children's Library has these new junior titles, "Joss" by Erin Falligant, "Big Nate: Blow the Roof Off" by Lincoln Peirce and "Anna Finds a Friend" by Kate Egan. Some of the newer easy books are "It's Pool Time" created by Norman Bridwell, "Curious George: Good Night Zoo" created by Margaret Rey, "Peppa's Magical Unicorn" created by Neville Astley and "Let's Play Crabby" by Jonathan Fenske.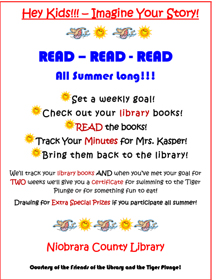 "Squawk, it's June You Say!" is the theme for Storyhour on Tuesday, June 2, 2020. Storyhour is held from 10 to 11 a.m. every Tuesday throughout the year. Call 334-3274 anytime to hear a recorded story. Dial-A-Story is sponsored by the Friends of the Library.
Have you checked out the library's Genealogy and Historical databases lately? Visit https://www.niobraracountylibrary.org and click on the yellow tabs. You can find information about Niobrara County and its communities; people who made history, such as Addison Spaugh and of course, lots ofjul genealogy and cemetery information. Check it out today!
Library hours are Monday, Tuesday, Thursday, Friday 10 a.m. to 6 p.m., and Wednesday 12 p.m. to 7 p.m.