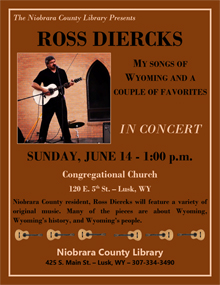 Local musician Ross Diercks will be performing original "Songs of Wyoming" on Sunday, June 14 at 1 p.m. at the Congregational Church. Ross will be accompanied by Casey Whiteman on the fiddle. Plan to attend!
The Friends of the Library have partnered with Dolly Parton's Imagination Library! Pick up a registration form at the county library or visit http://imaginationlibrary.com to register your children up to age 5. Each month your child will receive a new book in the mail! Children must live in Niobrara County. The Friends of the Library will also have registration available during their annual Book Sale and Ice Cream Social on Saturday, June 17. The Book Sale begins at 8 a.m. and the Ice Cream Social begins at 11 a.m. All of the festivities will be held on the library lawn. Plan to attend as there are lots of books looking for new homes!
Don't forget the Ernest Hemingway book discussion on Monday, June 15 at 6 p.m. at the library. "In Our Time" is also available to pick up if you haven't yet picked up a copy.
The novel "The Book of Lost Friends" by Lisa Wingate brings to life startling stories from actual "Lost Friends" advertisements that appeared in southern newspapers after the Civil War. For first-year teacher Benedetta Silva, a subsidized job at a poor rural school seemed like the ticket to cancelling her hefty student debt until she lands in a tiny out-of-step Mississippi River town that is suspicious of new ideas and new people. However, amid the gnarled live oaks and run-down plantation homes lies the century-old history of 3 young women, a long-ago journey and a hidden book that could change everything. "The Book of Lost Friends" is also available on CD and in Overdrive.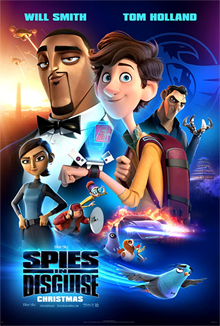 Other new fiction available are "Arapaho Summer" by Kinley Roby, "The Book of Longings" by Sue Monk Kidd, "Close Up" By Amanda Quick, "Robert B. Parker's Grudge Match" by Mike Lupica, "Redhead by the Side of the Road" Anne Tyler, "Big Summer" by Jennifer Weiner and Stephen King's newest, "If It Bleeds." "When You Were Everything" by Ashley Woodfolk and "Three Things I Know Are True" by Betty Culley are among new young adult titles.
New non-fiction includes "Hell and Other Destinations: a 21 Century Memoir" by Madeleine Albright, "The House of Kennedy" by James Patterson and "The Money Tree: a Story About Finding the Fortune in Your Own Backyard" by Chris Guillebeau.
The Lennea Lewis Slagle Children's Library has these new junior titles, "Gold Rush Girl" by Avi, "Leaving Lymon" by Lesa Cline-Ransome and "Two Little Piggies" by W. Bruce Cameron. Some of the newer easy books are "Sometimes Daddies are…."by Guido Van Genechten, "The Littlest Family's Big Day" by Emily Winfield Martin, "When Grandpa Gives You a Tool Box" by Jamie L.B. Deenihan and "The Bear's Garden" by Marcie Colleen.
"Happy Father's Day!" is the theme for Storyhour on Tuesday, June 16, 2020. Storyhour is held from 10 to 11 a.m. every Tuesday for children age 3 through kindergarten. Call to hear a recorded story by dialing 307-334-3274 anytime. Dial-A-Story is sponsored by the Friends of the Library.
Check out all of the library's digital resources by going to: https://www.niobraracountylibrary.org. Your library card number and PIN will give you access. Stop by or call the library if you have questions!
Library hours are Monday, Tuesday, Thursday, Friday 10 a.m. to 6 p.m., and Wednesday 12 p.m. to 7 p.m.