On behalf of the Friends of the Library thank you Rawhide Wrestlers, parents and other volunteers who helped moved many boxes of books for the annual book sale! It couldn't have happened without you! The sale and Ice Cream Social were both successful and will help further the library's programming and collection development goals.
Have you registered your young children (up to age 5) for Dolly Parton's Imagination Library? Visit https://imaginationlibrary.com and do so today! Your child will receive a book in the mail each month! Questions? Call the library at 334-3490 or contact any Friend of the Library member.
 Tuesday, July 14 the Friends of the Library present Rocky Mountain Puppets performing "The Great Fairytale Mythtree" featuring ventriloquist Meghan Casey and her trusty puppet Aiden! The event is at 1 p.m. at the library.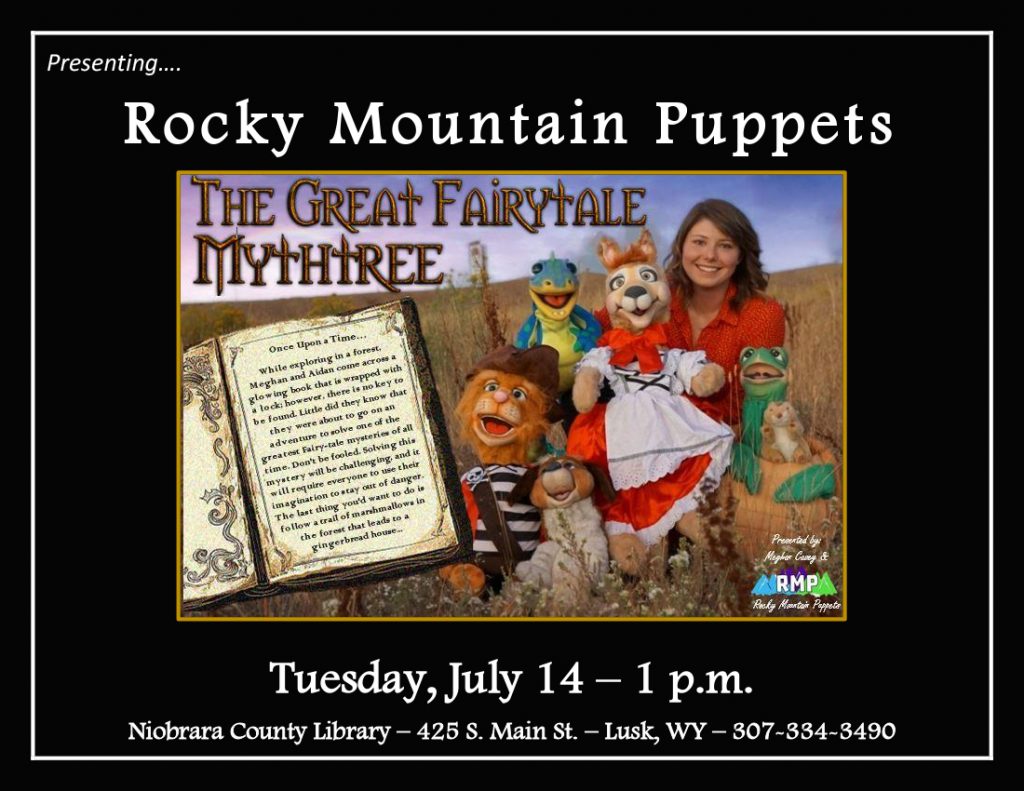 The movie "Deer 139" will be featured at the library on Wednesday, July 15 at 6 p.m. The film follows Deer 139 on his migratory trek through Wyoming.
"A Week at the Shore" is Barbara Delinsky's latest novel. One phone call is all it takes to lure Mallory Aldiss back to her family's Rhode Island beach home. The past 20 years she's lived in New York City building a career as a photographer and raising her daughter, Joy. Now something involving her father has brought the past forward and she returns to Bay Bluff where conflicting loyalties will be faced and painful truths revealed. "A Week at the Shore" is also available as a CDbook and in the CloudLibrary!
Other new fiction books are "The Sun Sister" by Lucinda Riley, "The Protective One" by Shelley Shepard Gray, "Shot to Hell" by William W. Johnstone, "Unyielding Hope" by Janette Oke, "Family For Beginners" by Sarah Morgan, "Eagle Station" by Dale Brown and "The Spoilt Quilt and Other Frontier Stories: Pioneering Women of the West" edited by Hazel Rumney. Kiera Cass has a new young adult title, "The Betrothed" now available to checkout.
New non-fiction books are "Hollywood Park: a Memoir" by Mikel Jollett, "Family Camping: Everything You Need to Know For a Night Outdoors With Loved Ones" by Charlie Ess, "Foolproof Fish: Modern Recipes For Everyone, Everywhere" by America's Test Kitchen and "Estate Planning Basics" by Denis Clifford.
The Lennea Lewis Slagle Children's Library has these new junior titles, "The One and Only Bob" by Katherine Applegate, "Framed" by James Ponti and "Dear Sister" by Alison McGhee. Some of the newer easy books are "The Boy and the Wild Blue Girl" by Keith Negley, "How to Be a Pirate" by Isaac Fitzgerald, "There Was an Old Lady Who Swallowed a Cow" by Lucille Colandro and "Wild About Dads" by Diane Murray.
"Who's in the Lake?" is the theme for Storyhour on Tuesday, July 14, 2020.  Storyhour is held from 10 to 11 a.m. every Tuesday throughout the year! Stories, activities and crafts provide a learning experience for your young children. The Friends of the Library sponsor Dial-A-Story, call 334-3274 anytime to hear a recorded story.
 The library's new website is live! We are finding a few quirks, please let us know if you are having challenges finding anything. Over the years we've researched a lot of businesses and have felt that a business and property database would be helpful. It's in process! We would love to know your stories about businesses and if you have any images you are willing to share, they would be appreciated. Visit the library's website by going to: https://niobraracountylibrary.org. Browse WyldCat, the online catalog, anytime and use your library card number and PIN to request items and renew some materials. Your card number and PIN also give you access to all of the digital libraries and research databases available. Be sure to stop by if you have questions!
 Library hours are Monday, Tuesday, Thursday, Friday 10 a.m. to 6 p.m., and Wednesday 12 p.m. to 7 p.m.