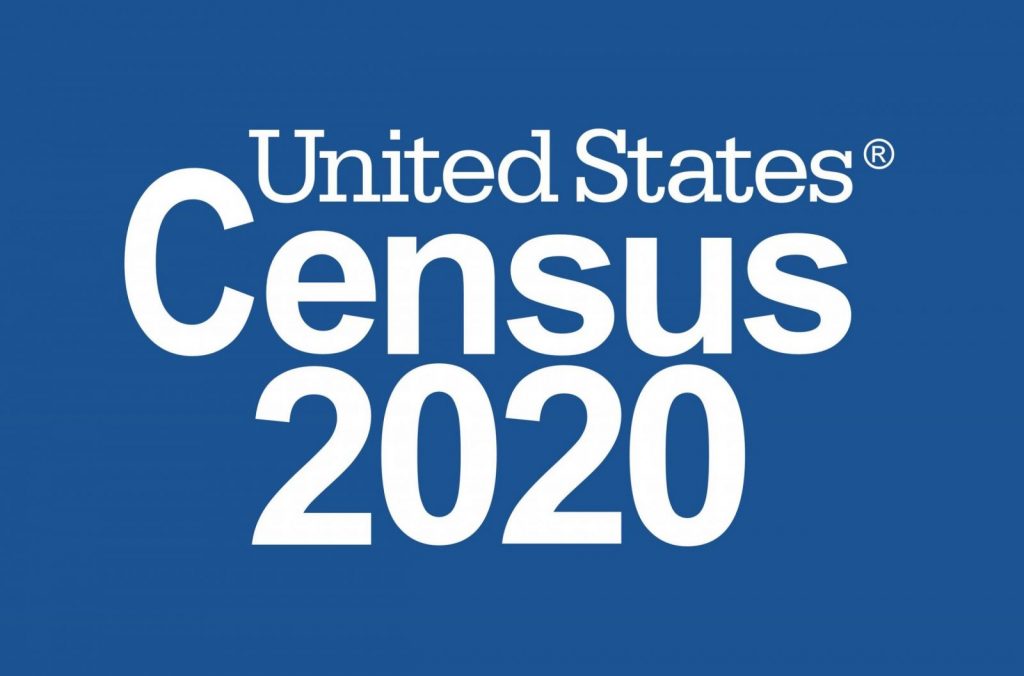 Officials from the U. S. Census will be available at the library to answer questions or help with filling out online forms on Wednesday, September 9 and 23 from 12-2 p.m. and 5-7 p.m.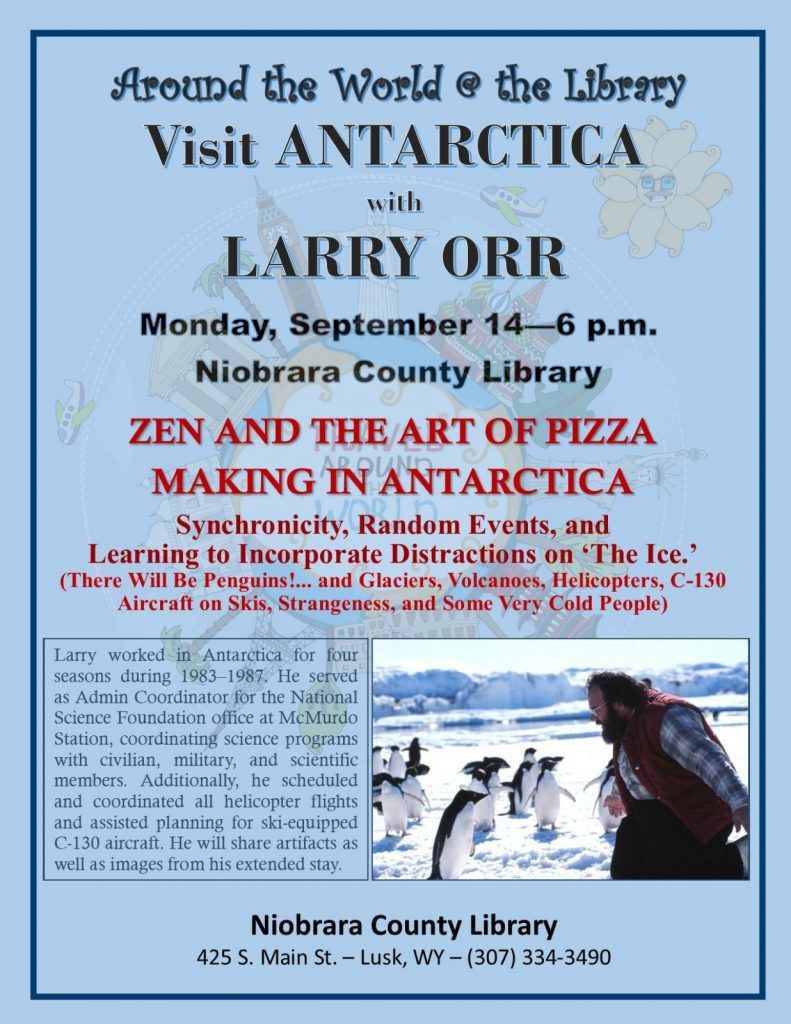 Plan now to attend Larry Orr's program: "Zen and the Art of Pizza Making in Antarctica: Synchronicity, Random Events, and Learning to Incorporate Distractions on 'The Ice.' (There Will Be Penguins!… and Glaciers, Volcanoes, Helicopters, C-130 Aircraft on Skis, Strangeness, and Some Very Cold People." on Monday, September 14 at 6 p.m. This is sure to be an informative event!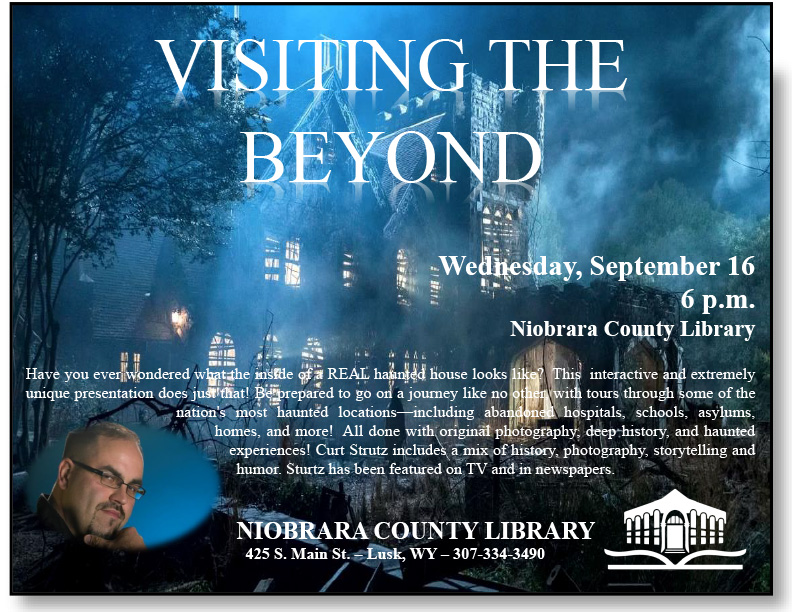 Wednesday, September 16 well-known entertainer, Curt Strutz will share his love of haunted places with you at the library at 6 p.m. "Visiting the Beyond," a paranormal interactive lecture, will take you into some of the nation's most haunted locations. Stutz has been featured on television and in newspapers – be sure to add this to your calendar.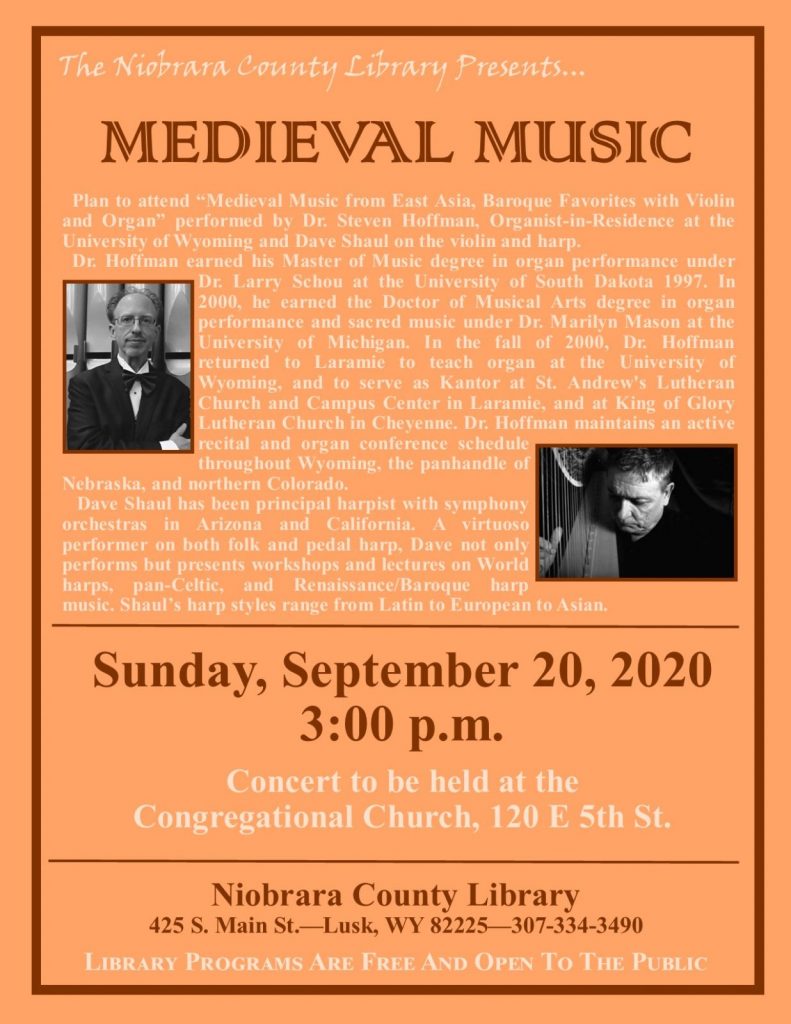 The library concert series begins on Sunday, September 20 with "Medieval Music from East Asia, Baroque Favorites with Violin and Organ" performed by Dr. Steven Hoffman, Organist-in-Residence at the University of Wyoming and Dave Shaul on the violin and harp. The concert will be held at the Congregational Church, 120 E. 5th St. at 3 p.m.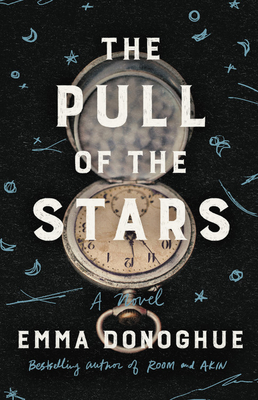 "The Pull of the Stars" is a new novel by Emma Donoghue. In Dublin in 1918 when Ireland is doubly ravaged by war and disease, Nurse Jackie Power works at an understaffed hospital in the city center. Into her regimented world step two outsiders – Dr. Kathleen Lynn, a rumored rebel on the run from the police and a young volunteer named Bridie Sweeny. In the darkness and intensity of this tiny maternity ward they lose patients to this baffling Great Flu pandemic but also shepherd new life into a fearful world. "The Pull of the Stars" is also available through Overdrive/Libby.
Other new fiction books are "The Lives of Edie Pritchard" by Larry Watson, "The Golden Cage" by Camilla Lackberg, "Cajun Justice" by James Patterson, "Love & Other Crimes" by Sara Paretsky, "The Hero of Hope Springs" by Maisey Yates, "Trail's End" by William McLeod Raine, "Sucker Punch" by Laurell K. Hamilton and "Miss Janie's Girls" Carolyn Brown. The young adult section includes the Soaring Eagle nominated author Alan Gratz's book "Refugee." Several of Gratz's books are available to checkout in the library as well as digitally through Overdrive and the CloudLibrary.
"Unrig: How to Fix Our Broken Democracy" by Daniel G. Newman is among new non-fiction books along with "The Perfect Father: a True Story of Chris Watts, His All-American Family, and a Shocking Murder" by John Glatt and "Basket Essentials: Rib Basket Weaving, Techniques, and Projects for DIY Woven Reed Baskets" by Lora S. Irish.
The Lennea Lewis Slagle Children's Library has these new junior titles: "Blizzard Night" by Marlane Kennedy, "Pony on the Twelfth Floor" by Polly Faber and "The Last Firehawk: Silver Swamp" by Katrina Charman. A few of the newer easy books are "A Book for Escargot" by Dashka Slater, "Who Wet My Pants?" by Bob Shea, "The Juggle Puzzle" by Sindy McKay and "The Noisy Classroom" by Angela Shantae.
"What's in My Apple?" is the theme for Storyhour on Tuesday, September 15, 2020.  Storyhour is held from 10 to 11 a.m. every Tuesday throughout the year. Call anytime to hear a recorded story by dialing 334-3274. The Friends of the Library sponsor this 24/7 storyline.
Browse local history and genealogy by going to https://niobraracountylibrary.org! Search the online catalog by clicking on WyldCat. Check it out today!
Library hours are Monday, Tuesday, Thursday, Friday 10 a.m. to 6 p.m., and Wednesday 12 p.m. to 7 p.m.