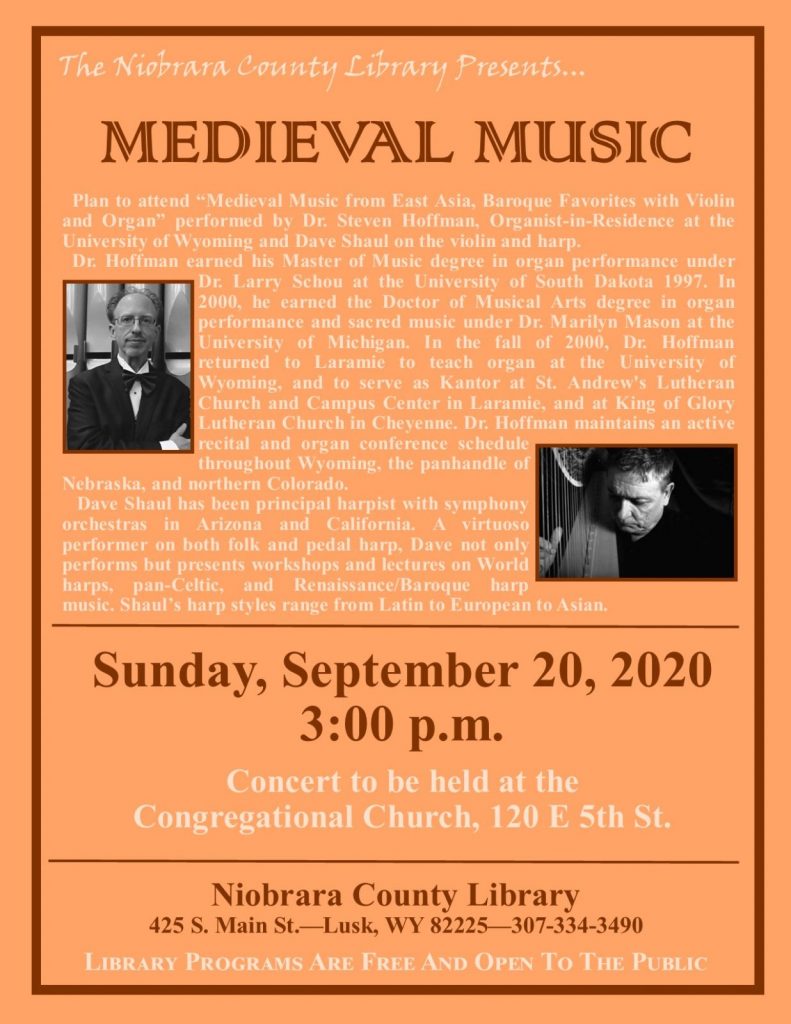 The library is presenting a concert on Sunday, September 20 at 3 p.m. at the Congregational Church, 120 E. 5th St., Lusk. "Medieval Music from East Asia, Baroque Favorites with Violin and Organ" performed by Dr. Steven Hoffman, Organist-in-Residence at the University of Wyoming and Dave Shaul on the violin and harp. Plan to attend!
If you haven't filled out the 2020 Census, there is still time! Census officials will be at the library on Wednesday, September 23 from 12-2 p.m. and 5-7 p.m. to answer questions or help with the process.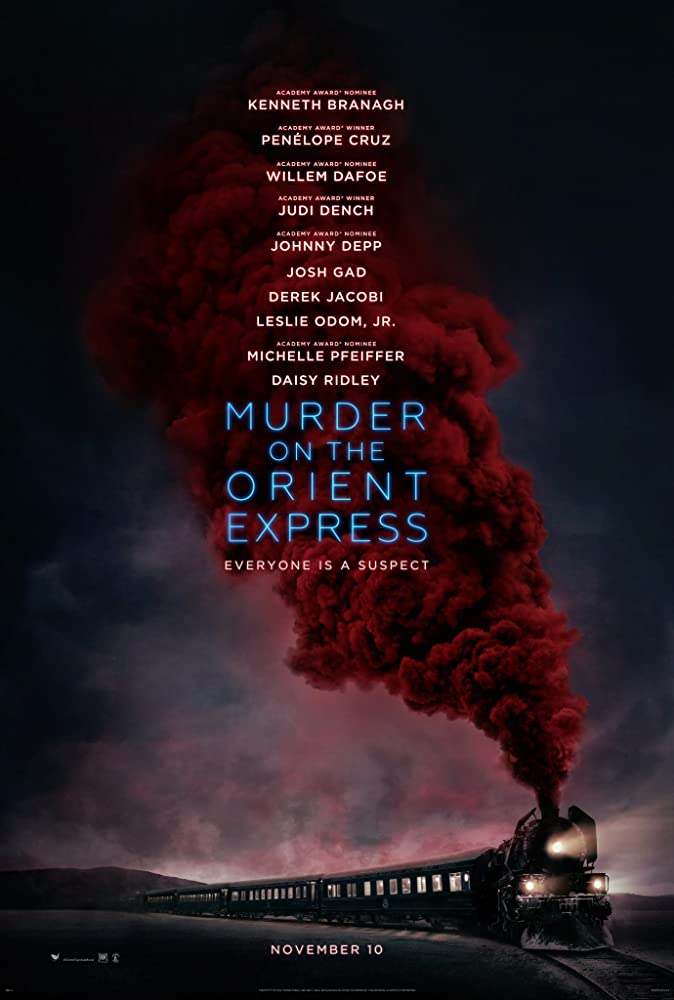 "It's A Mystery" Dinner & Movie series continues with "Murder on the Orient Express" on Monday, September 28 at 6 p.m. at the library. Just after midnight, a snowdrift stops the Orient Express in its tracks. The luxurious train is surprisingly full for the time of the year, but by the morning it is one passenger fewer. An American tycoon lies dead in his compartment, stabbed a dozen times, his door locked from the inside. Isolated and with a killer in their midst, detective Hercule Poirot must identify the murderer – in case he or she decides to strike again. A light meal will be available and Deane Tucker facilitates discussion.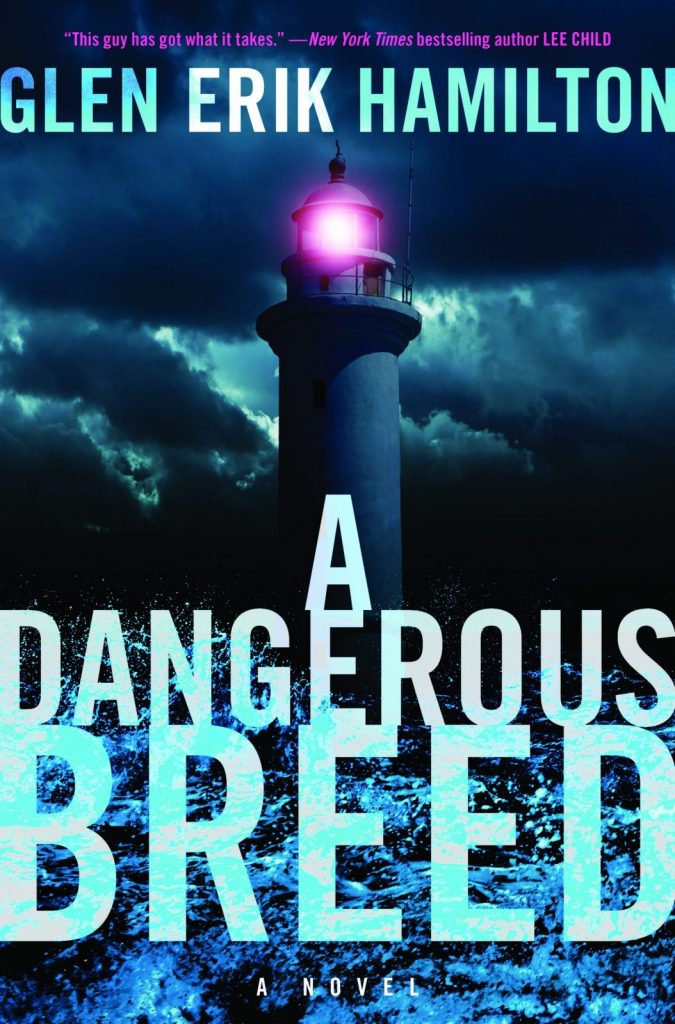 A new novel by Glen Erik Hamilton is "A Dangerous Breed." An invitation addressed to his long-dead mother sends Van Shaw digging into her past. He uncovers startling details about her life – including the name of the man who may be his father. Then in trying to help his friend Hollis out of a jam, Van is thrown in the path of an international extortionist who threatens to destroy the lives of the people Van loves. To outwit this brilliant sociopath, Van might just need a cold-blooded killer – whose blood may run through his own veins… "A Dangerous Breed" is also available digitally through Overdrive/Libby and the CloudLibrary.                                              
Other new fiction books are "The Loner" by Stu Campbell, "In the Kingdom of All Tomorrows" by Stephen Lawhead, "Deadly Touch" by Heather Graham, "Robert Ludlum's the Bourne Evolution" by Brain Freeman, "The Cholla Kid" by Jackson Cole, "Sunshine on Silver Lake" by Annie Rains, "The Nemesis Manifesto" by Eric Van Lustbader and "1st Case" by James Patterson. A new young adult title is "I Killed Zoe Spanos" by Kit Frick.
"The Drudge Revolution: the Untold Story of How Talk Radio, Fox News, and a Gift Shop Clerk With an Internet Connection Took Down the Mainstream Media" by Matthew Lysiak is among new non-fiction along with "Horse Crazy: the Story of a Woman and a World in Love With an Animal" by Sarah Maslin Nir and "Spice Apothecary: Blending and Using Common Spices For Everyday Health" by Bevin Clare.
The Lennea Lewis Slagle Children's Library has these new junior titles, "I Hate Reading" by Beth Bacon, "Late Lunch with Llamas" by Mary Pope Osborne and "Paws For a Cause" by Kyla May. Among the newer easy books are "A is For Another Rabbit" by Hannah Batsel, "Hey, Who Made This Mess?" by Primo Gallanosa, "How to Potty Train Your Porcupine" by Tom Toro and "The Crankypants Tea Party" by Barbara Bottner.
"Johnny Appleseed" is the theme for Storyhour on Tuesday, September 15, 2020.  Storyhour is held from 10 to 11 a.m. every Tuesday throughout the year. The Friends of the Library sponsor a 24/7 storyline; call 307-334-3274 anytime to hear a recorded story.
Search the library's collection by going to: http://niobraracountylibrary.org and clicking on WyldCat. You can reserve materials as well as place interlibrary loan requests. Your library card number and PIN give you access. Stop by or call, 307-334-3490, if you have questions!
Library hours are Monday, Tuesday, Thursday, Friday 10 a.m. to 6 p.m., and Wednesday 12 p.m. to 7 p.m.