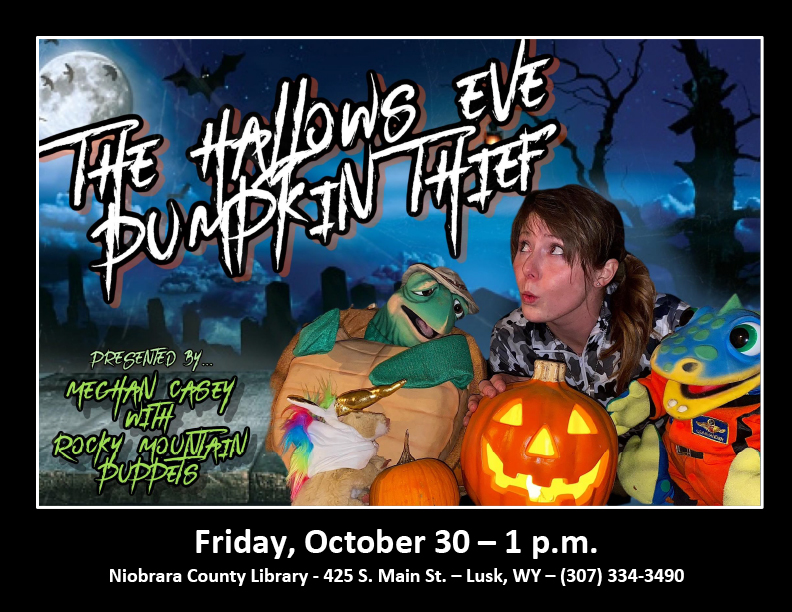 There is a thief on the loose stealing pumpkins in the "Hallows Eve Pumpkin Thief" presented on Friday, October 30 at 1 p.m. by Meghan Casey and Rocky Mountain Puppets. However, these aren't just any regular pumpkins, these are Jack-O-Lanterns, and they possess the spirit of Hallows Eve. Without these pumpkins around, Halloween is at risk of being cancelled! The library is excited to have Meghan return with a new Halloween show, be sure to bring your children to enjoy this talented ventriloquist.
A series for adults, "Holiday Crafts" begins on Wednesday, November 4 from 5-6:30 p.m. Call the library at 307-334-3490 to reserve your space! Book Art is the featured project on November 4; November 18 features a unique Christmas card followed by a wreath on December 9. The series concludes with a "Paint @ the Library" painting on December 16. You can sign up for all or some of the projects. Library programs are free and open to the public, call today as space is limited.
"Afterschool Holiday Crafting" for children of all ages begins on Tuesday, November 3 and continues on Tuesdays and Thursdays through December 10. Call the library to reserve a spot for your child!
During the month of November Barb Orr will have a display of her original art; be sure to stop and check out her paintings!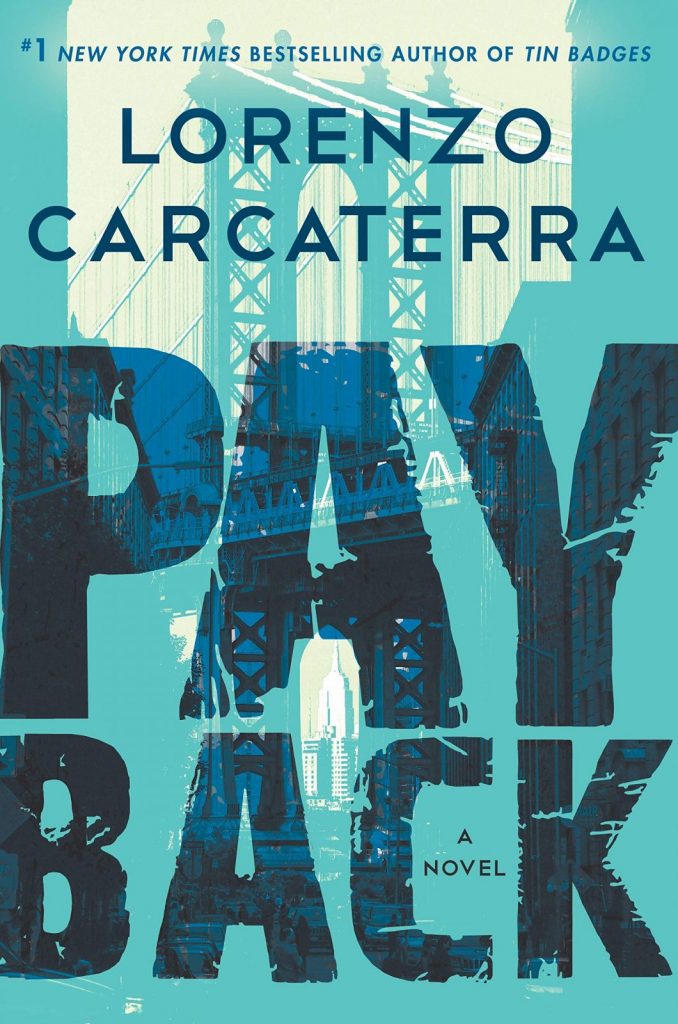 "Payback" is the latest novel by Lorenzo Carcaterra. Tank Rizzo hates dirty cops. Criminals at least are honest about being dishonest. Dirty cops are a disgrace to the badge they carry. When Pearl, Tank's partner, tells him about an old family friend in jail for a murder he didn't commit, Tank assembles his A-Team to take corrupt detective, Eddie Kenwood down. "Payback" is also available in Overdrive/Libby.
Other new fiction books are "The Lost Are the Last to Die" by Larry D. Sweazy, "Bitter Pill" by Fern Michaels, "Legends of the West" by Michael A. Black, "Waiting on a Cowboy" by Jennifer Ryan, "The Revelators" by Ace Atkins, "The Silent Wife" by Karin Slaughter, "An Appalachian Summer" by Ann H. Gabhart and "Choppy Water" by Stuart Woods. A new young adult book is "The Challenger" by Taran Matharu.
"Shuttle Houston: My Life in the Center Seat of Mission Control" by Paul Dye is a new non-fiction title along with "Beyond Valor: a World War II Story of Extraordinary Heroism, Sacrificial Love, and a Race Against Time" by Jon Erwin and "Rage" by Bob Woodward.
The Lennea Lewis Slagle Children's Library has these new junior titles, "Star Wars Rogue One: Secret Mission" by Jason Fry, "Mia Mayham is a Superhero" by Kara West and "Name Tags and Other Six-Grade Disasters" by Ginger Garrett. A few of the newer easy readers are "Girl Versus Squirrel" by Hayley Barrett, "Swim, Mo, Swim" by David A. Adler, "Llama Unleashes the Alpacalypse" by Jonathan Stutzman and "Owen To the Rescue" by Meredith Rusu.
"Acorns from the Tree!" is the theme for Storyhour on Tuesday, November 3, 2020. Storyhour is held from 10 to 11 a.m. every Tuesday throughout the year. Call 307-334-3274 to hear a recorded story anytime. Dial-A-Story is sponsored by the Friends of the Library.
Be sure to visit the online catalog at http://niobraracountylibrary.org. Browse WyldCat to view the library collection, you can also use your library card number and PIN to place reserves on items as well as renew some items. Browse "Historicals" and read about local history – check out the article, "Changes That the Railroad Brought Described in 1891!" by clicking on "C" and scrolling down – new articles are added regularly!
Library hours are Monday, Tuesday, Thursday, Friday 10 a.m. to 6 p.m., and Wednesday 12 p.m. to 7 p.m.