The Niobrara County Library will be hosting a Wine Tasting fundraiser on Saturday, June 5 at the Niobrara Country Club at 4 p.m. Participants can taste and try different types of wine from Casper's Poplar Wine & Spirits and enjoy a variety of cheeses, chocolates and hors d'oeuvres. Tickets are $30 prior to May 28 and $40 at the door. For more information contact any foundation member or stop by the library.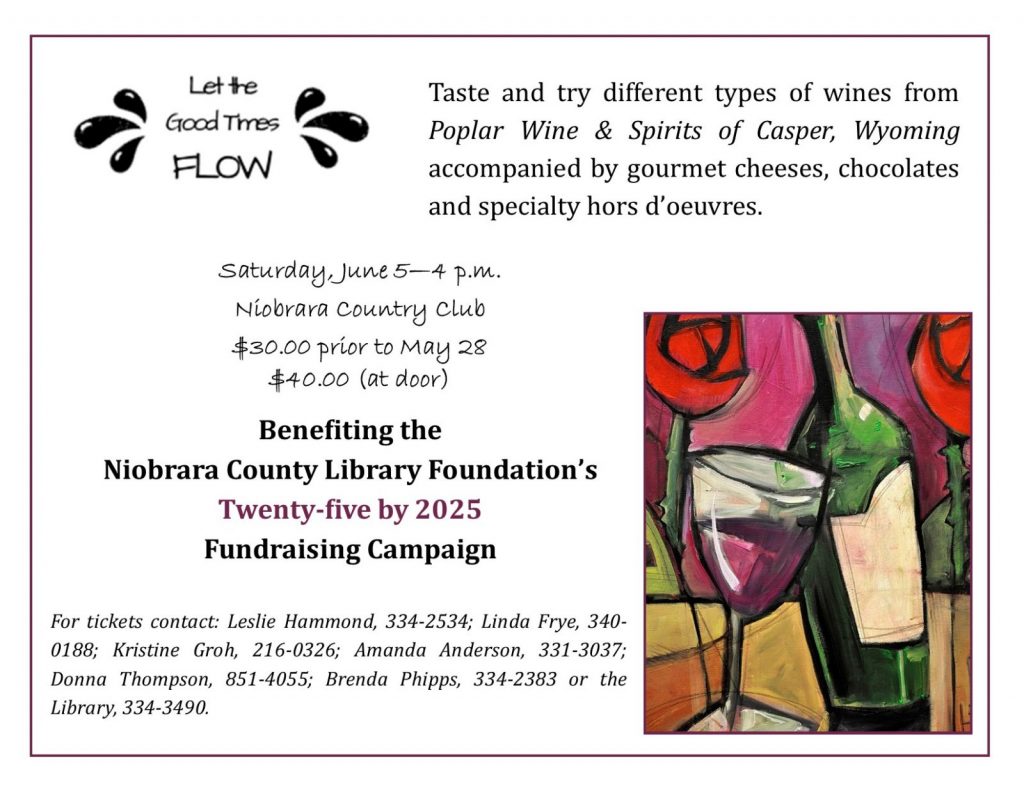 It's time to register your children for the library's summer "Hey Kids! – Tails & Tales" reading program. This is a goal-based reading program for children of all ages. Children set a goal of how many library books, chapters, etc. they can read each week and when their goal is met twice, they will receive a certificate. Children that meet their goals all summer will be eligible for larger prizes in August. The program begins the week of May 24 and the tracking week ends each Friday. The program is sponsored in part by the Friends of the Library and the NCL Foundation.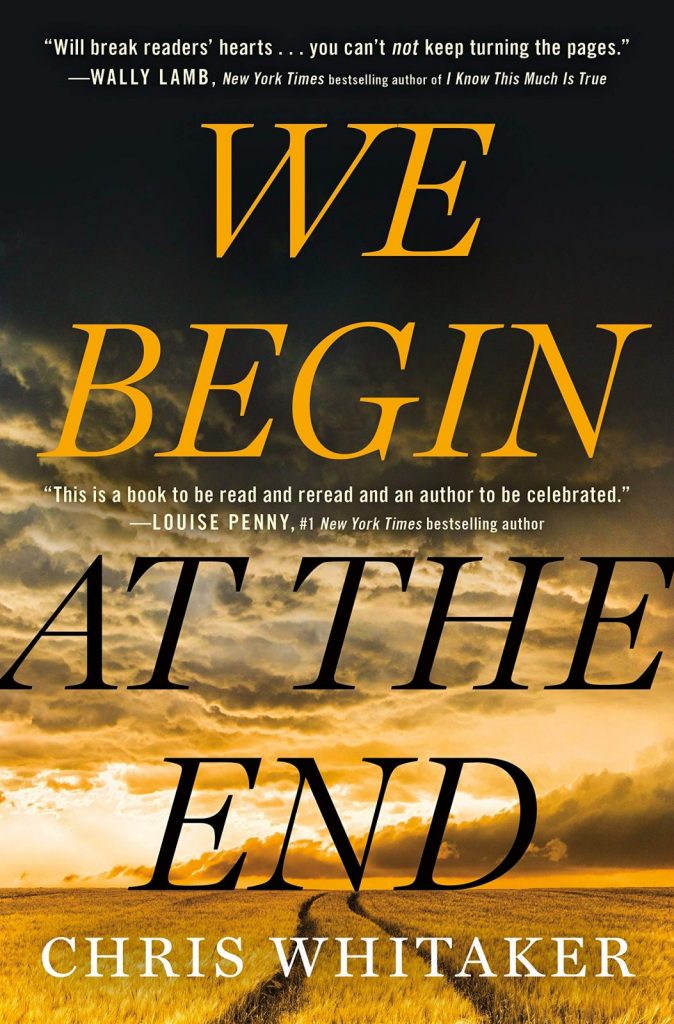 Chris Whitaker's new novel is entitled "We Begin At the End." Walk is the Chief of Police in the coastal California town where he grew up, still hurting from having given the testimony that sent his best friend to prison. Duchess is the 13-year-old daughter of Star, who grew up with Walk and Vincent, having to be parent to both her mother and her 5-year-old brother. Walk and Duchess may not seem to have much in common, but both have come to expect that people will disappoint you.  When trouble arrives with Vincent on his release from prison, they find they can do nothing but usher it in – arms wide open. "We Begin At the End" is also available in Libby/Overdrive.
Other new fiction books are "The Rose Code" by Kate Quinn, "A Desolation Called Peace" by Arkady Martine, "Matthew Johnson, U.S. Marshall" by Johnny D. Boggs, "Braced For Love" by Mary Connealy, "The Affair" by Danielle Steel, "Dark Sky" by C. J. Box, "From the Shadows" by B.J. Daniels and "How Beautiful We Were" by Imbolo Mbue.
New non-fiction books are "Born to Fight: Lincoln and Trump" by Gretchen Wollert, a teacher from Goshen County, "The Journey: a Soon-To-Be Graduate's Guide to Life" by H.S. Daniels a teacher from Casper, WY and "Fourteen Talks By Age Fourteen: the Essential Conversations You Need to Have With Your Kids Before They Start High School" by Michelle Icard.
The Lennea Lewis Slagle Children's Library has these new junior titles "Diary of a Wimpy Kid: the Deep End" by Jeff Kinney, "The Sea in Winter" by Christine Day, "Too Small Tola" by Atinuke. Several of the newer easy books are "The Ramble Shamble Children" by Christina Soontornvat, "What Can I Be" by Carl Meister, "Sea Sheep" by Eric Seltzer and "Ty's Travels: All Aboard" by Kelly Starling Lyons.
  "Bad Kitty!" is the theme for Storyhour on Tuesday, May 18, 2021.  Storyhour is held from 10 to 11 a.m. every Tuesday throughout the year. Be sure to bring your children for an opportunity to learn and socialize through stories, activities, crafts, puzzles and fun interactions. Call 307-334-3274 anytime to hear a recorded story. Dial-A-Story is sponsored by the Friends of the Library.
Visit the library's webpage: http://niobraracountylibrary.org to browse the library's catalog and digital libraries as well as local history and genealogy. Check it out today!
Library hours are Monday, Tuesday, Thursday, Friday 10 a.m. to 6 p.m., and Wednesday 12 p.m. to 7 p.m. Stop by soon!