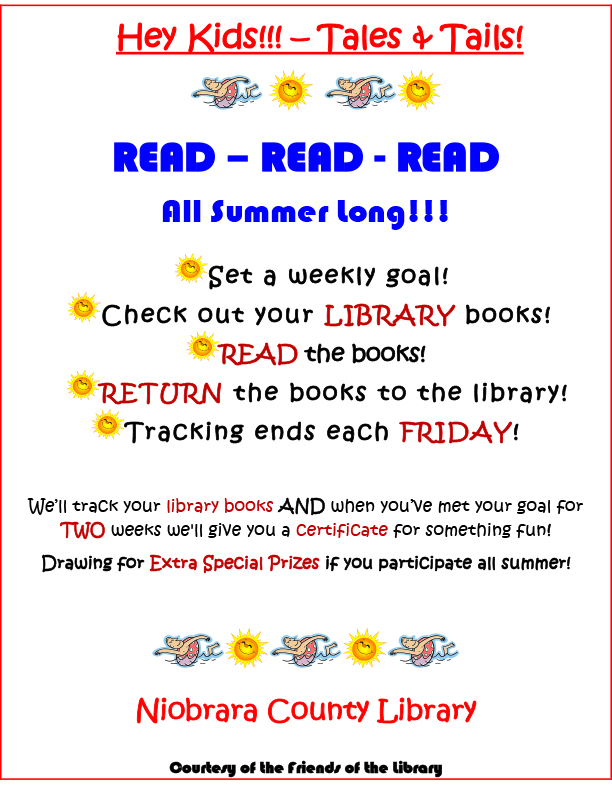 Library programs for the summer are gearing up! Be sure to bring your children by the library to register for "Hey Kids!" This is a goal-oriented incentive program. Children make a goal of how many library books they can read in one week, they then check out their books and read them, returning them to the library by Friday each week for tracking. This is a library program that also inspires children by using our library. Children that successfully meet their goals all summer will be eligible for larger prizes.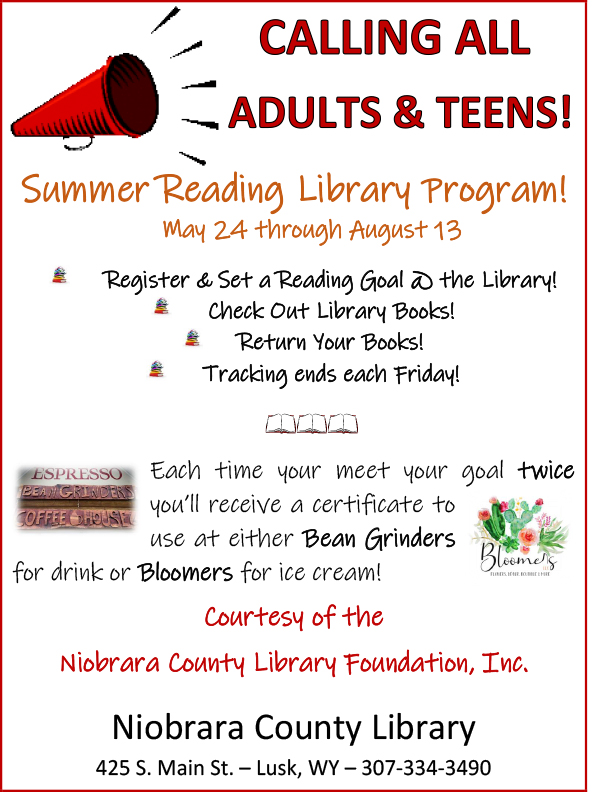 This year the library is also hosting a goal-oriented incentive program for adults! Stop in and get the details!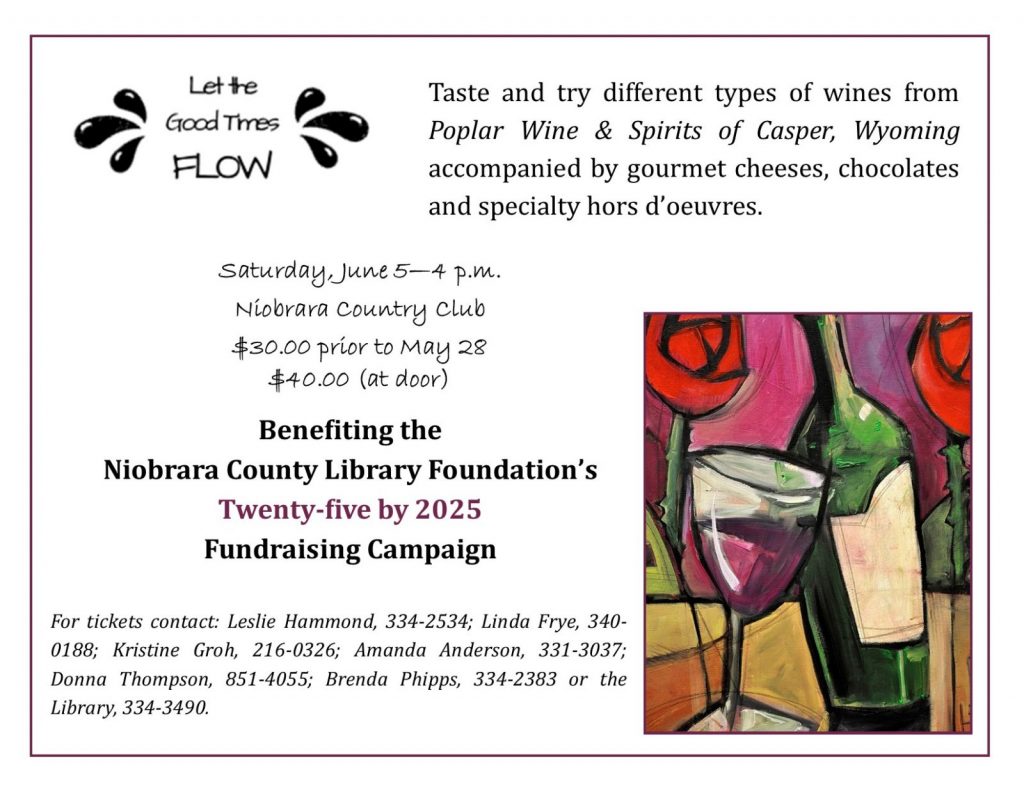 The Niobrara County Library Foundation is holding an endowment fundraiser for the recently established "Twenty-five by 2025" campaign on Saturday, June 5 at 4 p.m. at the Niobrara Country Club. Tickets for the wine tasting are $30 prior to May 28, $40 at the door. Tickets are available from library foundation members or at the library.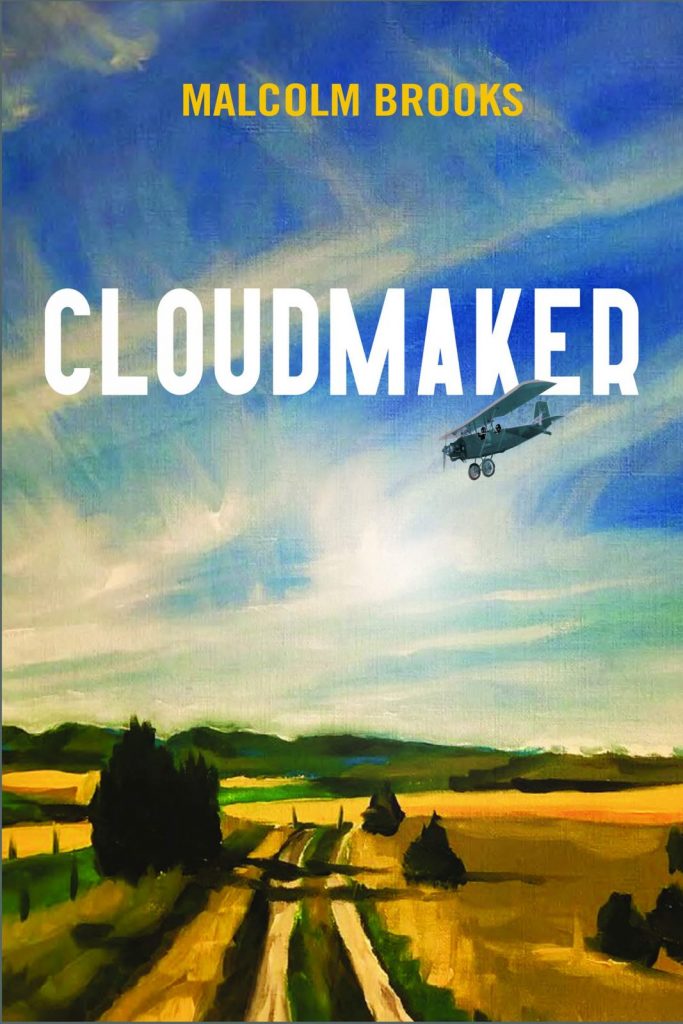 "Cloudmaker" is a new novel by Malcolm Brooks. In the spring of 1937 when Amelia Earhart is attempting to circumnavigate the globe, a 14-year-old Montana boy named Houston "Huck" Finn has aviation dreams of his own – to build his own plane. At the same time his cousin, Annelise, has arrived from Los Angeles chafing against the circumstances that sent her to Montana. Nevertheless, she shares a passion for flying and offers to help him build his plane. As the plane takes shape so does Huck and Annelise's understanding of the world and their place in it.
Other new fiction books are "Love Like that" by Emma Duffy-Comparone, "Flight" by Vanessa Harbour, "Mascarada Pass" by William Colt McDonald, "Danger in Numbers" by Heather Graham, "Eternal" by Lisa Scottoline, "The Other Emily" by Dean Koontz, "The Consequences of Fear" by Jacqueline Winspear and "Wishing For a Cowboy" by Victoria James.
"Attacked At Sea: a True World War II Story of a Family's Fight for Survival" by Michael J. Tougias is among new non-fiction titles along with "Married to Paradise: One Woman's Courageous Journey of Intuition, Passion, and Purpose to Build a Eco Lodge in the Rainforest" by Lana Wedmore and "Animal, Vegetable, Junk: a History of Food From Sustainable to Suicidal" by Mark Bittman.
The Lennea Lewis Slagle Children's Library has these new junior titles "Can you Whistle, Johanna?" by Ulf Stark, "A Place to Hang the Moon" by Kate Albus, "Mr. Summerling's Secret Code" by Dori Hillestad Butler. Newer easy books are "Little Penguin and the Mysterious Object" by Laura Driscoll, "Clark the Shark Gets a Pet" by Bruce Hale, "Sydney & Taylor Explore the Whole Wide World" by Jacqueline Davies and "Teamwork Wins" by John Cena.
"D.W. (Dora Winifred)" is the theme for Storyhour on Tuesday, May 25, 2021. Storyhour is held from 10 a.m. to 11 a.m. year-round and features stories, crafts and activities for preschool aged children. Stop by soon! The Friends of the Library sponsor Dial-A-Story, try it out by dialing 307-334-3274 24/7!
The library is building its Business database, check it out by going to http://niobraracountylibrary.org and clicking on Historicals. If you have business information or images that could enhance this historical database, please let us know!
Library hours are Monday, Tuesday, Thursday, Friday 10 a.m. to 6 p.m., and Wednesday 12 p.m. to 7 p.m.