Broadway actor Duffy Hudson will be bringing "Edgar Allan Poe" to life on Sunday, September 12 at 1:30 p.m. at the Congregational Church (120 E. 5th St.). Hudson provides a unique, in-depth theatrical experience featuring the life and works of one of America's best-known and enigmatic personalities. Plan to attend! Library programs are free and open to the public.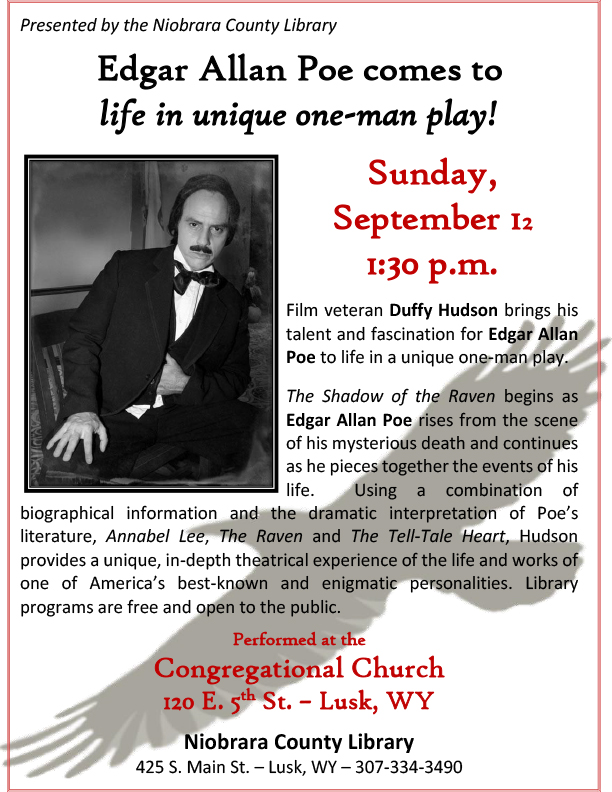 The Niobrara County Library Foundation will have Krispy Kreme Doughnuts available for pick-up on Thursday, September 23 at 7:30 a.m. Call the library at 307-334-3490 or contact a foundation member to order today!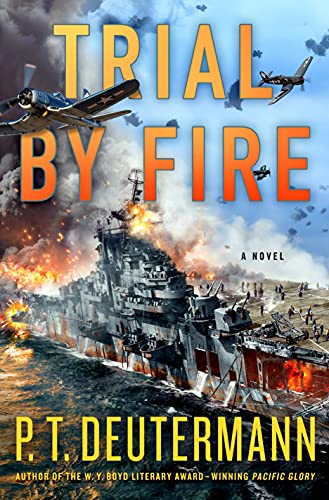 P.T. Deutermann's latest novel is "Trial By Fire." In March 1945, the war in the Pacific is approaching its apocalyptic climax. The latest wartime armada ever assembled is Task Force 58 and at the heart of the fleet is the USS Franklin known as "Big Ben" – a 27,000-ton behemoth, home to 3,600 crew men and 100 aircraft. Just after dawn on March 19, a single Japanese YokoSuka D4Y breaks through the clouds and drops two 500-pound bombs on Big Ben. Against all odds, the heroic action of a few extraordinary brave sailors was able to save their ship. This is their story.
Other new fiction books are "NYPD Red 6" by James Patterson, "The Summer of No Attachments" by Lori Foster, "Sunrise by the Sea" by Jenny Colgan, "An Ambush of Widows" by Jeff Abbott, "The Bone Code" by Kathy Reichs, "Fallen" by Linda Castillo, "Dissolution" by W. Michael Gear, "It's Better This Way" by Debbie Macomber, "The Moonglow Sisters" by Lori Wilde and "A Bullet For a Stranger" by William W. Johnstone. A new young adult series starter is "Skyhunter" by Marie Lu.
"The Man in the Arena: From Fighting ISIS to Fighting for My Freedom" by Eddie Gallagher is among new non-fiction books along with "How to Tell Stories to Children" by Silke Rose West.
The Lennea Lewis Slagle Children's Library has these new junior titles "June's Wild Flight" by Max Brallier, "Summer Island" by Dori Hillestad Butler, and "The Fallen Queen" by Kate O'Hearn. Some of the newer easy books are "Little Bat in Night School" by Brian Lies, "My Monster Truck Goes Everywhere with Me" by Kathleen Marcath, "My Name is Boz" by Michael Anthony Steele, and "Blueberry Cake" by Sarah Dillard.
"Hedgehogs" is the theme for Storyhour on Tuesday, September 14, 2021. Storyhour is held from 10 to 11 a.m. on Tuesday's throughout the year. Children enjoy stories, crafts and activities and socialization with their peers. Call Dial-A-Story anytime by dialing 307-334-3274. This 24/7 storyline is sponsored by the Friends of the Library.
Browse the library's online catalog by going to http://niobraracountylibrary.org and clicking on WyldCat. Your library card number (29092…) and PIN will give you access to the digital libraries as well as research resources through GoWyld.net. Check it all out today, call or ;stop by the library if you have questions or want more information!
Library hours are Monday, Tuesday, Thursday, Friday 10 a.m. to 6 p.m., and Wednesday 12 p.m. to 7 p.m.