Plan now to stop by the library for an artist reception on Wednesday, September 1 with Cindy Starkey beginning at 5 p.m. Cindy's photos will be on display at the library throughout the month of September.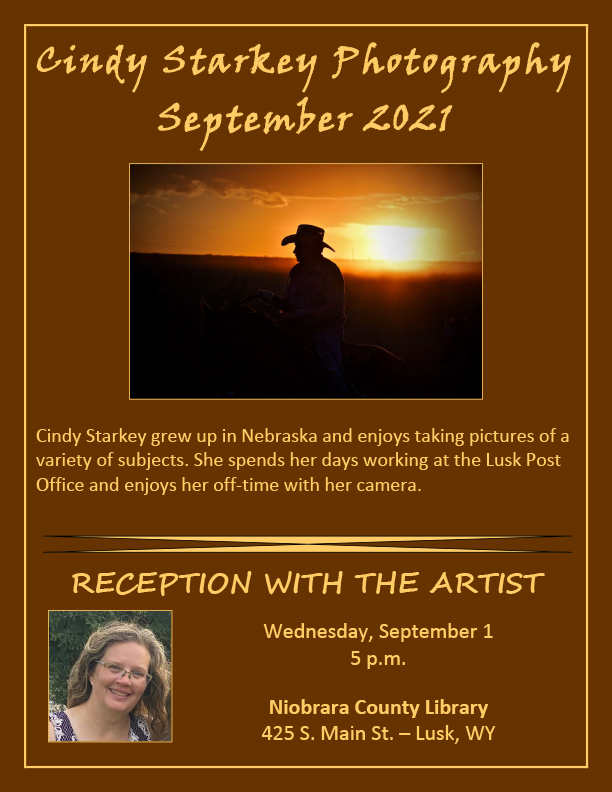 The summer "Hey Kids!" program wrapped up on August 13. Seventy-one children registered for the program and 3225 library books were read; 27 children met their reading goals each week throughout the twelve-weeks. This summer the library also sponsored a similar program for teens and adults with 32 participants; 5 people met their library reading goals throughout the summer. Prizes were provided by the Friends of the Library, the Niobrara County Library Foundation, the Library Board and individual donors.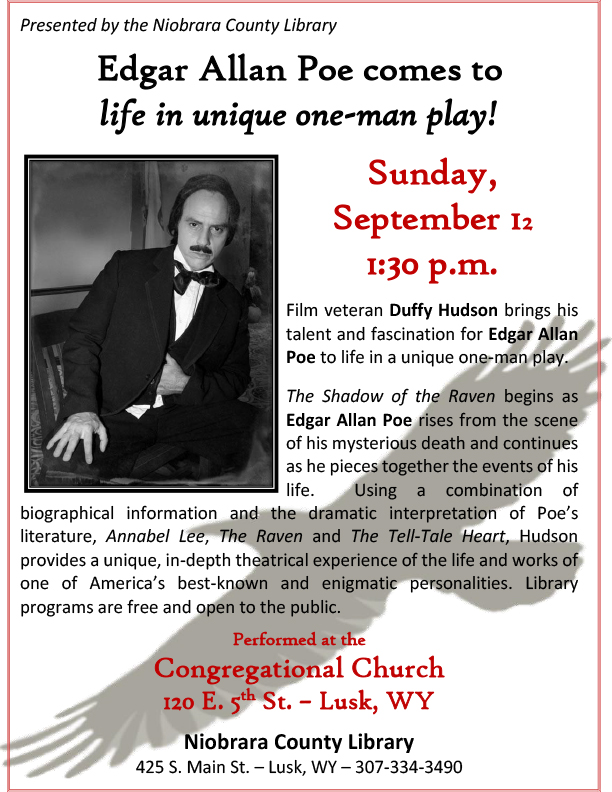 Entertainer, Duffy Hudson brings Edgar Allan Poe to life in unique one-man play on Sunday, September 12 at 1:30 p.m.at the Congregational Church,120 E. 5th St., Lusk, WY. Plan now to attend!
If you would like to receive email notice of library events and programs visit http://niobraracountylibrary.org and scroll down the page to enter your email address.
Did you know that the library offers outreach and delivery of materials? Don't hesitate to call 307-334-3490 for more information!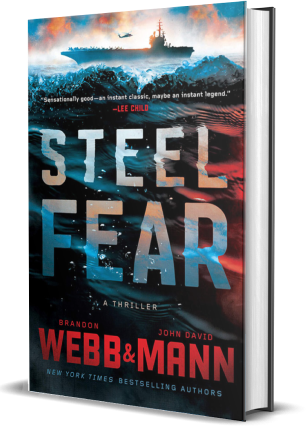 "Steel Fear" is a new novel by Brandon Webb. The moment Navy Seal sniper Finn sets foot on the USS Abraham Lincoln to hitch a ride home from the Persian Gulf there is no doubt that something is wrong. When crew members start disappearing – it's more sinister than a string of suicides – it's clear there's a serial killer on board. Suspicion falls on Finn, the newcomer to the ship, now all he has to do is stay alive long enough to prove it isn't him. "Steel Fear" is also available in Libby/Overdrive.
Other new fiction books are "When Stars Collide" by Susan Elizabeth Phillips, "Dream Girl" by Laura Lippman, "Dog Eat Dog" by David Rosenfelt, "The Third Grave" by Lisa Jackson, "Falling in Love on Willow Creek" by Debbie Mason, "The Leather Slapper" by Nelson C. Nye, "Someone To Cherish" by Mary Balogh, "The Missing Sister" by Lucinda Riley and "The Eagle's Claw: a Novel of the Battle of Midway" by Jeff Shaara. A new young adult book is "Half Sick of Shadows" by Laura Sebastian.
New non-fiction books are "Homebody: a Guide to Creating Spaces You Never Want to Leave" by Joanna Gaines, "Bring Your Baggage and Don't Pack Light: Essays" by Helen Ellis, and "New Women in the Old West: From Settlers to Suffragists, an untold American Story" by Winifred Gallagher.
The Lennea Lewis Slagle Children's Library has these new junior titles "Thrilling Tales From the Tree House" by Max Brallier, "Josephine Against the Sea" by Shakirah Bourne and "Cut to the Chase" by Aaron Blabey. Several new easy books include "The Night Baafore the First Day of School" by Dawn Young, "Boz Says "Wiggle Your Ears", by Michael Anthony Steele and "If You Were an Elephant" by Leslie Straub.
"Life's A Circus" is the theme for Storyhour on Tuesday, September 7, 2021.  Storyhour is held from 10 to 11 a.m. every Tuesday throughout the year! Call 307-334-3274 anytime to hear a recorded story – Dial-A-Story is sponsored by the Friends of the Library. Check it out today!
Be sure to visit the online catalog at http://niobraracountylibrary.org. Your library card number and PIN will give you access your account as well as the online databases and digital libraries. Check it out today! And don't hesitate to call or stop by if you have questions!
Library hours are Monday, Tuesday, Thursday, Friday 10 a.m. to 6 p.m., and Wednesday 12 p.m. to 7 p.m.