Kerry Grombacher and Aspen Black will perform in concert on Sunday, September 26 at 1:30 p.m. at the Congregational Church, 120 E. 5th St. The concert features "Songs & Stories of the American West" – songs that draw vivid portraits and tell fascinating stories set in the Western landscape. Plan now to attend – library programs are free and open to the public!
The "Every Family Has a Story" dinner and movie series continues with "A River Runs Through It" on Monday, September 27 at 6 p.m. at the library. The film is a memoir of two very different brothers—one reserved, the other a hell-raiser, both angling for the attention of their preacher father, who uses fly-fishing as a metaphor to teach them about life. A River Runs Through It is rated PG and 127 minutes. A meal will be available and discussion will be facilitated by Deane Tucker, PhD Chadron College.
Cindy Starkey's photography is on display throughout September, stop by soon! Library hours are 10 a.m. to 6 p.m. Monday, Tuesday, Thursday and Friday and Noon to 7 p.m. on Wednesday!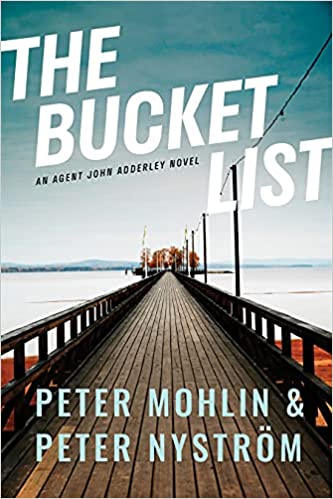 "The Bucket List" is the name of a debut novel by Peter Mohlin. After testifying against a drug cartel he had infiltrated, John Adderley, a former FBI agent, finds himself in witness protection in Sweden where he was raised. Still John can't keep a low profile – even to save his life – especially when there's a famous cold case involving his half-brother calling him back to his past.
Other new fiction books are "The Shadow" by James Patterson, "The Summer Sisters" by Sara Richardson, "Celine" by Peter Heller, "Such a Quiet Place" by Megan Miranda, "Island of Thieves" by Glen Erik Hamilton, "While We Were Dating" by Jasmine Guillory, "The Saboteurs" by Clive Cussler, "Devil In Disguise" by Lisa Kleypas and "Tom Clancy Target Acquired" by Don Bentley. A new young adult book is "Fable" by Adrienne Young.
"The Woman They Could Not Silence: One Woman, Her Incredible Fight for Freedom, and the Men Who Tried to Make Her Disappear" by Kate Moore is among new non-fiction along with "American Marxism" by Mark R. Levin.,
The Lennea Lewis Slagle Children's Library has these new junior titles "The Case of the Burgled Bundle" by Michael Hutchinson, "Iggy is the Hero of Everything" by Annie Barrows, and "The House of Serendipity" by Lucy Ivison. Newer easy books are "Home is Where the Heart Is" by Emma Dodd, "I Don't Want to Go to School!" by Lula Bell, "What Would You Do in a Book About You?" by Jean Reidy and "Giraffe Problems" by Jory John.
"What is Orange and Round?" is the theme for Storyhour on Tuesday, September 28, 2021. Storyhour is held from 10 to 11 a.m. every Tuesday throughout the year with stories, crafts, activities and fun! Dial-A-Story is available 24/7 by calling 307-334-3274, the Friends of the Library sponsor this storyline!
 Browse local history and genealogy by going to http://niobraracountylibrary.org. You'll find obituaries, birth records as well as cemetery data. There is also a plethora of local history and the business history database is growing. Check it all out today!