The library will be closed Thursday and Friday, December 23 and 24 for Christmas. Regular hours resume on Monday, December 27 at 10 a.m. The library will also be closed Friday, December 31. We wish you all a very Merry Christmas and a prosperous and healthy New Year!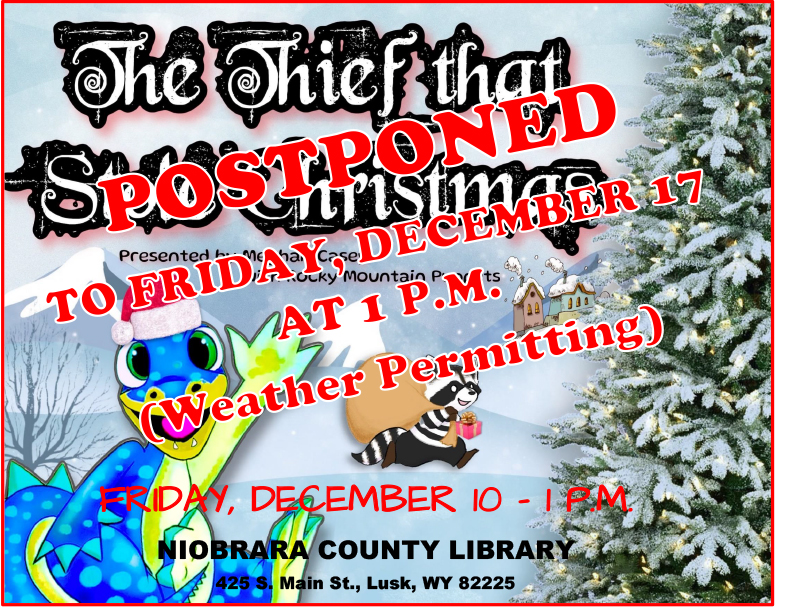 Meghan Casey and Rocky Mountain Puppets will be performing "The Thief That Stole Christmas" at the library on Friday, December 17 at 1 p.m. This show was postponed from Friday, December 10. Plan now to come and enjoy this talented ventriloquist – she'll have you laughing!
Thank you to everyone who supported the Friends of the Library Annual Cookie, Candy, Soup & Bread Sale, proceeds help to provide programs and other items throughout the year!
The library now has a Memory Care Kit available to circulate. The kit is designed for those who may have dementia or Alzheimer's and includes 4 35-piece puzzles, a busy board and the game "Call-to-Mind." Jigsaw puzzles (300-1000 pieces) are also available to check out!
Gale Legal Forms is available by visiting http://niobraracountylibrary.org and scrolling down, your library card number and PIN will give you access to Wyoming specific forms that are easily completed and printed. Call (307-334-3490) or stop by if you have questions.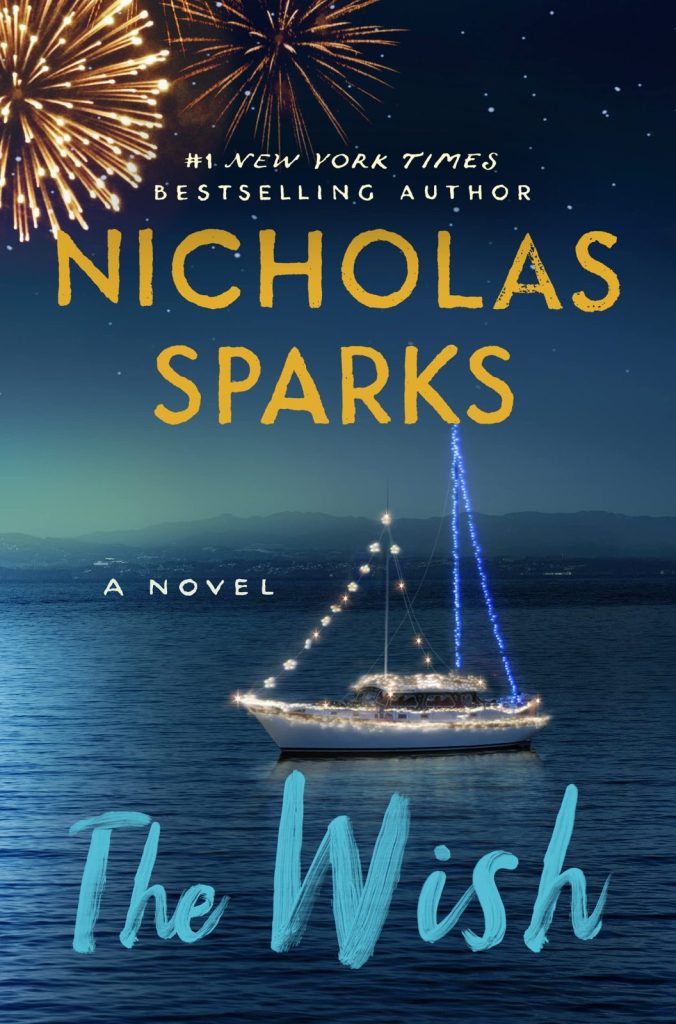 Nicholas Sparks' newest novel is "The Wish." At the age of sixteen Maggie Dawes was sent to live with an aunt she barely knew in a remote North Carolina village. There she met fellow teenager, Bryce Trickett who introduced her to photography. By 2019 she's become a renowned travel photographer and gallery owner. This year she is unexpectedly grounded over Christmas – struggling to come to terms with a sobering medical diagnosis. She finds herself becoming increasingly dependent and closer to her assistant and as they count down the last days of the season, she shares the story of the love that set her on a course she never could have imagined. "The Wish" is also available digitally in Libby powered by Overdrive.
Other new books are "The Christmas Village" by Annie Rains, "Forgotten in Death" by J.D. Robb, "A Lot Like Christmas" by Jennifer Snow, "Claws for Alarm" by Rita Mae Brown, "The Christmas Promise" by Richard Paul Evans, "Cimarron Thunder" by E. E. Halleran, "A Christmas in the Alps" by Melody Carlson, "Down the Hatch" by M.C. Beaton and "Game On: Tempting Twenty-Eight" by Janet Evanovich. A new young adult title is "As Good as Dead" by Holly Jackson.
New non-fiction books are "A Carnival of Snackery: Diaries (2003-2020)" by David Sedaris, "The Redemption of Wolf 302: From Renegade to Yellowstone Alpha Male" by Rick McIntyre and "The Pioneer Woman Cooks: Super Easy – 120 Shortcut Recipes for Dinners, Deserts, and More" by Ree Drummond.
The Lennea Lewis Slagle Children's Library has these new junior titles "Haunted Woods" by Calliope Glass, "You're a Star, Lolo" by Niki Daly, "The Fifth Quarter" by Mike Dawson and "The Beatryce Prophecy" by Kate DiCamillo. Some new easy holiday books are "Grumpy Monkey, Oh, No! Christmas" by Suzanne Lang, "The Animals Speak: a Christmas Eve Legend" by Marion Dane Bauer, "The Real Santa" by Nancy Redd, "The Cat on the Dovrefell: a Christmas Tale" by Tomie DePaola and "A Royal Christmas to Remember" by Jeanna Stolle Young.
"Santa and His Helpers" is the theme for Storyhour on Tuesday, December 21, 2021. Storyhour is held from 10 to 11 a.m. every Tuesday throughout the year. 307-334-3274 is the Dial-A-Story number; call anytime to hear a recorded story, sponsored by the Friends of the Library.
Have you checked out the library's historical and genealogical databases? Visit http://niobraracountylibrary.org and browse history of our county and its people, including businesses. You can also research genealogy through obituaries, birth records and cemetery records. Stop in the library and you can access Ancestry Library anytime at no charge!
Library hours are Monday, Tuesday, Thursday, Friday 10 a.m. to 6 p.m., and Wednesday 12 p.m. to 7 p.m.