The library will be closed Friday, December 31 for New Year's Day.  Regular hours resume on Monday, January 3, 2022 at 10 a.m. We wish you a Happy New Year and hope you continue to make the library an integral part of your 2022 entertainment and informational needs.
Winter afterschool programs begin on Tuesday, January 4 from 3:35 to 4:45 p.m. "At Home and Across the Ocean" is the theme for children in grades K-2 and will feature fun food and toys – all made by the children; this series continues on Tuesdays through February 22. Children in grades 3-6 will discover the "Secret World of Insects" through activities, crafts and stories on Thursdays beginning January 6 and continuing through February 24. Call the library at 307-334-3490 to register!
"I Hear the Train A Comin'" is the book discussion theme beginning with Stephen Ambrose's book, "Nothing Like it in the World: The Men Who Build the Transcontinental Railroad, 1863-1869" which will be discussed on Monday, February 7 at 6 p.m. Other books in the series include "Iron Women: the Ladies Who Helped build the Railroad" by Chris Enss, "The West the Railroads Made" by Carlos Arnaldo Schwantes and James P. Ronda and "The Orphan Trains: Placing Out in America" by Marilyn Irwin Holt. Barb Baker returns to facilitate discussion. Register and pick up the first book by stopping in the library or calling.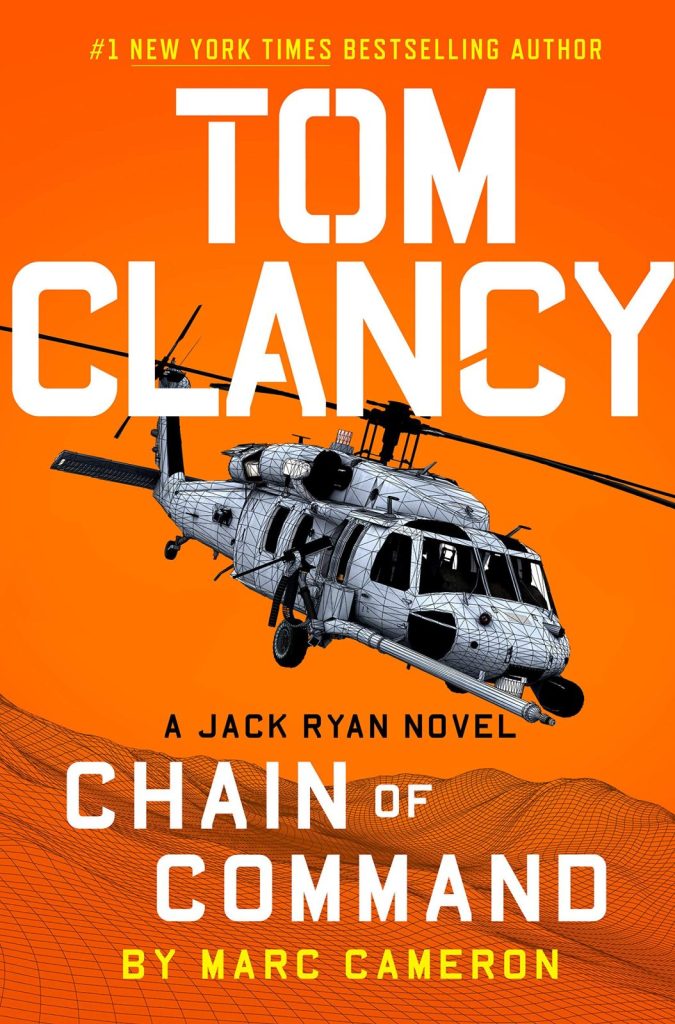 Marc Cameron's newest Tom Clancy novel is "Chain of Command." A shadowy billionaire uses his fortune to further his corrupt ambitions, toppling elected governments and exacerbating divisions within stable nations. Now he's ready to implement his most ambitious plan, but there's only one force standing in his way – President Jack Ryan. Every man has his Achilles heel and Ryan's is his family, and the billionaire has given his team a mission – kidnap the first lady. "Chain of Command" is available on CD and also in Libby.
Other new books are "Oh William!" by Elizabeth Strout, "Forgiving Paris" by Karen Kingsbury, "Child of Light" by Terry Brooks, "All These Ashes" by James Queally, "Dark Tarot" by Christine Feehan "Jade City" by Fonda Lee, "The Judge's List" by John Grisham, "Best in Snow" by David Rosenfelt, "Last Girl Ghosted" by Lisa Unger and "The Butler" by Danielle Steel. "Gilded" by Marissa Meyer is now available among new young adult books.
New non-fiction titles include "The Great Patriot Protest & Boycott Book" by Wayne Allyn Root and "Gentle and Lowly: the Heart of Christ for Sinners and Suffers" by Dane Ortlund. Several new quilting books have recently arrived! Stop in and check them out!
The Lennea Lewis Slagle Children's Library has these new junior titles "Daughter of the Deep" by Rick Riordan, "My Year in the Middle" by Lila Quintero Weaver and "Being Clem" by Lesa Cline-Ransome. A few of the newer easy books are "How Do Dinosaurs Say Goodbye?" by Jane Yolen, "Otter B. Helpful" by Pamela Kennedy, "Crowbar: the Smartest Bird in the World" by Jean Craighead George and "The Children's Moon" by Carmen Agra Deedy.
"Penguin Surprise" is the theme for Storyhour on Tuesday, January 4, 2022. Stories, activities, crafts and socialization are available for your children each Tuesday throughout the year from 10 to 11 a.m. Dial-A-Story is available 24/7 by dialing 307-334-3274. The Friends of the Library sponsor this popular storyline!
 Ebooks, magazines & graphic novels along with digital audio, music, movies and television is available by using the free apps Libby or Hoopla! Your library card and PIN give you access to these library resources. New content is added regularly! Check it out by going to: http://niobraracountylibrary.org. Stop by for more information or with your questions.
Library hours are Monday, Tuesday, Thursday, Friday 10 a.m. to 6 p.m., and Wednesday 12 p.m. to 7 p.m.