Amy Kate Hanson's art will be on display at the library throughout the month of October. This young artist has a keen eye for observing the world and that, mixed with a fantastic imagination, allows her to capture life in a unique way. Plan to stop by and visit with Amy Kate during an artist reception on Wednesday, October 5 at 5 p.m. at the library.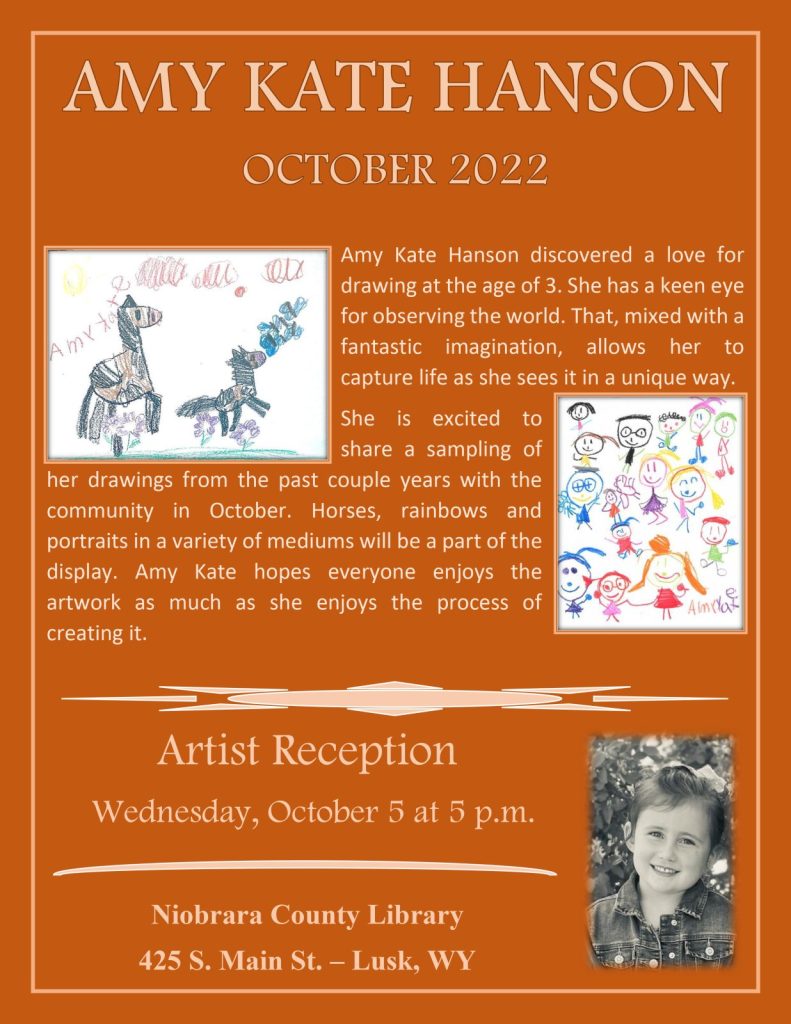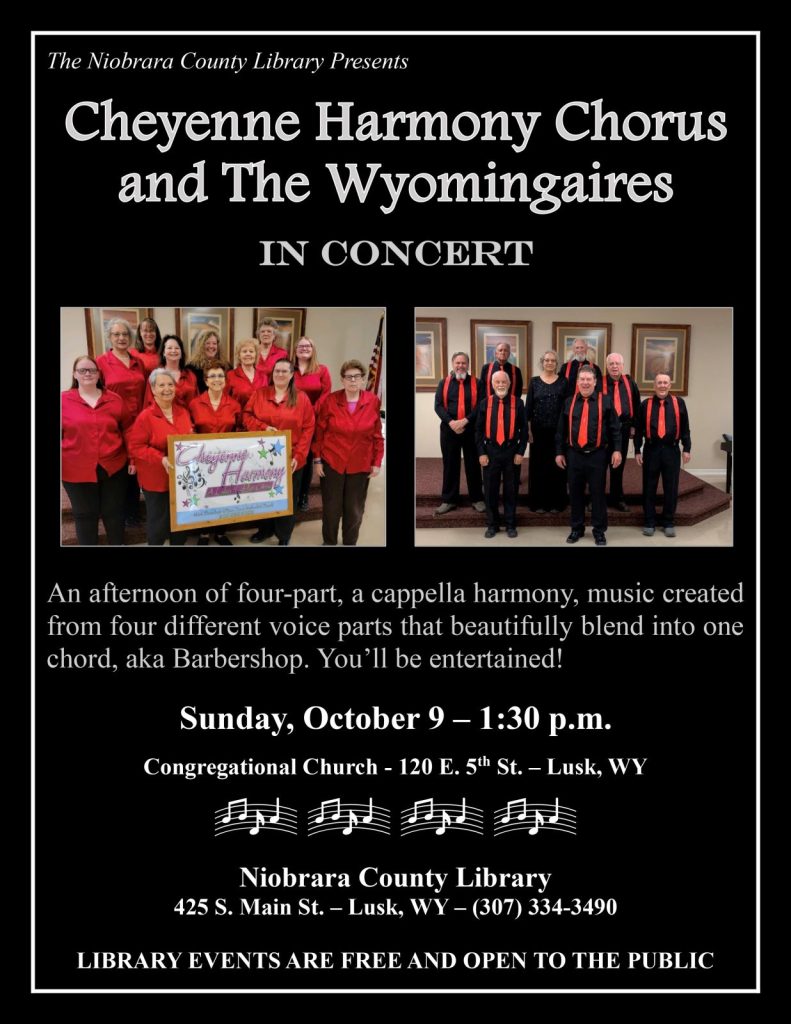 The library is pleased to present the Cheyenne Harmony Chorus and the Wyomingaires in concert on Sunday, October 9 at 1:30 p.m. at the Congregational Church, 120 E. 5th St., Lusk, Wyoming. This afternoon of four-part, a cappella harmony and guaranteed to entertain you!
The Niobrara County Library Foundation Wine & Bourbon tasting is Saturday, October 15 at the Niobrara Country Club at 4 p.m. Tickets are $30 prior to September 30. Stop by the library to get your ticket or contact a foundation board member.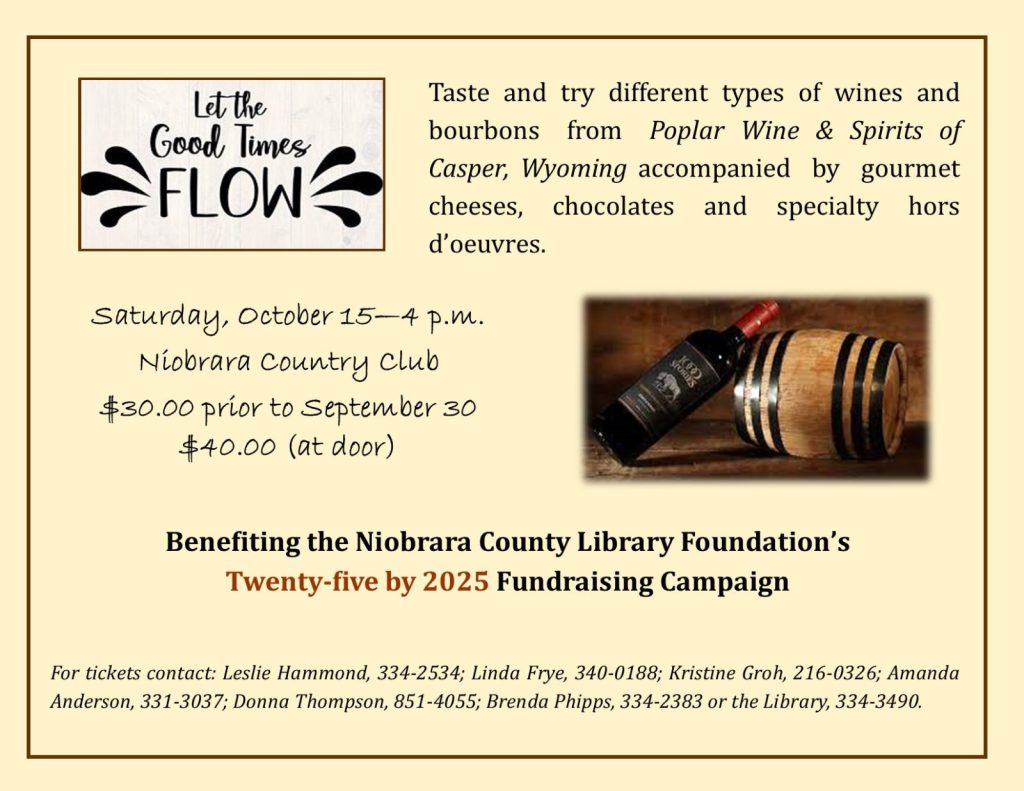 Have you checked out the selection of ebooks available through your library? The Virtual Library, available through your browser or through the Libby app, has thousands of books available to you as well as audiobooks and over 3,000 different magazine titles (with back issues). Your library card number and PIN will give you access. Hoopla, also available through your browser or through the Hoopla app, has a wide variety of ebooks, audiobooks, music, movies, television and other series and comic books. BingePasses give you multiple items with a single borrow and includes documentaries, the Great Courses, magazines and children's educational shows through Hellosaurus, some BingePass items are only available through streaming, others can be downloaded. Use your library card and PIN to set up an account and enjoy up to 40 borrows a month! Most items through either library can be downloaded for offline use. Stop by the library for more information!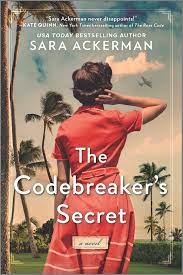 Sara Ackerman's novel "The Codebreaker's Secret" was inspired by real people, places, and events – a brilliant female codebreaker, an "unbreakable" Japanese naval code and a pilot on a top-secret mission that could change the course of World War II. "The Codebreaker' Secret" is also a dazzling story of love and intrigue set during America's darkest hour. This book is also available digitally in Libby and Hoopla.
Other new books are "Dragons of Deceit" by Margaret Weis, "Smells Like Tween Spirit" by Laurie Gelman, "Dead River" by William W. Johnstone, "Round Up the Usual Peacocks" by Donna Andrews, "Reckoning" by Catherine Coulter, "Bad Moon Rising" by John Galligan, "The Apple Creek Announcement" by Wanda E. Brunstetter and "Beyond the Desert Sands" by Tracie Peterson. Pittacus Lore's newest young adult book is "Ashfall Prophecy" and "Imaging Wyoming's Future: a Youth Vision for 2030" is among new non-fiction.
The Lennea Lewis Slagle Children's Library has these new chapter books "Sir Ladybug and the Queen Bee" by Corey R. Tabor, "Wretched Waterpark" by Kiersten White and "The Do-Over" by Jennifer Torres. A few of the new easy books are "Cranky Chicken: Party Animals" by Katherine Battersby, "Little Bat Up All Day" by Brian Lies, "Sometimes When I'm Bored" by Deborah Serani and "Creepy Crayon" by Aaron Reynolds.
"206 Bones" is the theme for Storyhour on Tuesday, October 4, 2022. Storyhour is held from 10 to 11 a.m. every Tuesday throughout the year for children age 3 through kindergarten. Call 307-334-3274 anytime to hear a recorded story. Dial-A-Story is sponsored by the Friends of the Library.
Check out all of the library's online catalog, local history, research material, Wyoming specific legal forms and more by going to: http://niobraracountylibrary.org!
Library hours are Monday, Tuesday, Thursday, Friday 10 a.m. to 6 p.m., and Wednesday 12 p.m. to 7 p.m. Stop in soon!