The library is pleased to present Marc Douglas Berardo in concert on Sunday, September 25 at 1:30 p.m. at the Congregational Church, 120 E. 5th St., Lusk. Library programs are free and open to the public!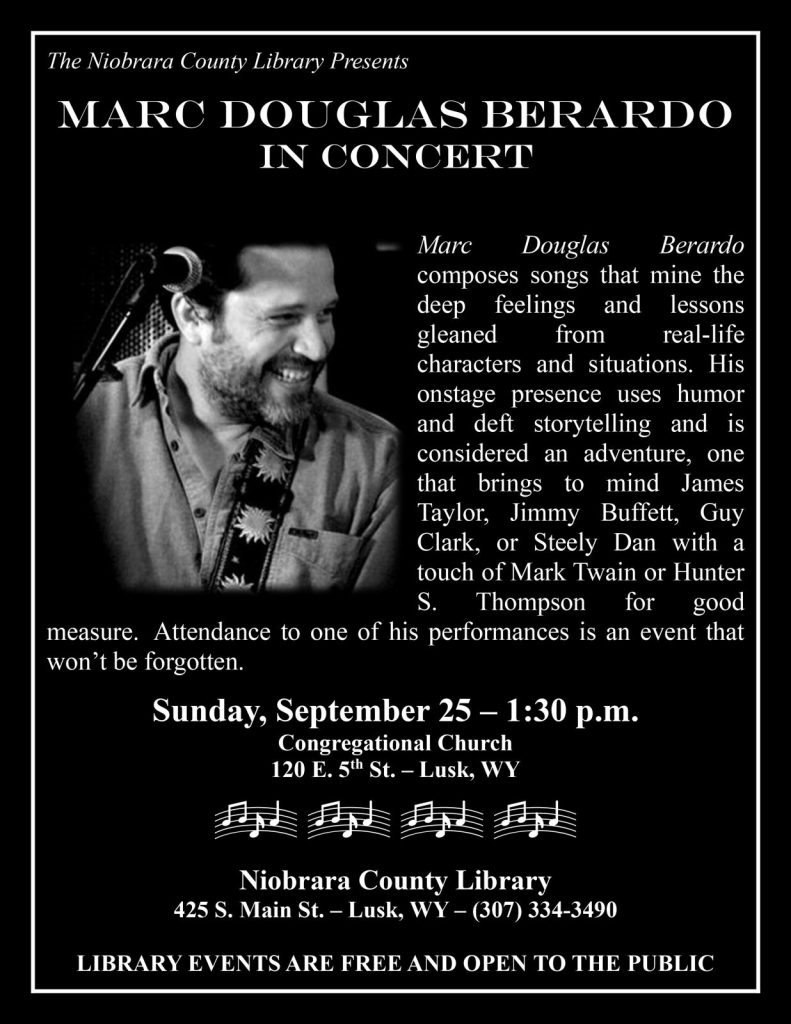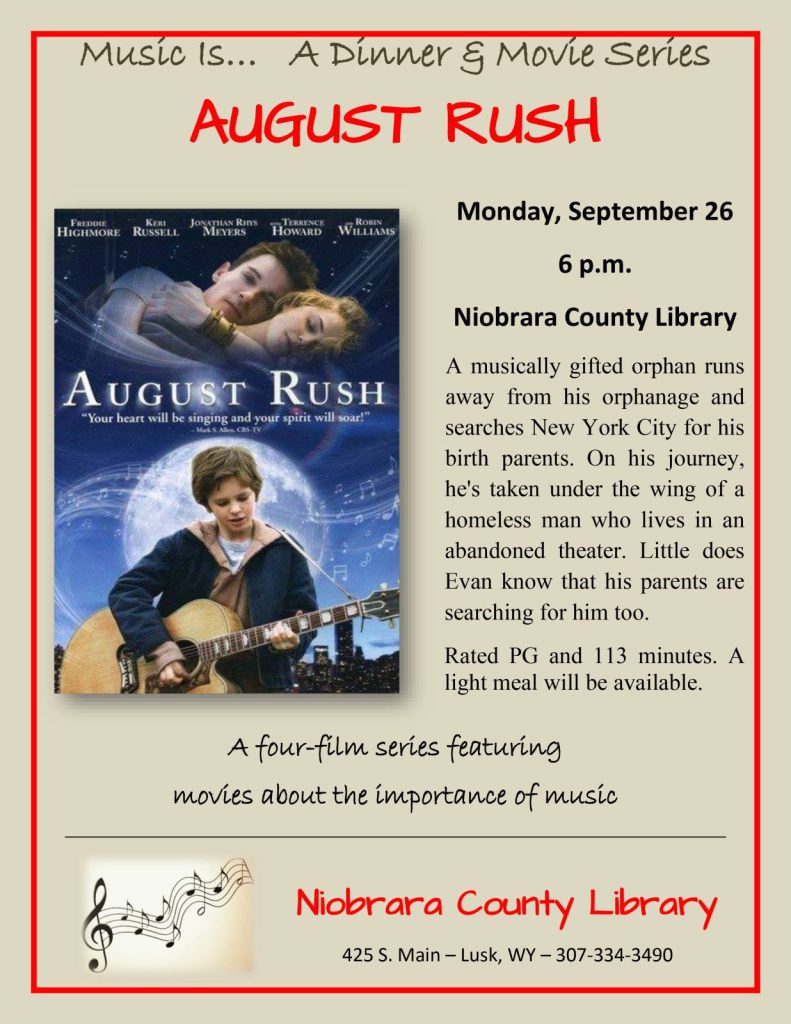 "August Rush" will be the featured movie on Monday, September 26 at 6 p.m. at the library. In this film a musically gifted orphan, Evan, runs away from his orphanage and searches New York City for his birth parents. On his journey, he's taken under the wing of a homeless man who lives in an abandoned theater. Little does Evan know that his parents are searching for him too. The film is rated PG and 113 minutes. A light meal will be available.
The Niobrara County Library Foundation is hosting a Wine and Bourbon Tasting on Saturday, October 15 at 4 p.m. at the Niobrara Country Club. Tickets are $30 prior to September 30. Poplar Wine and Spirits of Casper, Wyoming will provide a variety of libations for you to sample and there will also be a variety of specialty cheeses, desserts and hors d'oeuvres for you to enjoy. This fundraiser benefits the Twenty-five by 2025 endowment campaign. For tickets contact any foundation member or stop by the library.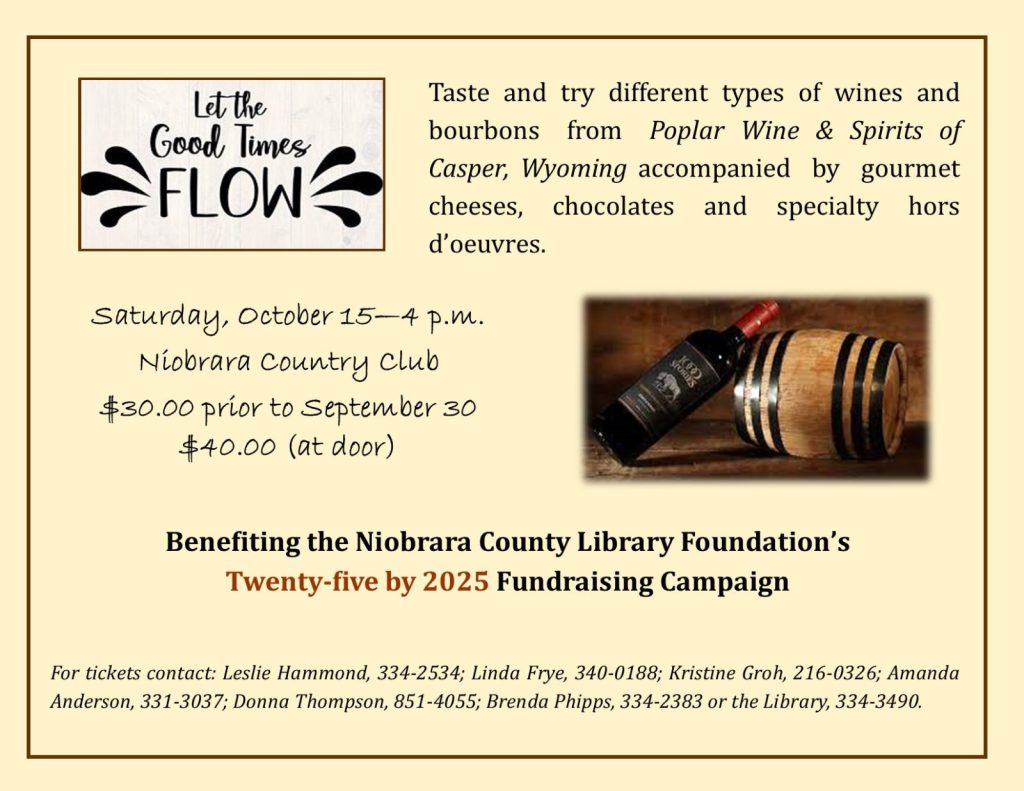 The newest novel by Jennifer Chiaverini is "Switchboard Soldiers" which is based on fact. In June 1917, General John Pershing arrived in France to establish American Forces in Europe. He needed telephone operators who could speak fluent French and English. More than 7,600 women responded. They were the first women sworn into the U.S. Army under the Articles of War. These valiant women played an essential role in achieving the Allied Victory. Their sacrifices cleared the way for generations of women. "Switchboard Soldiers" is also available digitally in Libby.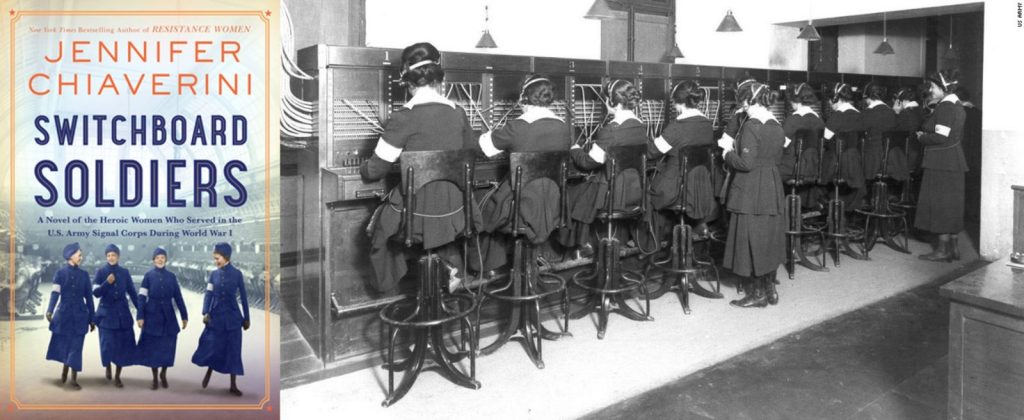 Other new books are "Chrysalis" by Lincoln Child, "Armored" by Mark Greaney, "Sugar and Salt" by Susan Wiggs, "I Remember You" by Brian Freeman, "Biscuits and Gravy" by William W. Johnstone, "When Sparks Fly" by Jo McNally, "Bad River" by Ralph Cotton and "The Justice Rider" by James Clay. A new young adult is "The Crown of Gilded Bones" by Jennifer Armentrout and "Life on the Mississippi: an Epic American Adventure" by Rinker Buck is available among new non-fiction.
The Lennea Lewis Slagle Children's Library has these new junior titles "A Foal Called Storm" by Helen Peters, "Egypt's Fire" by Tom Phillips, and "We are Wolves" by Katrina Nannestad. Among the newer easy books are "Little Kangaroo" by Guido Van Genechten, "Monkey Bedtime" by Alex English, "The House of Lily and Milo" by Pearl Oud and "Goodnight, Butterfly" by Ross Burach.
"Bunny Day!" is the theme for Storyhour on Tuesday, September 27, 2022. Storyhour is held from 10 to 11 a.m. every Tuesday for children age 3 through kindergarten. Call 307-334-3274 anytime to hear a recorded story. Dial-A-Story is sponsored by the Friends of the Library.
Visit the library's webpage: http://niobraracountylibrary.org for information about our county and its history. You can also access the online catalog, full-text databases for research and information as well as the digital libraries. Your library card number (29092…) and PIN will give you access where needed. Stop by the library for more information, bring in proof of address to set-up a library card!
Library hours are Monday, Tuesday, Thursday, Friday 10 a.m. to 6 p.m., and Wednesday 12 p.m. to 7 p.m.