The Niobrara County Library Foundation's Wine & Bourbon Tasting fundraiser is this Saturday, October 15 at 4 p.m. at the Niobrara Country Club with Poplar Wine and Spirits of Casper. Stop by the library for your ticket, or get one at the door!
"The Wyoming State Flag and the Women Who Made It Fly" will be presented on Wednesday, October 19 at 6 p.m. at the library. A contest with a $20 prize was the humble origins of a state flag with a story traversing through women's suffrage, immigration, and World War One. Historian Kylie McCormick will examine the contributions of Dr. Grace Raymond Hebard and flag designer Verna Keays Keyes in establishing Wyoming's state flag while grappling with questions of citizenship and legacy. McCormick has dedicated herself to education and Wyoming history and uses her research to teach classes at Casper College and public presentations. Plan to attend!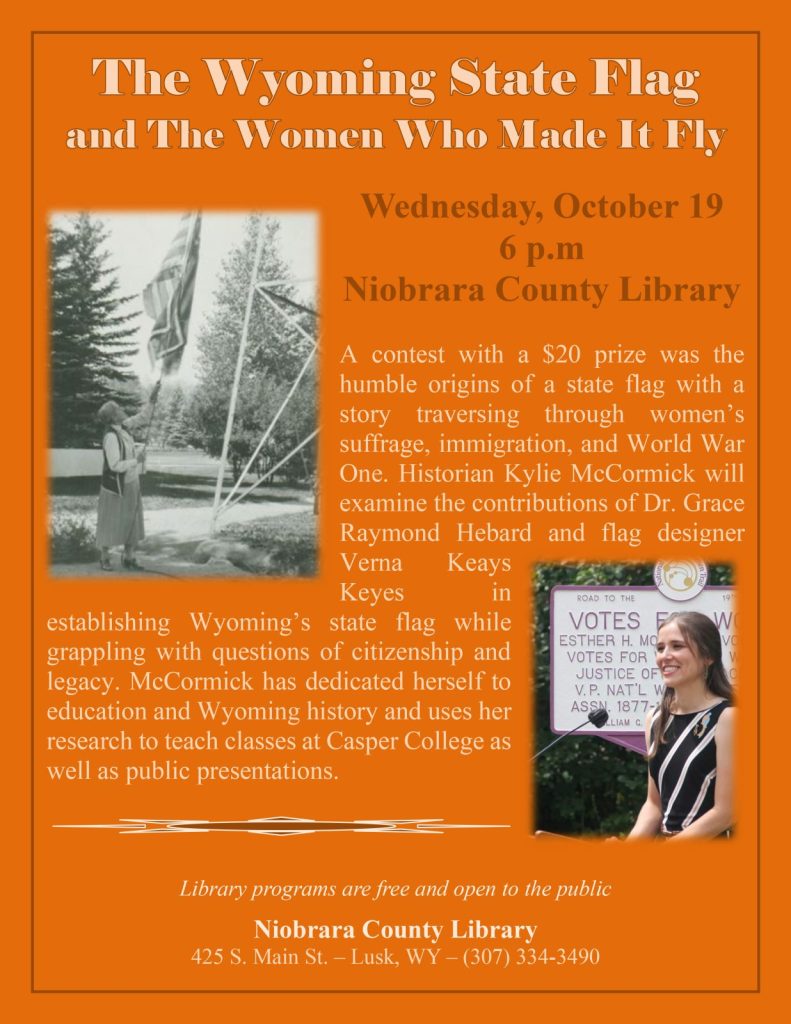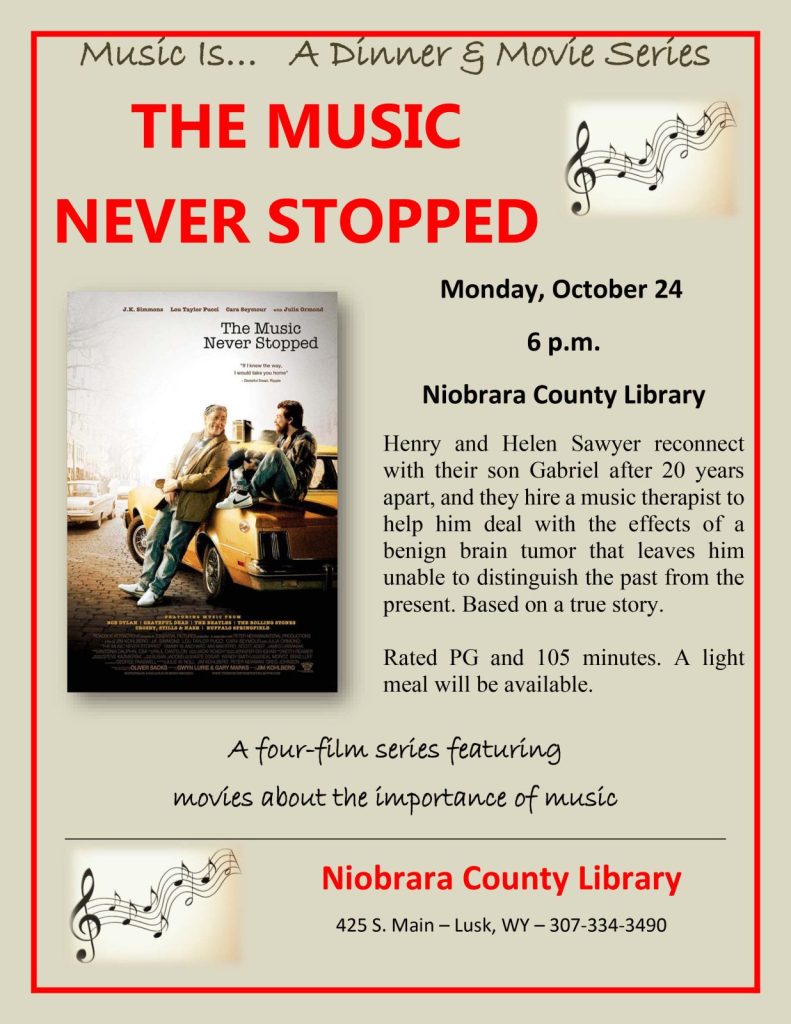 "The Music Never Stopped" will be featured on Monday, October 24 as part of the "Music Is…" Dinner and Movie series. Henry and Helen Sawyer reconnect with their son Gabriel after 20 years apart and they hire a music therapist to help him deal with the effects of a benign brain tumor. The tumor leaves him unable to distinguish the past from the present. Based on a true story, the movie is rated PG and 105 minutes; a light meal will be available.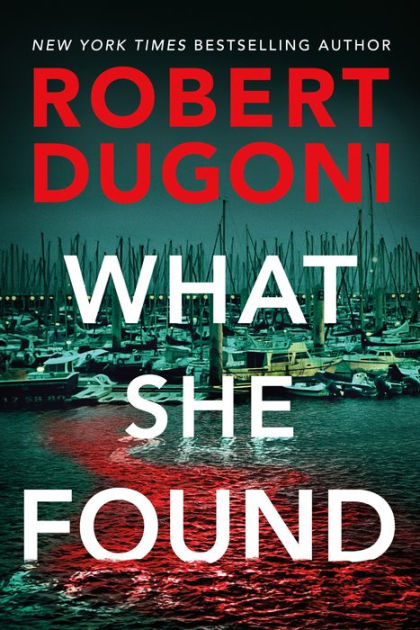 "What She Found" is the title of Robert Dugoni's latest novel. This is the story of the disappearance of an investigative reporter 25 years ago and her daughter's search for the truth, no matter where it leads. Detective Tracy Crosswhite reopens the case that will push her loyalties and her resilience to the limit.
Other new books are "The Challenge" by Danielle Steel, "Brannigan's Land" by William W. Johnstone, "Return to Magnolia Harbor" by Hope Ramsey, "Dead Sea Conspiracy" by Jerry B. Jenkins, "Aura of Night" by Heather Graham, "Traitor's Dance" by Jeff Abbott, "The Seared Lands" by Deborah A. Wolf and "Bark to the Future" by Spencer Quinn. A new young adult book is "Nothing More to Tell" by Karen M. McManus,
"Rebel With a Clause" by Ellen Jovin is now available on the new non-fiction shelf along with "The Year of the Puppy: How Dogs Become Themselves" by Alexandra Horowitz and "Help is Here: Finding Fresh Strength and Purpose in the Power of the Holy Spirit" by Max Lucado.
The Lennea Lewis Slagle Children's Library has these new junior titles "The Best Liars In Riverview" by Lin Thompson, "Horse Country: Can't Be Tamed" by Yamile Saied Mendez and "The Dragon in the Library" by Louie Stowell. Among the newer easy books are "Meet the Super Duper Seven" by Tim Hamilton, "Can Dad Dance?" by Steve Howson, "Biscuit and the Great Fall Day" by Alyssa Satin Capucilli and "Clark the Shark, Friends Forever" by Bruce Hale.
"Spider Friends!" is the theme for Storyhour on Tuesday, October 18, 2022. Storyhour is held from 10 to 11 a.m. every Tuesday for preschool-aged children. Be sure to stop by with your child for stories, crafts & activities and fun!
Call 307-334-3274 anytime to hear a recorded story. The Friends of the Library sponsor Dial-A-Story.
Have you checked out LinkedIn Learning? With more than 5000 on-demand courses on business, creative and technology skills, LinkedIn Learning (with Lynda.com content) lets you build professional skills across a vast range of job functions. Your library card number and PIN give you access! Visit GoWyld.net for more information.
The library's website: https://niobraracountylibrary.org will give you access to the online catalog, resources through GoWyld and lots of local history! Stop by to learn more!
Library hours are Monday, Tuesday, Thursday, Friday 10 a.m. to 6 p.m., and Wednesday
12 p.m. to 7 p.m.