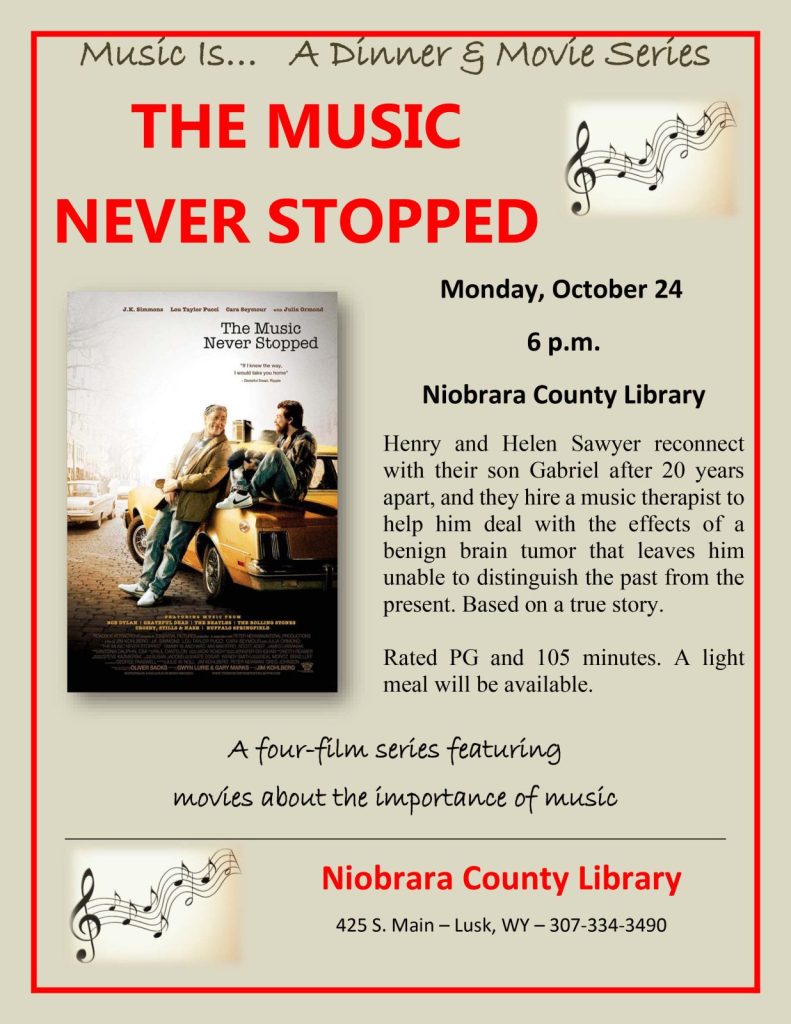 "The Music Never Stopped" is the moving showing on Monday, October 24 at 6 p.m. The third installment of the "Music Is…" Dinner & Movie series is based on a true story and rated PG. A meal will be available; library programs and events are free and open to the public.
Meghan Casey and Rocky Mountain Puppets return with a Halloween show, "The Haunting of Freighter 1031" on Friday, October 28 at 1 p.m. You won't want to miss this spooky adventure with plenty of laughs as well!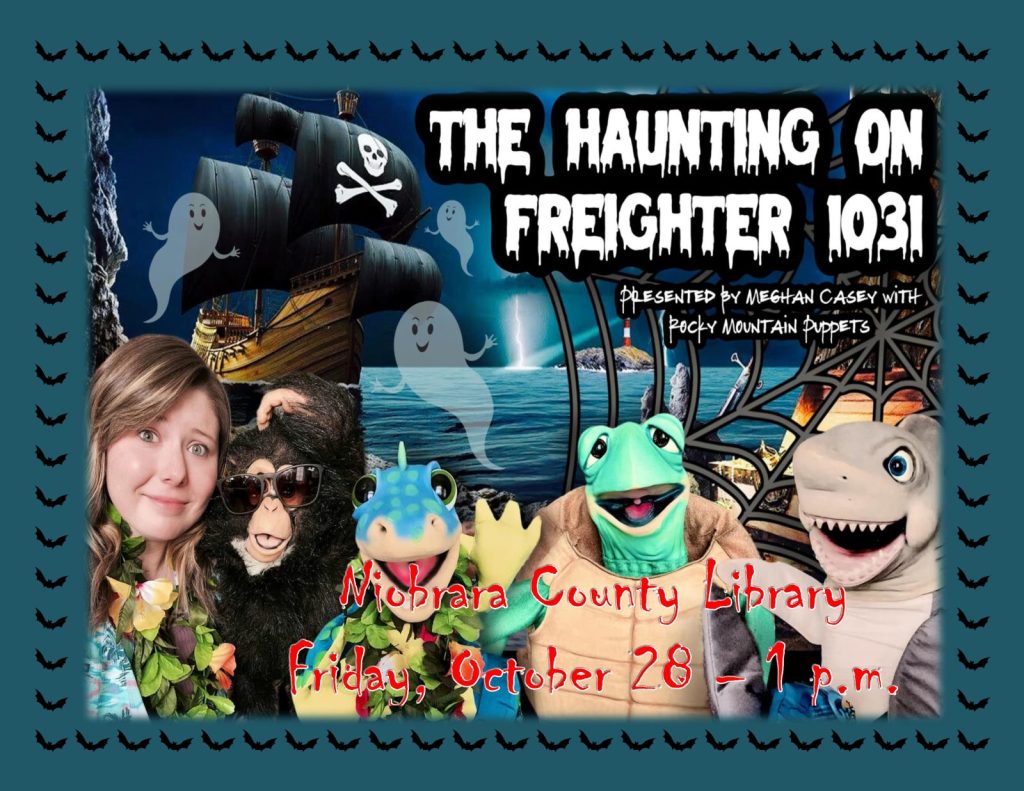 Stop by and check out the Halloween Storywalk! A little yellow pumpkin dreams of the day he will frighten the field mice away just like the scarecrow does in "The Fierce Yellow Pumpkin" by Margaret Wise Brown with pictures by Richard Egielski.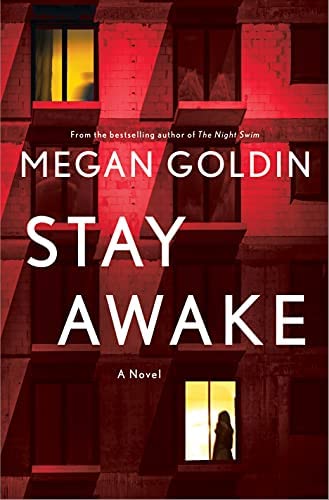 Megan Goldin's latest novel is "Stay Awake." Liv Reese wakes up in the back of a taxi with no idea where she is or how she got there. When she is dropped off at her brownstone, she finds a stranger who claims to live there. Her phone is missing. In its place is a bloodstained knife. Her hands have a scribbled message – stay awake. Why does she not remember the last two years of her life? What has she done? "Stay Awake" is available in Libby as well.
 Other new books are "Dark Music" by David Lagercrantz, "A Wedding on Lilac Lane" by Hope Ramsey, "The Smiling Country" by Elmer Kelton, "Other Birds" by Sarah Addison Allen, "The Ink Black Heart" by Robert Galbraith, "Desperation in Death" by J.D. Robb and "Hell and Back" by Craig Johnson.
New non-fiction books are "Hoop Quilts for Beginners: 15 Designs from Easy Patchwork and Embroidery" by AnneMarie Chany, "The Great Reset and the War for the World" by Alex Jones and "About My Mother: True Stories of a Horse-Crazy Daughter and Her Baseball-Obsessed Mother: a Memoir" by Peggy Rowe.
The Lennea Lewis Slagle Children's Library has these new junior titles "Dear Beast" by Dori Butler and "The Pug Who Wanted to Be a Pumpkin" by Belle Swift. Newer easy books include "The Crayons Trick or Treat" by Drew Daywalt, "Clumpety Bump" by Phil Allcock, "Daring Dinosaurs Adventures" by Meredith Rusu, "The Good Egg and the Talent Show" by Jory John and "Kindergarten Fun" by Victoria Kann.
"Halloween!" is the theme for Storyhour on Tuesday, October 25, 2022 with a Halloween party planned. Storyhour is held from 10 to 11 a.m. every Tuesday throughout the year for children age 3 through kindergarten. The Friends of the Library sponsor Dial-A-Story, call 307-334-3274 anytime to hear a recorded story!
Browse the online catalog, WyldCat, by going to: http://niobraracountylibrary.org. Your library card and PIN will give you access to your account as well as the digital libraries, and resources through GoWyld.net. Stop by the library for more information? Don't have a library card? Bring in proof of address and we'll get you set up!
Library hours are Monday, Tuesday, Thursday, Friday 10 a.m. to 6 p.m., and Wednesday 12 p.m. to 7 p.m.